Nigel Farage Challenges Ruth Davidson To An Immigration Debate Live On-Air
8 August 2017, 20:13
The leader of Scottish Conservatives wants an open discussion on the pros and cons of immigration… but when Nigel Farage challenged Ruth Davidson to a debate, his call went unanswered.
Ms Davidson questioned Theresa May's goal of reducing net migration below 100,000.
Writing in the Daily Telegraph, she said "the time for easy slogans is over" as she asked whether "the target continues to be the right one".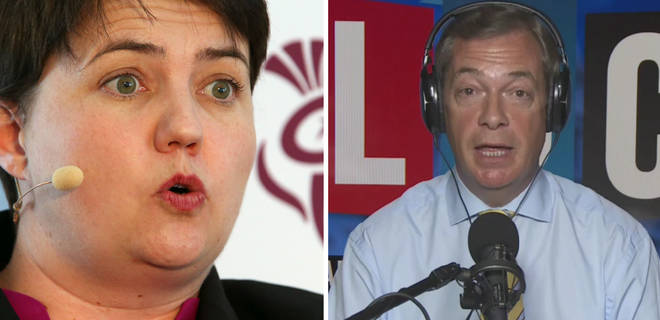 The MSP also took a swipe at Nigel himself and the campaign posters he used during the EU referendum campaign.
But despite a direct challenge during his nightly LBC show and a call to the Scottish Conservatives, Ms Davidson was not available to debate Nigel - so he issued this damning response.
"The person that wants us to have this big, open rational debate is not going to do any media because she doesn't want to have an open, rational debate," the LBC presenter said.
"She says 'it's a matter of public trust that we get immigration right' - you bet it is Ruth Davidson.
"Because the party that you represent in 2010, in the general election, in 2015, in the general election and in 2017, in this snap general election - in all three manifestos pledged to reduce migration to tens of thousands a year.
"13.5 million people voted for that just a few months ago and now you want to over turn it without even referring back to them and not even being prepared to come on this show and debate some of the issues."
Watch Nigel's epic take down above.