Nigel Farage Praises Arlene Foster For Playing A "Heroic Role" In Brexit
5 December 2017, 20:10 | Updated: 6 December 2017, 14:13
Nigel Farage has issued strong praise to the DUP leader Arlene Foster for playing a "heroic role" in Brexit.
Negotiations between the UK and EU were thrown into turmoil on Monday after the DUP - which props up the minority Conservative Government in Westminster - responded angrily to a proposal for the Irish border.
If agreed it would have meant Northern Ireland would have stayed part of the customs union and the single market in all but name while the rest of the UK left.
Ms Foster revealed the deal was "was making a red line down the Irish Sea".
She told Sky News the DUP did not see the text of the draft agreement until the last minute which "left us in a very difficult position".
Giving his response, Nigel praised Ms Foster, telling his LBC listeners she'd "played a heroic role over the course of the last 24 hours".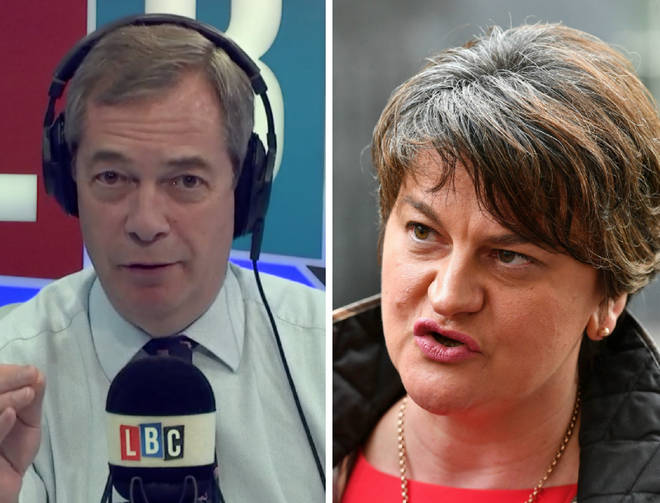 "If it means we do not move on to talk about trade," he said.
"If it begins to signal that no deal is possible and frankly given the unreasonable demands that have be made by Brussels from day one, it's very difficult or impossible really to have any deal that doesn't betray the Brexit vote, if that's where we're heading so be it bring it on is all I can say.
"Well done Arlene Foster, terrific in my view but I'm a Brexiteer, I would say that."