Nigel Farage Says He May Return As Ukip Leader If Brexit Is Betrayed
9 July 2018, 20:21
Nigel Farage says he will consider returning as Ukip leader if Brexit is not back on track by March 2019.
The LBC presenter vowed to unseat Conservative MPs in marginal seats who were "not prepared" to honour the 17.4 million Leave voters.
Ukip's current leader, Gerard Batten, reaches the end of his term in March next year.
Last week Nigel hinted at a return to frontline poltiics if Brexit was betrayed.
Now, he has told LBC listeners he is considering a return to the party he once led himself.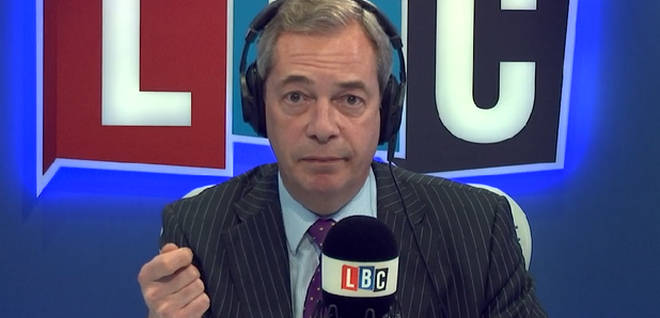 He said: "If Brexit is not back on track, if we're not actually going to be leaving and the Chequers agreement has not been broken then I will very seriously consider putting my name forward to run as leader of Ukip again.
"I can ensure any Conservatives listening to this, sitting in marginal seats, who are not prepared to honour the wishes of the electorate, I will make damn sure that you all lose your seats.
"There are millions on Conservative voters who are very unhappy indeed."
Nigel's announcement follows an extraordinary 24 hours in British politics.
David Davis and Boris Johnson both resigned from their government roles over the Prime Minister's plan for Brexit.
In an LBC interview, Mr Davis insisted their decision was not co-ordinated.