David Davis Gives His Instant Reaction As Boris Johnson Resigns
9 July 2018, 15:25 | Updated: 9 July 2018, 17:22
Boris Johnson's resignation was announced as David Davis was partway through an LBC interview - this was his instant reaction.
The Foreign Secretary quit his role in government hours after Mr Davis stood down as Brexit Secretary.
It follows concerns over Theresa May's Brexit proposal put forward to Cabinet ministers at Chequers on Friday.
And in a rather dramatic fashion, news broke mid-way through the interview.
Iain said: "I've just been handed a note that Boris Johnson has resigned as Foreign Secretary. Your reaction to that?"
Mr David Davis replied: "Regret, really.
"I had to resign because this was central to my job and if we continue with this policy and I was still there, I'd have to present it to parliament and the House of Commons, I'd have to present it in Europe.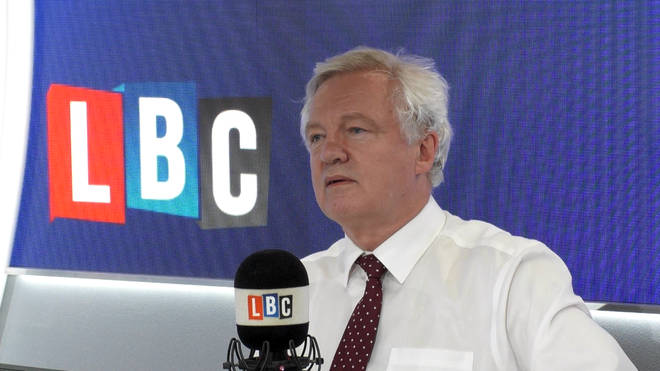 "I'd have to be the champion of the policy that I didn't believe in.
"That doesn't work, somebody else could do a better job than me.
"I don't think it's central to Foreign Secretary, but there you are."
Mr Davis insisted the pair had not co-ordinated their resignations.
He added that he believes Mrs May's job is safe.
"I would be surprised if one [a leadership contest] is precipitated and if there is, I suspect she'd win it," he said.
"I don't think it's a survival issue at all."
Watch the interview in full below.