Nigel Farage's Tough Response To Remainer Who Called Him An Extremist
13 June 2017, 20:54 | Updated: 13 June 2017, 20:57
When a Remainer said Nigel Farage was an extremist for his views on the European Union, this was the LBC presenter's scathing response.
Tom called Nigel's LBC show after question marks were put over whether Theresa May would be able to pursue a so-called hard Brexit after losing her Commons majority.
The caller told Nigel such manoeuvre would only benefit the "extreme parties and extreme politics the likes of you are responsible for".
Tom went on to accuse Nigel of only ever "bleating on about Europe" and never discussing any other policies.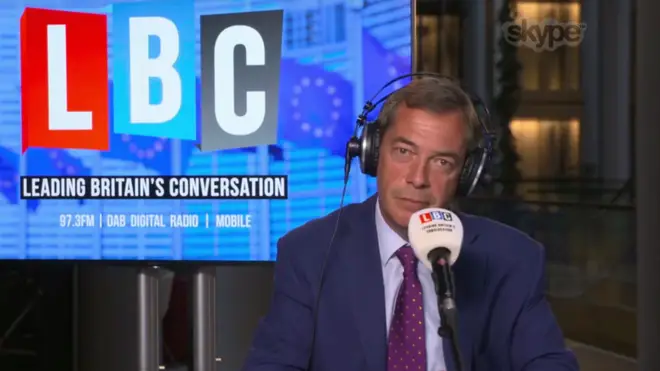 The former Ukip leader retorted the accusations, responding: "How dare you call me an extremist when the point of view I pushed for for a quarter of a century was supported by over half the British public."
Then, he forced the caller into a corner, as he repeatedly asked if he was calling the 52 per cent of Brits who voted Leave extremists.
"Are you suggesting over half the country are extremists?" Nigel asked over and over.
Watch the fiery clip above.