"It Beggars Belief": Ukrainian Caller Lays Into Farage Over Russia Backing
11 January 2017, 19:47 | Updated: 11 January 2017, 20:28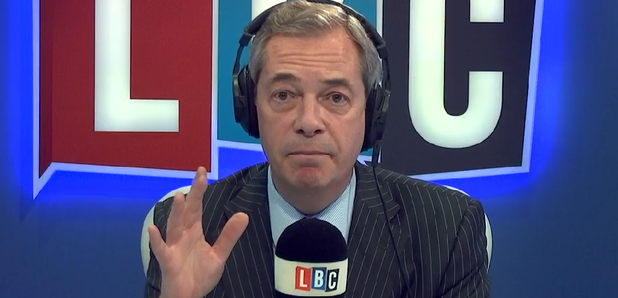 This passionate Ukrainian caller was livid that Nigel Farage called for a close relationship with Russia - but the Ukip leader insists it's the best way forward.
Nigel Farage said that Donald Trump should meet with Vladimir Putin and suggested that if they have a close relationship, it could only be a positive.
But Peter, a Ukrainian living in Britain, called Nigel on his LBC show to say: "It's beggars belief that a politician of your calibre comes on national radio and tries to appease the person who murdered journalists, murdered opposition politicians in this country, invades other countries, takes part of their countries.
"And you're trying to defend him? It just beggars belief."
But Nigel hit back, saying: "Peter, I don't want to appease him. I don't want to defend him.
"I think the future integrity of NATO is actually very important and I think there is a lot of work to be done on NATO, which has found itself in a position where its members now think they can get away without paying the membership fee.
"I wouldn't want to live in Putin's Russia. I don't approve of many of the things that he's done.
"But the European Union have dragged NATO in their wake and have pursued a very ignorant, a very foolish foreign policy by constant eastwards expansion and trying to get countries that border Putin's Russia to join our politican union in the West."