Doomsday Clock predicts 'unprecedented danger' and sits just 90 seconds before midnight
24 January 2023, 16:41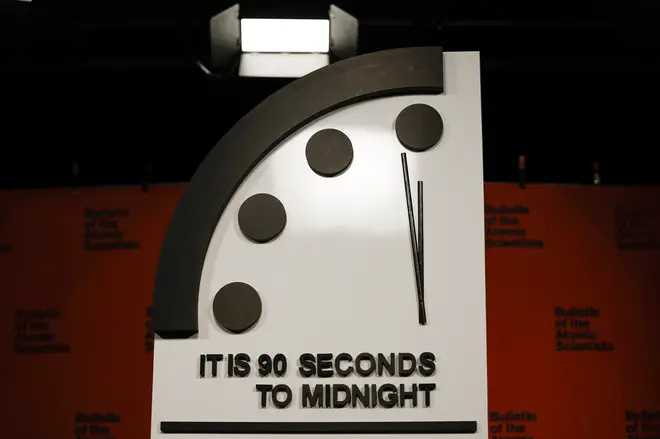 The Doomsday Clock has moved closer to midnight than it has ever been, and is now just 90 seconds away from striking 12.
The clock, a symbolic timepiece showing how close the world is to ending, has been moved forward by 10 seconds by its keepers.
The announcement means the perceived threat is now more severe than it was last year, with the scientists citing "unprecedented danger" posed by the Russia-Ukraine war.
Rachel Bronson, chief executive of the Bulletin of the Atomic Scientists, said: "As UN secretary-general Antonio Guterres warned this past August, the world has entered a time of nuclear danger not seen since the height of the Cold War."
Read more: Millions face being forced to work longer under plans to raise retirement age to 68
Speaking about the war between Russia and Ukraine, she said: "There is no clear pathway for forging a just peace that discourages future aggression under the shadow of nuclear threat.
"The US government, its Nato allies and Ukraine have a multitude of channels for dialogue. We urge leaders to explore all of them to their fullest ability."
Ms Bronson added: "We move the clock forward, the closest it has ever been to midnight. It is now, 90 seconds to midnight."
The countdown was established in 1947 by experts from The Bulletin Of The Atomic Scientists who were working on the Manhattan Project to design and build the first atomic bomb.
The concerned US scientists set up the Doomsday Clock to provide a simple way of demonstrating the danger to the Earth and humanity posed by nuclear war.
It is an independent non-profit organisation run by some of the world's most eminent scientists.