Watch: Moped Gang Smash Through Stock Room Wall During Phone Shop Raid
23 November 2017, 18:19 | Updated: 17 January 2018, 16:30
CCTV has captured the moment a moped gang smashed through the wall of a London mobile phone shop to ransack the stock room.
It was one of 17 aggravated burglaries of phone stores carried out by 10 men across east and north London between May 2016 and November last year.
They stole phones and tablets, with the total cost of stolen goods and damage to the properties estimated to value £1m.
The shocking footage, from a shop in Walthamstow, shows the men in crash helmets and dark clothing smashing their way into the store room using a variety of weapons.
Today (Thursday) four of the men were found guilty of their part in the raids.
Two men had previously been convicted and four pleaded guilty to their part in the offences in August.
Tools such as hammers, knives, portable angle grinders and a battering ram were used to gain access into the shops. During one of the robberies a witness was threatened with a firearm.
Three security staff in separate shops targeted were beaten, often with weapons, as they guarded the stores overnight.
The phones and tablets were fitted with trackers with GPS which were activated when they were moved from the storeroom shelf.
This allowed officers to identify where the phones and tablets were at any given time.
Officers from Operation Vocare tracked the route that one of the phones had taken and identified two suspects who attended a minicab office.
A crash helmet was also identified as containing the DNA of one of the defendants.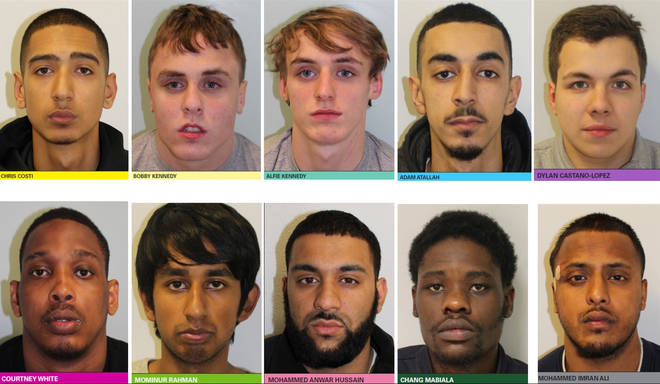 On 14 October 2016, the gang targeted a phone shop in Walthamstow. A member of the public called the police and officers followed the suspects on their mopeds with police cars and a helicopter.
During this pursuit, one of the suspects discarded a mobile phone which contained correspondence about the attacks, including text messages about weapons they planned to use.
Six were charged in relation to the burglaries and the handling of the goods from them will face trial in March 2018.