Fuming Tube Passenger Pulls Emergency Alarm After Alleged Racist Abuse
21 February 2018, 13:32 | Updated: 21 February 2018, 13:47
A London Underground passenger has been caught on camera pulling the emergency alarm during a foul-mouthed rant with another commuter.
The expletive ridden tirade occurred on the Jubilee Line back in December, with the clip only surfacing this week.
It shows the woman, clutching Selfridges shopping bags, and a man repeatedly swearing at each other.
As she attempts to leave the Tube carriage, she suddenly yells: "You know what? No-one is going nowhere because of you".
A bystanders attempts to intervene but his attempts are in vain as the woman then pulls the emergency lever, sounding a loud alarm.
Her opponent responds by shouting: "You're a f****** idiot!"
But the woman adds: "Don't f**** with me, everyone has to suffer because of you.
"I want them to come and arrest you and deport you."
It's unclear what sparked the row, but the woman claims the man had racially abused her and she wanted him arrested.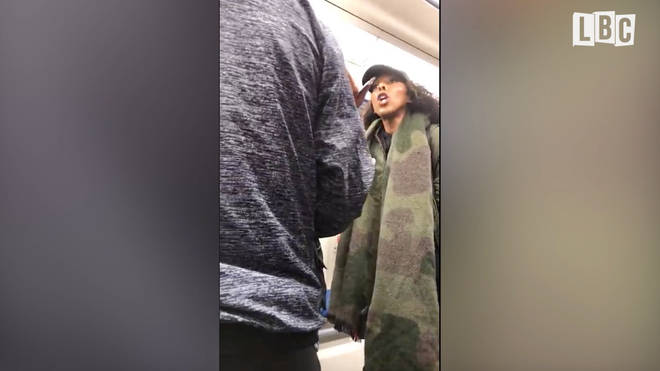 Speaking to the MailOnline, the unnamed woman said: "I went to offer my seat to a pregnant lady, I tapped the guy on the shoulder so he would move out of the way so she could sit down.
"I said 'excuse me can she sit down' and he replied by saying 'don't you f****** touch me'.
"He called me a monkey and said that we think that we can do what we want and then pushed me.
"When I pulled the lever the train staff escorted him off the train, I'm the victim here not him."