Reckless Audi Driver Overtakes Car By Veering On To Central Reservation
9 August 2017, 11:54 | Updated: 9 August 2017, 12:08
This is the moment a reckless Audi driver overtakes a car on the fast lane of a motorway by swerving into the central reservation.
Dashcam footage captured the speeding Audi A7 tailgating a Volvo before the driver edges off the outside lane and into the dust in the middle of the motorway.
The incident happened on the M5 motorway in Somerset on Saturday.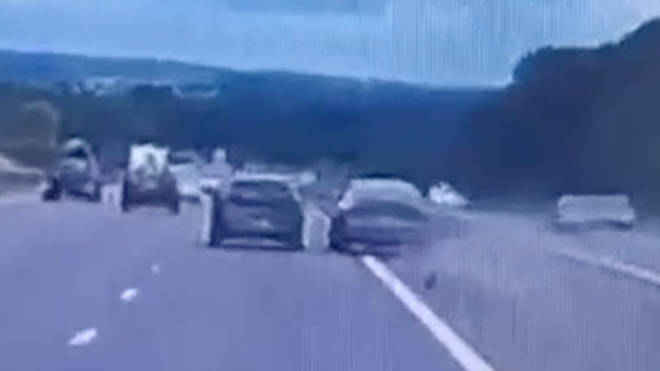 Lee Borastero, who captured the dangerous moment on his dashcam, said: "The motorway was busy but it was free flowing and people were leaving gaps.
"He came up behind me at a rapid rate of knots. I saw him and moved over, but then he went past a Vauxhall and ended up behind the Volvo which he forced his way past.
"My van got peppered with dust. It was tarmac when he started the overtaking move but it was grass verge at the end.
"I thought he was going to cause an an accident so I slowed down and changed lane as I didn't want to be involved in it."