Watch The Hilarious Moment A Man Spills A 30K Magnum Of Champagne
24 January 2018, 13:25 | Updated: 24 January 2018, 13:46
The lights are lowered, the crowd gathers round, and this man is ready to party the night away with his nearest, dearest and hangers on. All he has to do is open his 30k magnum of champagne.
Ibiza, the island where the sophisticated and wealthy join together to congratulate each other on how very sophisticated and wealthy they are in some of the world's coolest nightclubs.
However, things took an unfortunate turn for one well-dressed patron who decided to celebrate the night by buying a £30,000 magnum of champagne.
Even by Ibiza's standards, a £30,000 magnum is considered a pricey purchase, more pushing the yacht out then the boat. And so to celebrate this most flashy of fizzy purchases a crowd gather rounds to watch the grand opening of the worlds most overpriced bottle of champers.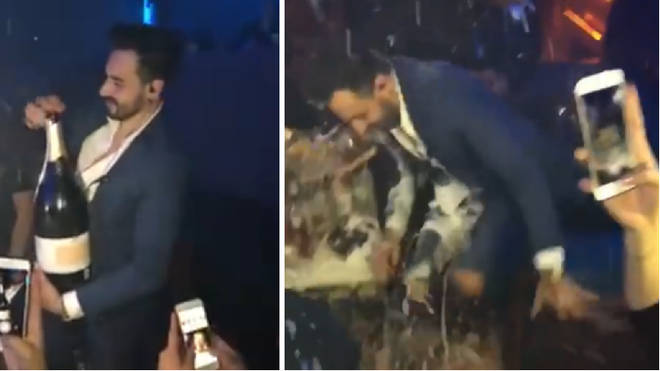 Yet, things don't quite go to plan. At first, everything is going well. The individual soaks up the attention from his fellow revellers who are looking at their once impressive bottle of Moet with embarrassment. They gather round glasses aloft in one hand, the hope that they might be afforded a sip of some of the sweet sparkling grape. In the other hand, their phones are ready to Insta this momentous moment in egotism and ludicrous spending.
And, finally, the moment arrives. Slowly our suited and booted individual slowly rubs the top of the bottle, inching the cork out millimetre by millimetre. Suspense rises.
His friends look on in disbelief excited and dismayed that this, in all likelihood, is going to be their peak achievement in life.
Finally, the cork is free and for one split second, our poor hero is on top of the world. Yet, like Gatsby before him, his desire to be top of the world comes crashing down.
The bottle cascades to the floor, its sweet elixir cascading across the shiny floor leaving it sticky with failed promises. The individual in question is left covered in a good portion of his 30,00 magnum.
All in all, he'd have been better just sticking with a warm cider.