'Yes there's toxic air but this is a toxic policy': Caller confronts Sadiq Khan over 'unfair' ULEZ expansion
10 February 2023, 11:16 | Updated: 10 February 2023, 11:18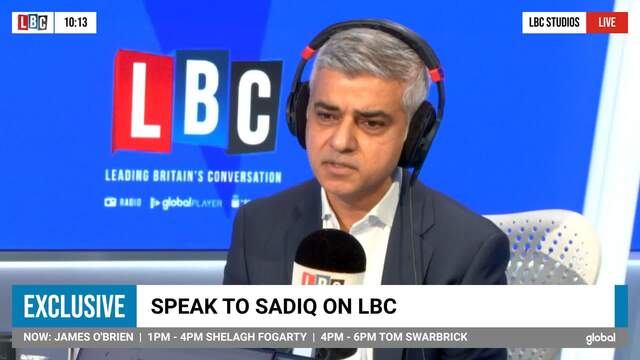 Impassioned caller confronts Sadiq Khan over the ULEZ expansion
This impassioned caller put Sadiq Khan in the hot-seat when he called for the Mayor of London to "rethink" the Ulez expansion which he deemed "a very unfair tax against working people and the poor".
Richard in Woolwich phoned in to James O'Brien's 'Speak to Sadiq on LBC' to challenge the Mayor of London over the ULEZ expansion.
Sadiq Khan has announced a major expansion to London's ULEZ zone that will mean hundreds of thousands more motorists will have to pay a daily fee of £12.50 to use their cars.
Richard began: "I voted for you. I'm a great supporter for you.
"I'm going to talk about ULEZ. I think it's a very unfair tax against working people and the poor."
Richard explained that ULEZ compliant second-hand cars have become 40% more expensive.
He continued: "This is hitting working people and my question to you is 'is there anything that will stop you doing this madness?"
Mr Khan defended the plan, explaining that "toxic air is a matter of life and death."
He added: "In our city every year there are 4000 premature deaths directly linked to the toxic air."
After declaring that the link between toxic air and the health crisis is "unarguable", he drew attention to his Scrappage Scheme, "the biggest" ever seen in the country, which will provide financial assistance to help eligible Londoners scrap their highest polluting vehicles.
Richard responded: "Yes toxic air but you know what this is a toxic policy."
He added that he would be marching in Bromley tomorrow to protest the expansion before making his final plea to the mayor: "You've got to rethink this. I'm not against the idea in principle.
"What I'm against is that working people are paying for it!"
Read more: "Difficult year" to go ahead with Ulez as people struggle with cost of living, says Martin Lewis
Read more: London ULEZ zone expands to cover ENTIRE capital from next year, Sadiq Khan announces