'Omicron is in retreat': Javid says we'll live with Covid like flu as Plan B scrapped
19 January 2022, 12:48 | Updated: 7 June 2023, 08:56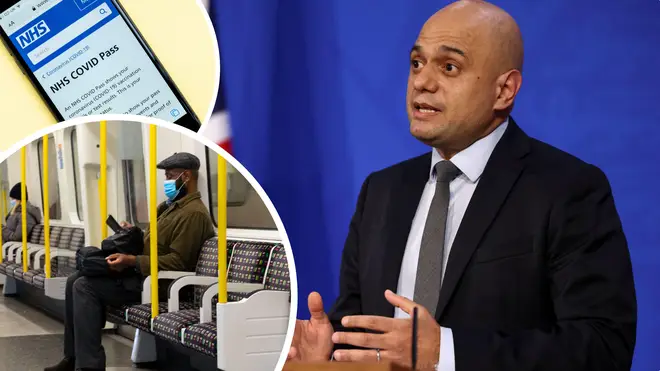 Health Secretary Sajid Javid has said Omicron is "in retreat" but warned that now is not the "finish line" in the fight against the virus.
Speaking at a Downing Street press conference along with Dr Susan Hopkins of the UK Health Security Agency (UKHSA), Mr Javid said the fall in infections and hospital admissions meant Plan B restrictions could be dropped.
"This plan has worked and the data shows that Omicron is in retreat," he said.
He described the relaxation of measures as a "major milestone", but said the country's fight against the virus was not over.
"It's not the end of the road and we shouldn't see this as the finish line because we cannot eradicate this virus and its future variants," said the Health Secretery.
"Instead we must learn to live with Covid in the same way we have to live with flu.
"And we will be setting out our long-term plan for living with Covid-19 this spring."
Read more: Lindsay Hoyle caught on mic muttering 'what a day' after stormy PMQs
Dr Susan Hopkins outlined the latest Covid infection data at the press conference, saying the most recent seven-day average was 93,200 compared with almost 225,000 on December 29.
She said that hospital cases were back down to below 20,000 while there were 703 people on mechanical ventilators - back down to levels last seen in July.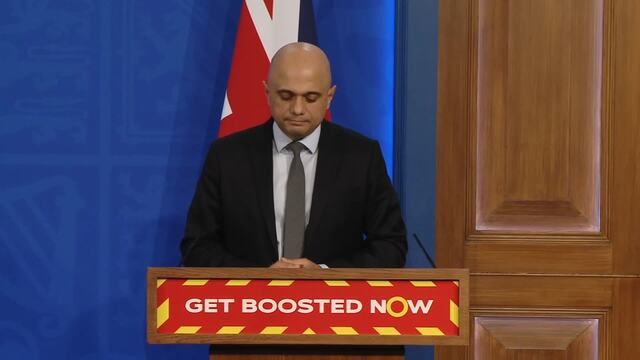 Sajid Javid says 'we must learn to live with Covid in the same that we've learned to live with flu'
The Prime Minister announced to the House of Commons earlier on Wednesday that he was scrapping his Covid-19 Plan B in England, ditching the use of face masks from next Thursday and telling people to stop working from home, signalling the beginning of the end of coronavirus.
He also ended face masks in schools from tomorrow and scrapped the use of Covid-19 passports from next Thursday.
Boris Johnson's announcement followed a "welcome decrease" in the number of coronavirus infections throughout the UK.
But he told MPs the pandemic is not over yet - despite the World Health Organisation's Covid head declaring it could soon end in the UK.
From January 26, England will go to "Plan A", the PM told the House of Commons - and he suggested that soon, self-isolation rules for people who test positive will be scrapped.
Read more: 'In the name of God, Go': Former Brexit Secretary David Davis calls for PM to quit
Read more: Red wall breached: Tory MP Christian Wakeford defects to Labour
Mr Johnson, whose announcement comes as he fights to cling on to his job, declared that "our scientists believe it is likely that the Omicron wave has now peaked nationally".
"Today's latest ONS [Office for National Statistics] data show clearly that infection levels are falling in England and while there are some places where cases are likely to continue rising, including in primary schools, our scientists believe it is likely that the Omicron wave has now peaked nationally.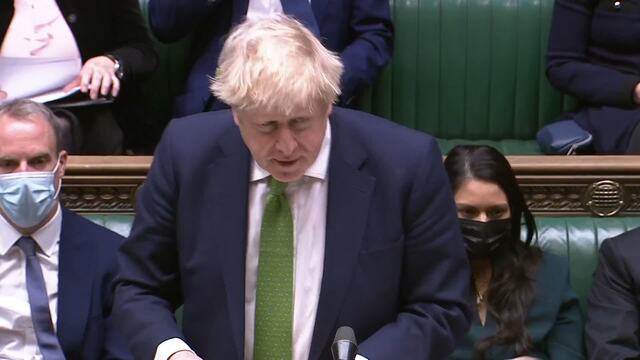 'Plan B measures will end as the Omicron wave has peaked nationally'
"There remain, of course, significant pressures on the NHS across our country, and especially in the North East and North West, but hospital admissions which were doubling every nine days just two weeks ago have now stabilised, with admissions in London even falling.
"The numbers in intensive care not only remain low but are actually also falling."
Office for National Statistics figures show one in 20 people in England's households were thought to have Covid, or three million people, in the week to January 15 - down from 3.7 million in the week to January 6.
Scotland and Wales have also seen dips, although Northern Ireland's situation is less certain.
Sarah Crofts, head of analytical outputs for the ONS Covid-19 Infection Survey, said: "Our latest figures show a welcome decrease in infections across most parts of the UK and among all age groups, apart from younger children."
The UK reported 438 deaths within 28 days of a patient testing positive on January 18, and 94,432 cases.
A week earlier, there were 233 deaths reported and 100,978 cases.
Read more: Covid-19 crisis in numbers
In the Commons, Mr Johnson said: "This morning, the Cabinet concluded that because of the extraordinary booster campaign, together with the way the public have responded to the Plan B measures, we can return to Plan A in England and allow Plan B regulations to expire."
Sir Desmond Swayne, one of the most vocal critics of Covid measures among the Tory backbenchers, screamed with joy when Mr Johnson confirmed that when regulations expire, the Government will not require face masks anywhere.
All regulations are set to be scrapped by March 24, if events don't result in the Government pushing that date back. People will still be encouraged to wear them in enclosed spaces, especially when they meet people they don't usually see.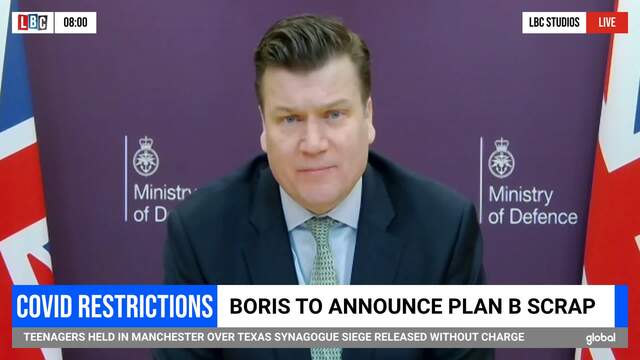 Armed Forces minister says he's giving Boris the benefit of the doubt
Mr Johnson stressed regulations remain in force despite the scrapping of Plan B measures, including self-isolation requirements - and he urged people to carry on quarantining if they test positive.
He announced that the Government would create a strategy for living with Covid, saying he hoped "medical advances" would prevent any return of restrictions to deal with it.
But he warned that Omicron was still not a "mild disease for everyone", pointing to the 16,000 people in hospital in England.
"The pandemic is not over," he told MPs.
However, while people who test positive now only need to quarantine themselves for five days if they test negative at the end of their isolation period, Mr Johnson said he could "soon" scrap the requirement to shut away after testing positive altogether.
He told MPs that there "will soon come a time when we can remove the legal requirement to self-isolate altogether, just as we don't place legal obligations on people to isolate if they have flu".
"As Covid becomes endemic, we will need to replace legal requirements with advice and guidance, urging people with the virus to be careful and considerate of others," he went on.
"The self-isolation regulations expire on March 24, at which point I very much expect not to renew them. Indeed, were the data to allow, I'd like to seek a vote in this House to bring that date forward."
Scotland's First Minister Nicola Sturgeon has announced she will remove Omicron measures there from Monday, while the Welsh Government will remove its own policies designed to curb the variant if cases keep falling.