Shocking Video Shows Moped Thieves Spraying Fire Entinguisher At Victim
19 May 2017, 07:02
Police have released shocking footage of a gang of moped thieves trying to steal a motorbike - by spraying a fire extinguisher at the rider.
Across Monday 17th and Tuesday 18th April, there were seven reported offences in the Barking and Dagenham area which officers believe were carried out by the same group of suspects.
One of the incidents was captured a victim who was wearing a helmet camera.
The 58-year-old man was riding his motorcycle on Roden Street in Ilford at around 3:15pm on Tuesday 18th April when he was surrounded by seven suspects on four mopeds.
The video shows the man being sprayed with a fire extinguisher and falling to the floor, as they attempted to steal his motorbike. However, they were unsuccessful and quickly drove off.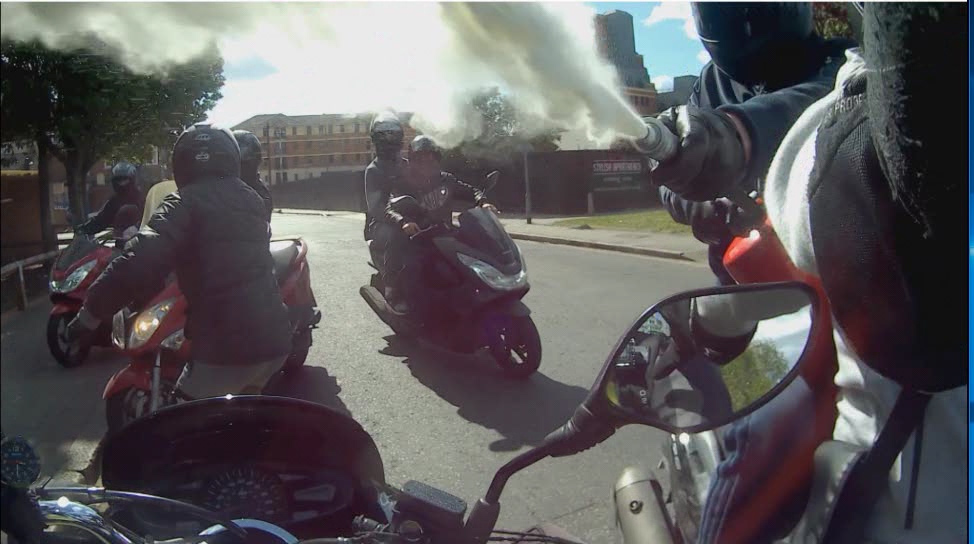 Detective Sergeant Dean Grafton said: "We are appealing for any information as to the identity and whereabouts of this gang that are clearly targeting motorcyclists in the east London area.
"They are often seen in pairs on mopeds or scooters and with a fire extinguisher to distract their victim with a view to stealing the motorbikes.
"If anyone has recorded video footage of the group, please can they contact us."
A 16-year-old and two 15-year-olds were arrested and subsequently released under investigation and enquiries are continuing.

Any witnesses or anyone who has any information is urged to contact the investigation team on 07766 247747, or via 101, or by tweeting @MetCC