Labour Anti-Semitism Row Explained
4 September 2018, 17:45 | Updated: 2 April 2020, 15:10
As Labour decide to adopt the IHRA's definition of anti-Semitism in full, a dossier of alleged anti-Semitism behaviour is under investigation by the Metropolitan Police.
The leader of the Labour Party Jeremy Corbyn has faced ongoing criticism for not doing enough to resolve the anti-semitism row brewing within his party.
Labour has today announced it will adopt the International Holocaust Remembrance Alliance's definition of anti-semitism in full at the NEC conference.
But a leaked document on anti-Semitism in the party, obtained by LBC, shows that at least 17 cases should have been reported to the police as a race-hate incident.
The Labour Party adopts IHRA definition of anti-Semitism in full.
The Labour Party decided what its definition of anti-Semitism is at its National Executive Committee (NEC) meeting today.
The party previously said it would adopt the definition, but excluded several of the IHRA's example of anti-Semitism behaviour, including one claiming the creation of a state of Israel is a racist endeavour.
The NEC was expected to reverse its earlier decision, and then agreed to adopt the full definition and the accompanying 11 examples.
In a statement, Labour said: "The NEC has today adopted all of the IHRA examples of anti-Semitism, in addition to the IHRA definition which Labour adopted in 2016, alongside a statement which ensures this will not in any way undermine freedom of expression on Israel or the rights of Palestinians.
"The NEC welcomed Jeremy Corbyn's statement to the meeting about action against anti-Semitism, solidarity with the Jewish community and protection of Palestinian rights, as an important contribution to the consultation on Labour's code of conduct."
The latest: The Met Police to investigate 21 cases of alleged anti-Semitism.
The Metropolitan Police are to investigate 21 cases of alleged anti-Semitism in the Labour Party after a dossier, obtained by LBC, was passed to Cressida Dick to see whether crimes have been committed.
Among the messages are "We shall rid the Jews who are cancer on us all..." and "Zionist extremist MP who hates civilised people about to get a good kicking".
In another file, a serving Labour councillor is accused of inflicting "ten years of hell" on a child, calling him a Jew Boy.
LBC has had this leaked document reviewed by Mak Chishty, who was in charge of dealing with hate crime for the Metropolitan police until last year.
He has reviewed all 45 anti-Semitism cases within this dossier and found 17 should have been reported to the police as a race-hate incident for investigation.
And he told LBC a further four - including the ones detailed above - warrant a criminal investigation as hate crimes.
Jeremy Corbyn's video apology.
Last month, Mr Corbyn used a video message to apologise for "the hurt" brought to Jewish people for the row.
It came just days after he published an article in the Guardian, criticised for being a "copy and paste job" from a previously published article in the Evening Standard, with his view on anti-Semitism within the party.
In his video, the Labour leader said: "We have been too slow in processing disciplinary cases of mostly online antisemitic abuse by party members."
"We're acting to speed this process up.
"Our party must never be a home for such people, and never will be," he said.
"People who use anti-semitic poison need to understand: you do not do it in my name, or the name of my party."
Jeremy Corbyn's British Zionist irony remark.
In the most recent spat over anti-semitism within the Labour Party, a video emerged from 2013 where Jeremy Corbyn said a group of British Zionists had "no sense of English irony".
Mr Corbyn has said that he is "more careful" with language now, and his allies have said the comments were taken out of context.
But the man who the 2013 remarks were aimed at told Maajid Nawaz that the Labour leader "can not slither away" from his "deeply anti-semitic" ways.
Richard Millett said: "He knew I was Jewish, he knew who I was five years ago, we used to mix in the same circles."
"It was an insinuation that I don't belong in the United Kingdom."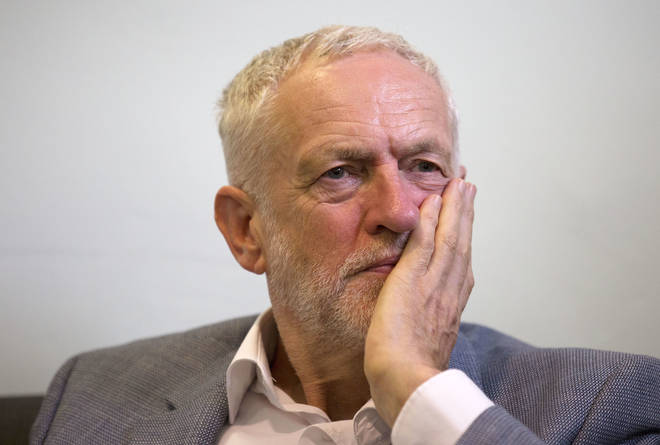 The International Holocaust Remembrance Alliance definition of anti-Semitism.
The Labour Party originally adopted only 7 of the 11 examples used by the IHRA as part of its definition of anti-Semitism. It has since adopted the definition in full.
"Antisemitism is a certain perception of Jews, which may be expressed as hatred toward Jews. Rhetorical and physical manifestations of antisemitism are directed toward Jewish or non-Jewish individuals and/or their property, toward Jewish community institutions and religious facilities."
The IHRA definitions of anti-semitic behaviours are:
- Calling for, aiding, or justifying the killing or harming of Jews in the name of a radical ideology or an extremist view of religion.
- Making mendacious, dehumanising, demonising, or stereotypical allegations about Jews as such or the power of Jews as collective — such as, especially but not exclusively, the myth about a world Jewish conspiracy or of Jews controlling the media, economy, government or other societal institutions.
- Accusing Jews as a people of being responsible for real or imagined wrongdoing committed by a single Jewish person or group, or even for acts committed by non-Jews.
- Denying the fact, scope, mechanisms (e.g. gas chambers) or intentionality of the genocide of the Jewish people at the hands of National Socialist Germany and its supporters and accomplices during World War II (the Holocaust).
- Accusing the Jews as a people, or Israel as a state, of inventing or exaggerating the Holocaust.
- Accusing Jewish citizens of being more loyal to Israel, or to the alleged priorities of Jews worldwide, than to the interests of their own nations.
- Denying the Jewish people their right to self-determination, e.g., by claiming that the existence of a State of Israel is a racist endeavour.
- Applying double standards by requiring of it a behaviour not expected or demanded of any other democratic nation.
- Using the symbols and images associated with classic antisemitism (e.g., claims of Jews killing Jesus or blood libel) to characterise Israel or Israelis.
- Drawing comparisons of contemporary Israeli policy to that of the Nazis.
- Holding Jews collectively responsible for actions of the state of Israel.