Met Police To Investigate 21 Cases Of Alleged Anti-Semitism In Labour Party - EXCLUSIVE
4 September 2018, 07:47 | Updated: 4 September 2018, 10:21
The Met Police Commissioner says she will pass a file on anti-Semitism in the Labour Party, obtained by LBC, to her experts to see whether crimes have been committed.
Among the messages are "We shall rid the Jews who are cancer on us all…." and "Zionist extremist MP who hates civilised people about to get a good kicking".
In another file, a serving Labour councillor is accused of inflicting "ten years of hell" on a child, calling him a Jew Boy.
LBC has had this leaked document reviewed by Mak Chishty, who was in charge of dealing with hate crime for the Metropolitan police until last year.
He has reviewed all 45 anti-Semitism cases within this dossier and found 17 should have been reported to the police as a race-hate incident for investigation.
And he told LBC a further four - including the ones detailed above - warrant a criminal investigation as hate crimes.




LBC's Political Editor Theo Usherwood explained: "It is worth focusing briefly on the 17 cases which constitute race hate incidents. They include the party member who described the prison sentence of a former Nazi SS guard at Auschwitz as 'a disgusting travesty of justice'.
"In another post, a sponsored abseil for charity was advertised. To which one activist commented that two MPs should be invited so they could 'throw them off the top - no ropes.'"
"Mr Chishty's team stressed to me, that after further investigation, these cases could easily be treated as crimes."
Met Police Commissioner Cressida Dick revealed she would pass this to her investigative team, saying: "We take hate crime very seriously.
"If somebody makes an allegation to us, absolutely we will take it seriously, we will scope it, we will see if a crime has taken place. First instance, does it look like a crime, which is perhaps what Mak has done.
"I will pass this to my experts to deal with. Well see if a crime has been committed."
Simon Johnson, the Chief Executive of the Jewish Leadership Council, told LBC: "If so many of these cases are serious enough to be referred to the police and yet Labour is dragging their heels in dealing with them, then that clearly contributes to the complete lack of confidence that the Jewish community has in the way that Labour is dealing with these at the moment.
"If Jeremy Corbyn was a competent leader of the Labour Party, he would have already dealt with these cases of anti-Semitism months ago. He would have rid this party of the stain that now affects them.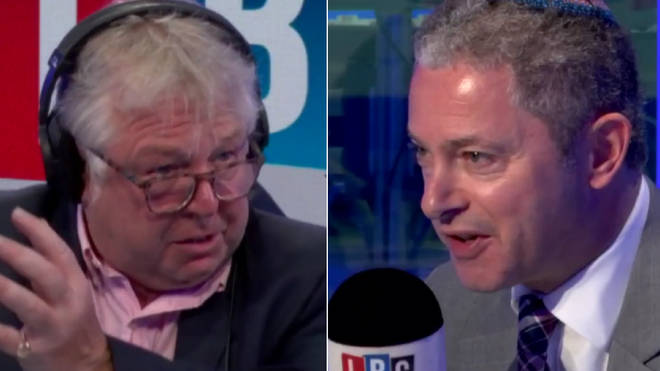 Today's claims come as Jeremy Corbyn's friend Pete Willsman was re-elected by more than 70,000 Labour party members to its governing body, the National Executive Committee.
Mr Willsman had claimed Jewish Trump fanatics were making up claims of anti-Semitism.