Armed Robber Begs To Be Freed After Getting Locked In Shop During Failed Raid
10 January 2018, 13:41 | Updated: 17 January 2018, 16:08
A man who tried to rob a shop at gunpoint met his match when a quick-thinking worker rushed out and locked him inside.
Video of the bizarre incident in southwest Houston has surfaced online after the ordeal was captured on CCTV.
It shows the man enter the shop, walk around the counter and demand money.
The employee, however, refuses to give in to the man's demands before quickly rushing herself, another employee and a customer with a pram out and locking the door behind.
The robber then tries to exit the store, but soon realises he's trapped inside with no obvious means of escape.
CCTV footage shows him shooting at the lock four times, which fails spectacularly.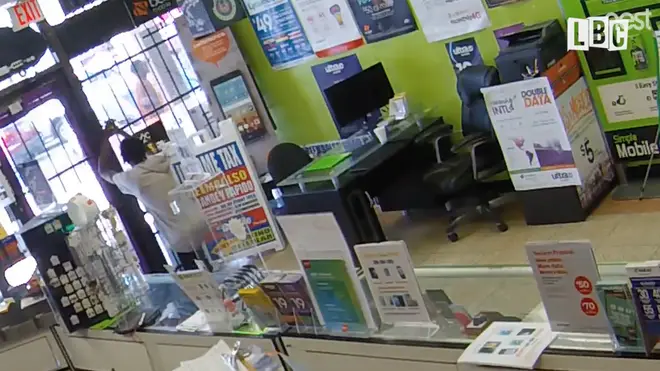 He then tries to kick the door down and running at it in an attempt to smash his way through, again this was not successful.
As it becomes clear he's not going to escape, he mutters: "I'm going to jail".
He sees some people outside the door and starts to beg them to let him out, even dropping to his knees and apologising.
"Please, please, please, I have nothing," he says.
"I'm sorry, please! Help!"
In the end he gives up and waits for police to arrive.
Local media reports the man, named as John Bell, pleaded guilty to the attempted robbery and was sentenced to five years in prison.