Car Ploughs Into Valet Workers As They Attempt To Restrain Would-Be Thief
9 October 2017, 15:01 | Updated: 9 October 2017, 15:30
Terrifying footage has emerged of valet workers dodging death after pinning down an attempted thief - before being run over by his accomplice.
Staff at the Original Car Spa in Addlestone, Surrey, wrestled the man onto the ground after he was caught trying to steal the day's takings.
One worker, Jordan Scott, 20, managed to land a punch to the suspect, as his co-workers helped bundle him to the floor.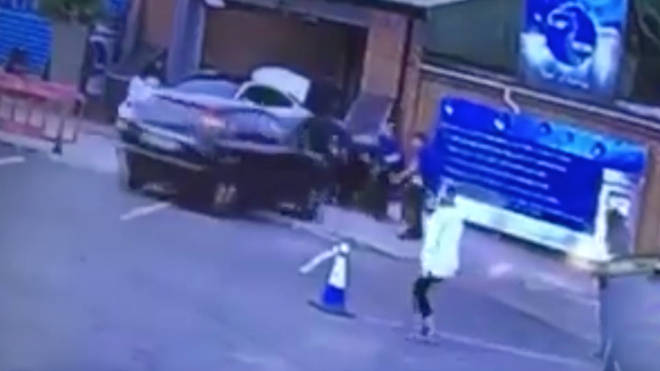 However, as the police were called the thief's accomplice drove his car straight into the group, before speeding off, dragging Mr Scott behind him.
The shocking incident happened around 5pm on Saturday.
Father and owner of the business Alastair Stott, 54, says he is 'very proud' of his hero staff.
He says despite being shaken, the team have all escaped without serious injuries.
Alastair added: "The suspect said there was 'more around the corner' while he was on the floor but I told him to lie still.
"The next thing we knew, his accomplice turns up in a car with no mask on.
"The two of us were sent flying and he ran off.
"I can forgive everything he did until he hit my son in the face as he ran away."
Surrey Police have been contacted for a comment.