Britain's best takeaways in the UK & Ireland revealed – has your local made the list?
9 October 2023, 20:56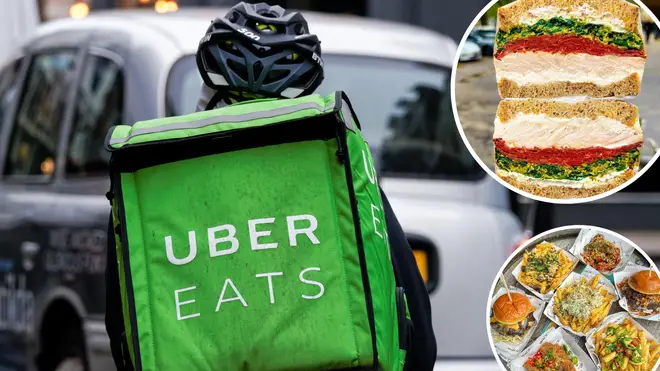 Uber Eats has revealed the best takeaways in the UK and Ireland in The Restaurant of the Year 2023 awards - has your local 'taken-away' a top spot?
The winner of The Restaurant of the Year 2023 awards has been published, as well as winners in their respective regional area.
This years winner is Sandwich Sandwich located in Bristol as Uber Eats Restaurant of the Year and received £100,000 in prize money.
Their aesthetically pleasing sandwiches, stuffed with colourful fillings have proven a hit with Bristolian locals.
Josh Kleiner, owner of Sandwich Sandwich, told the Daily Mail that the money will allow their ambitions to "grow" further as a family business.
He added: "It is difficult to put into words how much being announced as the winner of the Uber Eats Restaurant of the Year Awards means to us.
"The process has been so exciting from start to finish and it has been incredible to take part alongside the other finalists.
"Big shout out to our restaurant team back home in Bristol, our family and of course, Uber Eats for the support in getting us to this moment.
"This investment will make our ambitions to grow as a family business a reality."
London restaurant Brorritos also made the list with their famous signature burritos.
The business was started by two brothers who have called themselves "self-professed burrito" experts.
Natty's Jerk Chicken, in the southeast, also earned a spot in the top UK takeaway ranking.
The owner runs takeaways in Portsmouth and Bournemouth, offering hungry customers jerk chicken and pork.
Vegans and vegetarians are also welcome to dine as the restaurant offers plant-based alternatives.
In Telford, Shropshire, LYFBAR was nominated.
This restaurant focuses on serving "fast casual health-conscious" food, including burgers, custom boxes, wraps, sides and desserts.
Newcastle's Brack Burger is also a finalist, known for its award-winning burgers and fries.
Their popularity has seen the restaurant opening five branches in the city.
Liverpoolian eatery, PICNIC, was also a winner with their range of wraps, burrito bowls, picnic bowls, burgers, juices and shakes.
Scottish pizzeria, Bug Manny's Pizza, also bagged a top spot and serves residents large slices with toppings ranging from pepperoni to less conventional Cheetos Flamin' Hot crisps.
Another finalist is in Swansea, Wales, and has been revealed as Haystack Cafe.
The cafe is a local independent business which serves American-style brunches, lunches and a ready meal many Brits know and love - Pot Noodles.
This year's awards aimed to support small businesses that have suffered with the UK's economic conditions.
Read more: Price of fish and chips jumps a fifth as new tool shows surge in shopping bills
Read more: Takeaway mayhem as hospitality firms face £200 fines as plastic packaging ban set to come into force this weekend
Research from Uber Eats discovered that 65 per cent of business owners feel they are understaffed.
70 per cent of Uber Eats' partners cited inflation and 64 per cent highlighted energy costs as their main concerns.
Matthew Price, Regional General Manager of Uber Eats in UKI and Northern Europe, praised the winners and said: "Huge congratulations to Sandwich Sandwich, the winner of our Restaurant of the Year, who saw off stiff competition from thousands of other restaurants to be crowned the winner.
"It has been a very challenging time for small restaurants up and down the country which have faced skyrocketing food costs and energy bills.
"We want to play our role in helping to support and champion the best small businesses and under-represented groups within the restaurant industry through our awards."
The full list of winners in each area are below:
London
Brorritos, Eltham
Runners up: What the Pitta, Eat Lebö, Skewd Kitchen, It's All Greek To Me, Roti King, Tofu Vegan Gunpowder, Halo Burger
South East
Natty's Jerk Kitchen, Portsmouth
Runners up: Baffi Mango, Thai Tapas, Need Street Food, Drgnfly, LostBoysLand, Carlito Burrito Social Board, Half Man! Half Burger!
North East
Brack Burger, Newcastle
Runners up: Sibu Street Food, Chef Dokidoki, Farsley Fire & Smoke BBQ, Scream for Pizza, Acropolis, Brack Burger King, Baby Bagels, Sims Kitchen
South West
Sandwich Sandwich, Bristol
Runners up: Chilli Daddy, The Arjee Bhajee, Sandwich Sandwich, Streatwok Low and Slow Barbecue, Daily Noodles (from the founders of Woky Ko), Koocha Taylors, Bagels & Coffee, Cathay Rendezvous 满庭欢
North West
PICNIC, Liverpool
Runners up: Big Lola's Caribou Poutine, Aros Kitchen, Nashville Cluck Burger & Co, Mughli Charcoal Pit, Salt & Pepper, Three Brothers
Wales
Haystack Cafe, Swansea
Runners up: Poutine Box, Eat the bird (Cardiff), ANSH CYMRU, Baba's, Top Deck, The Pizza Boyz, Smokin Griddle (Swansea), Bashed UK
Midlands & East Anglia
LYFBAR, Telford
Runners up: Doorstep Desserts, Seoul Bowl, Grosvenor Fish Bar, Chainak, Taste From India, Doreen's Kitchen, Asha's TZATZIKI
Scotland
Big Manny's, Aberdeen
Runners up: Mother India, Razzo Pizza Napoletana, Jimmy's Express 有口福, Yippon Damasqino, Charcoals Bucks Bar, Salt & Chilli Oriental
Ireland
Locke Burger, Limerick
Runners up: Handsome Burger, Griolladh, The SpitJack (Bedford Row), Sambros, Chaat&Co., Kale+Coco, Dublin Pizza Co, SabaToGo