Reveller Finds Out The Hard Way Why You Should Never Slide Down A Tube Escalator
22 December 2017, 08:52 | Updated: 22 December 2017, 14:47
A darts fan found out the hard way why you should never slide down a London Underground Tube escalator.
Video of Freddie Andrews taking an almighty tumble has gone viral after it was posted on social media.
He'd been enjoying a night at the PDC World Darts Championship at the Alexandra Palace on Wednesday when he decided to perform the stunt.
The eye-watering clip begins with the 22-year-old sliding down the centre of the escalator chute.
As he gathers pace, he ends up crashing into an emergency stop button between his legs.
But, the trauma doesn't stop there as he then hits a second metal sign before being flipped onto the opposite escalator and into the path of a bemused man.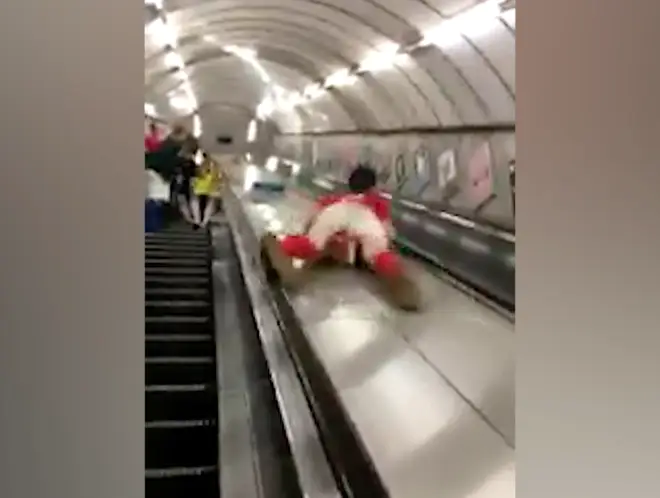 The Asda worker said he didn't feel the pain at the time because of the amount he had had to drink.
"At first it was really funny, but then when my friends saw me go head first, they went 'oh s***'," he told The Sun.
"It's all fun and games until someone goes head first on the escalator.
"I had drunk enough not to feel the pain. I woke up this morning and couldn't move, but I'm fine now."
The clip has since been retweeted over 190,000 times.
One user wrote: "That has to be the most I've laughed in a long time".
Another added: "I can't stop watching this".
While a third quipped: "Well that escalated quickly!"
Watch the painful moment above.