Chuka Umunna's Reasons Why Brexiteers Should've Changed Their Minds By Now
24 October 2017, 10:59 | Updated: 24 October 2017, 11:11
The Labour MP says since the referendum the UK has a better idea of what leaving the EU will entail - and it's bad.
Labour MP Chuka Umunna has listed several reasons he thinks should force Brexiteers to reconsider their position.
Standing in for James O'Brien and hosting his own LBC show, Chuka said new information meant the significant consequences of Brexit were becoming clearer.
The MP for Streatham told listeners that the referendum dealt in hypotheticals but the present day enjoys knowledge of the facts referencing an EU divorce bill, the right to stay of 3.2m EU citizens living in the UK and the likelihood of a no deal outcome.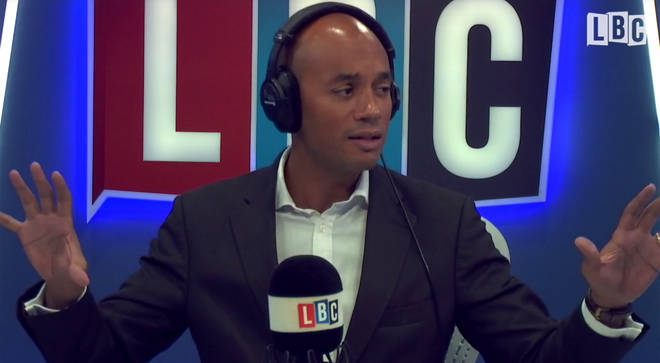 He said: "Now, during that referendum we were dealing with hypotheticals, but now we've got some facts.
"It's true there were some overblown claims made by both sides, but the UK voted to leave and that's the proposition that is now being tested.
"There are definitely things now emerging that people didn't know of at the time of the referendum.
"For example we know that there will be a big divorce bill, that we'll have to pay the EU.
"Which means that the £350 million a week which was emblazoned on that big red bus that Boris Johnson, the Foreign Secretary, went around in during the referendum campaign.
"We know that that isn't going to be able to go to public services, the NHS, because we'll have to pay this divorce bill.
"Many thought that Brexit would lead to a lot of the 3 million EU citizens who live in our country departing.
"But some business sectors have said they will collapse if they all go, and our hospitals tell us that the nurses and doctors that come here from the EU are absolutely essential in keeping our NHS going.
"Of course we were also told that we could enjoy pretty much all of the same economic benefits we get as a member of the EU after leaving, the chief negotiator of the EU has said that simply won't be possible.
"And of course now, aside from the facts, there is serious talks of there being no deal. During the referendum we were told the EU would definitely agree to what we wanted and give us a deal.
"Now I think this whole thing is going to be a disaster."
Watch the full clip at the top of this page.