Labour MP: My Alcoholic Dad Fell Over At The School Gates
31 December 2016, 15:13 | Updated: 31 December 2016, 15:24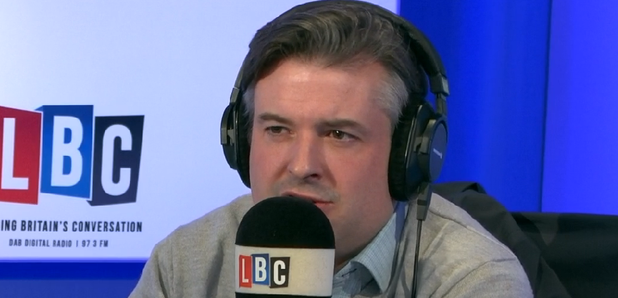 Labour MP Jon Ashworth gave a searingly honest interview about how difficult it was growing up with an alcoholic father.
The Shadow Health Secretary told LBC his dad was an alcoholic and passed away aged just 60.
In his first broadcast interview about it, Mr Ashworth told LBC about his realisation that his father had a problem.
Speaking to Kevin Maguire, he said: "My dad drank too much. He was an alcoholic. My mum and dad divorced when I was about seven or eight.
"At the weekend, I used to stay at my Dad's in a small working class town in the north called Radcliffe. He was drunk, basically, all weekend.
"I remember very vividly a time when he came to pick me up at school when he fell over at the gates.
"There was another time when I was about 12 when he locked himself in the bathroom and he was so drunk, he couldn't undo the lock. I had to ram against the door with my shoulder to push the door down.
"His fridge was just full of bottles of white white. He'd drink these cheap bottles of white wine from the off-license and then move on to bitter or lager. I used to have to be the person who would go down to the shops to get the food in."
Mr Ashworth told an especially sad story about how his dad was too embarrassed to attend his wedding, because he felt so out of place with all the famous politicians that would be attending.
Watch his powerful interview below in full