US tornadoes: Up to 100 feared dead as storms hit - and Amazon warehouse collapses
11 December 2021, 10:22 | Updated: 12 December 2021, 09:47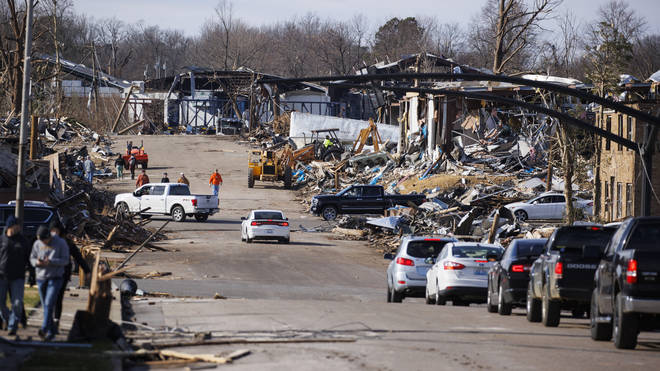 As many as one hundred people are feared to have died as tornadoes hit several US states.
Buildings have been brought down, trapping people inside and a state of emergency's been declared in Kentucky, where more than 56,000 homes are without power.
Governor Andy Beshear said it is one of the worst storms the state has ever seen. 83 people are understood to have lost their lives with dozens more still unaccounted for.
It is thought about 110 people were in a candle factory when the tornado hit, with search and rescue teams combing through the rubble. It is unclear how many may have died. Bodies have been recovered but the number is uncertain.
Kyana Parsons-Perez, who worked at the factory, was trapped under five feet of debris for more than two hours until rescuers freed her.
She said it was the "absolutely the most terrifying" event she had ever experienced.
"I did not think I was going to make it at all, she said, adding that she felt a gust of wind and her ears began to pop before "boom - everything came down on us."
President Joe Biden said the deaths were an "unimaginable tragedy" and the federal government would help state governors.
This morning, I was briefed on the devastating tornadoes across the central U.S. To lose a loved one in a storm like this is an unimaginable tragedy. We're working with Governors to ensure they have what they need as the search for survivors and damage assessments continue.

— President Biden (@POTUS) December 11, 2021
Three people died in severe weather in Tennessee, and one person died and several were injured when an apparent tornado hit an Arkansas nursing home.
Emergency crews in southern Illinois were searching for workers who may be trapped inside an Amazon warehouse, after its roof collapsed from storm damage.
At least one death was also reported in Missouri.
A tornado hit the Monette Manor nursing home in Arkansas on Friday, killing one person and trapping 20 people inside as the building collapsed, judge Marvin Day said.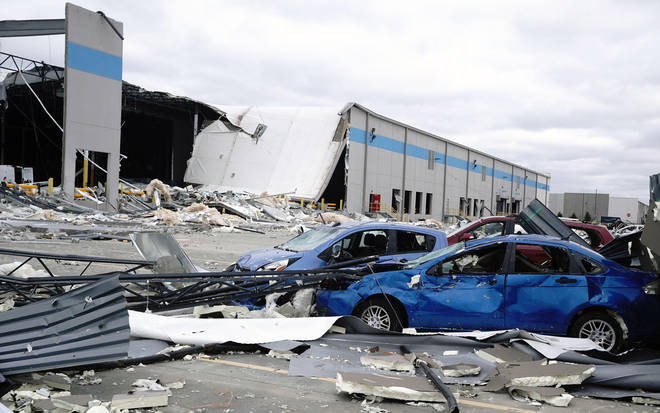 "It looks like it's pretty much destroyed," Mr Day said.
At least 100 emergency vehicles descended on the Amazon warehouse near Edwardsville, Illinois, where a wall that was about the length of a football field collapsed, as did the roof above it.
On Saturday, rescue crews were still sorting through the rubble to determine if anyone was trapped inside.
In Missouri, workers at the weather service office had to take shelter as a tornado passed near their office in Weldon Spring.
One person died and two others were injured in building collapses near the towns of Defiance and New Melle, both just a few miles from the weather service office.
The storms in Illinois, Missouri and Arkansas were among several places in the Midwest that reported tornadoes spotted or on the ground.