Britain faces 'longest recession in history' as Bank of England hikes interest rate 0.75% to 3%
3 November 2022, 12:02 | Updated: 3 November 2022, 13:26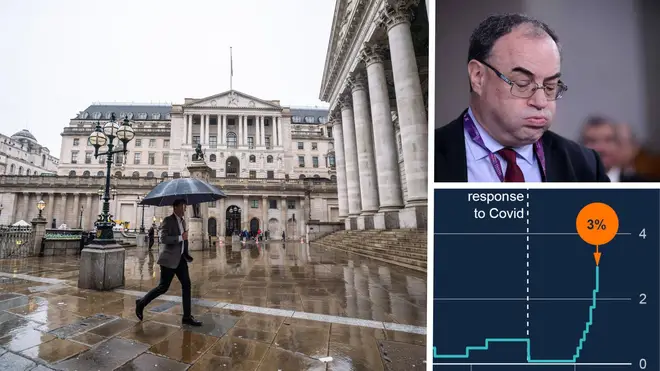 The Bank of England hiked interest rates to 3% from 2.25% on Thursday as it tries to control runaway inflation which is battering British households.
The 0.75% rise is the single biggest increase since 1989 and could see mortgage holders get hit by £3,000 a year.
It is also the eighth time in a row that the Bank hikes interest rates, which mortgages are set against. Less than a year ago the rate was 0.1%.
The Bank has also warned the UK is on course for the longest recession since reliable records began a century ago.
Read more: 'Log bank' set up to keep people warm in UK's coldest town
Read more: Government facing legal challenge over migrant overcrowding in Manston
The pound fell against foreign currencies after the announcement on Thursday. Sterling dropped 1.4% to 1.123 against the dollar and was 0.8% lower at 1.15 euros.
The Bank of England's governor Andrew Bailey said there is a "tough road ahead" but the Bank needed to act to tackle inflation.
Recent figures show inflation soared to 11.6 per cent in October, with basics such as tea bags, milk and sugar all seeing significant price rises as the cost of living crisis continues.
While Mr Bailey admitted the rises are "big changes and they have a real impact on peoples' lives" but warned that "if we do not act forcefully now, it would be worse later on."
However, he added that "we think Bank rate will have to go up by less than is currently priced in by financial markets" meaning "fixed rate mortgages should not need to rise as much as they have done".
Chancellor Jeremy Hunt said "the most important thing the British government can do right now is to restore stability, sort out our public finances, and get debt falling so that interest rate rises are kept as low as possible" but he admitted "there are no easy options".
Rachel Reeves MP, Labour's shadow chancellor, responding to Bank of England interest rates rising to 3%, said: "Families now face higher mortgages and more anxiety after months of economic chaos.
"Today's recession warning lays bare how 12 years of Tory government has weakened the foundations of our economy, and left us exposed to shocks, lurching from crisis to crisis with falling living standards and low growth.
"As Chancellor and now Prime Minister, Sunak must face up to his mistakes that have led to the vicious cycle of stagnation this Tory government has trapped us in."
Trades Union Congress head of economics Kate Bell said: "Workers are paying a high price for the Conservatives crashing the economy.
"Today's interest hike will increase the risk of a bleak recession this winter, and it will hammer businesses and people paying a mortgage.
Homeowners with mortgages were warned about a "rude awakening" over their deals.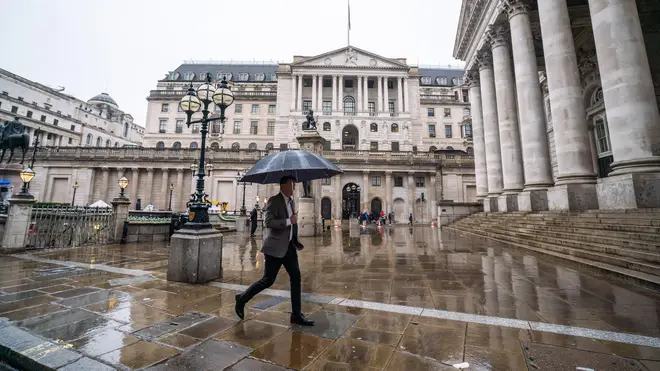 Tax expert David Hannah, chairman of Cornerstone Tax, said: "We are seeing a new level of unaffordable house prices in the UK property market, and the property market is now becoming increasingly difficult to enter for first-time buyers.
"Renters will also feel the effects of today's interest rate hike. They will find it more difficult to find available properties as landlords are set to experience higher mortgage rates which could deter them from renting their properties and look to sell instead."
Samuel Fuller, director of Financial Markets Online, said: "Recession is expected, we might already be in one, and the latest hike will only exacerbate the trouble ahead for the UK housing market.
"Remortgaging and home buying will immediately become harder than it has been for well over a decade thanks to stretched affordability and likely further increases in the cost of borrowing as lenders begin to price in yet more rate rises."
Earlier this month, markets had predicted the interest rate increase could be as much as one percentage point but sentiment has calmed somewhat after the change of Chancellor and Prime Minister and Bank of England bond purchases pushed down on the cost of borrowing.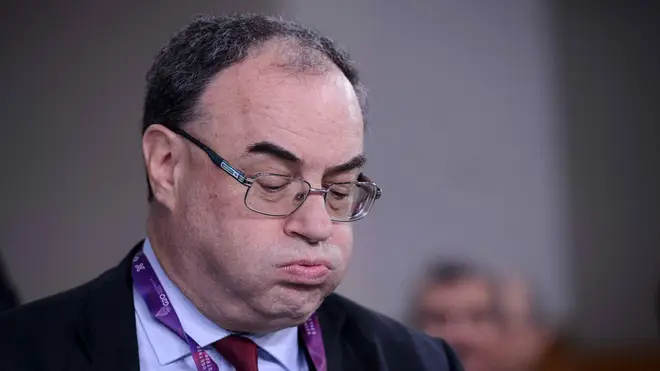 Markets have also witnessed a decreased appetite for large hikes globally, with the Bank of Canada increasing its interest rate by 0.5 percentage points, below the 0.75 percentage point rise which had been widely predicted.
The Bank will also confirm its inflation expectations for the longer term, which are due to show that the cost of living will be much higher than the central bank's 2% target next year.