What time is Boris Johnson's Covid press briefing today? And what will he say?
12 July 2021, 06:57 | Updated: 12 July 2021, 07:16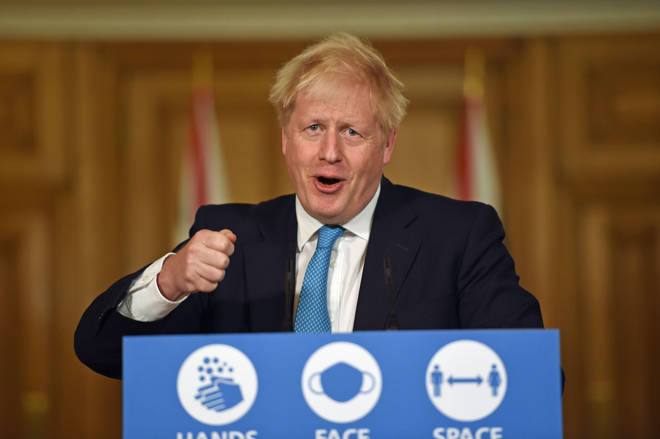 Boris Johnson is set to lead a Downing Street Covid later today where he will announce whether July 19 'freedom day' will go ahead as planned.
The Prime Minister will lead the government's latest Covid-19 briefing on Monday, July 12 from within Downing Street's press room.
The next stage of lifting measures is seen as a further step towards normality and moving out of the pandemic.
Boris Johnson hs said 'caution is absolutely vital' as he prepares to announce whether England's remaining coronavirus restrictions will be eased.
Read more: Boris Johnson to address nation on whether July 19 unlocking can proceed
The PM has said England is "tantalisingly close" to lifting all remaining coronavirus restrictions which will see the country move to Step 4 of the plan to lift measures, including ending the legal requirement to wear masks.
What time is Boris Johnson's Covid press conference?
Previously, the Prime Minister has held his Covid briefings at 5pm from the Downing Street press briefing room.
While Mr Johnson hosts the Monday afternoon press conference his Health Secretary Sajid Javid will announce the plans in Parliament.
Read more: People 'expected to wear masks' indoors in England after 19 July - minister
What will Boris Johnson say in his press briefing today?
Downing Street said the unlocking would be based on four tests - the success of the vaccine rollout, evidence that the vaccine is causing a reduction in hospital admissions and deaths, that infection rates do not risk a surge in admissions, and that no new variants of concern throw progress off track.
But, it is likely people in England will still be "expected to wear masks in indoor enclosed spaces" even as the legal requirement to do so is lifted, Vaccines Minister Nadhim Zahawi revealed on Sunday.
The comments indicate an apparent U-turn inside the government, after Boris Johnson announced last Monday that it would be personal choice to wear a face covering.