Speak to your lender: Minister's message to Brits struggling with mortgages as he says inflation will come down
28 June 2023, 10:02 | Updated: 28 June 2023, 10:08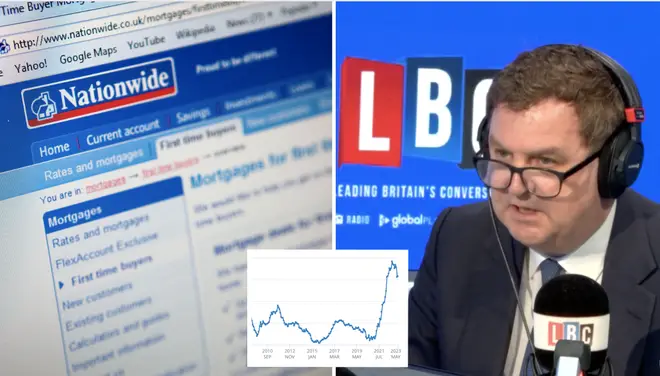 Work and Pensions Secretary Mel Stride has urged people struggling with their mortgages to speak to their lenders - as he insisted halving inflation was the best way to combat the rising cost of living.
Speaking on Call the Cabinet with LBC's Nick Ferrari, Mr Stride was asked by caller Ashley about how he can be expected to "hold his nerve" while struggling to pay off his mortgage.
It came after the Prime Minister Rishi Sunak urged homeowners and borrowers to "hold their nerve" over rising interest rates, a policy which aims to bring down inflation.
Mr Stride told LBC: "I understand…increasing mortgage rates is of incredible concern.
"But the most important thing we can do now is to get down inflation and we're committed to halving that by the end of this year.
"Part of the way that happens, as you know, is that the Bank of England puts up interest rates and that's known as tightening monetary policy and that has knock-on consequences for mortgages."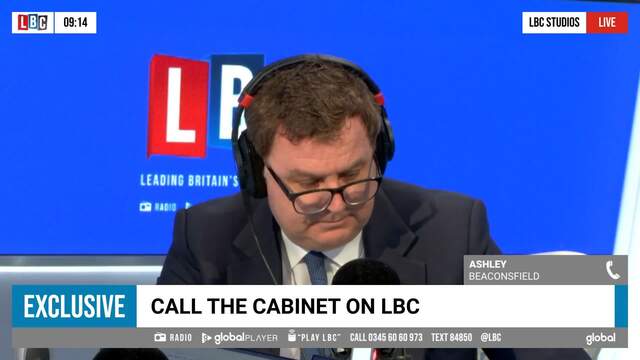 'How exactly do you expect me to hold my nerve?': Caller confronts Minister on mortgage rates
He went on: "That's happening across countries right across the world.
"In fact, mortgage rates in the United States [and many other countries] are right up there with the same kind of rates we have.
"The Eurozone has the highest interest rates its had in the last couple of decades.
"All of this points towards really getting inflation down. So if we can squeeze inflation down, we'll start to see those rates softening."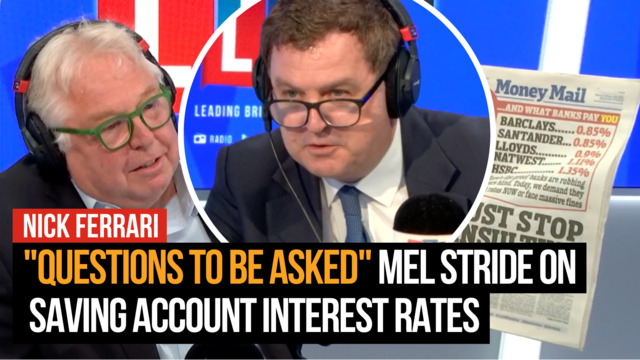 Mel Stride: 'Questions to be asked' about banks not applying fair interest rates to savings accounts
He continued: "But that doesn't mean we don't do something right now."
Mr Stride said a recent agreement between banks and Chancellor Jeremy Hunt was going to be crucial in helping those struggling to pay mortgage.
Following the agreement, there will now be a minimum 12 month period before a home is repossessed.
Borrowers will also be able to make a temporary change to their mortgage terms, for example by switching to an interest-only deal, then will be able to return to their original deal within six months without impacting their credit scores.
Mr Stride went on: "The message really, Nick, to anyone who is at home worrying about their situation, their ability to repay their mortgage is to speak to their lender."
Mortgages help announced: Read the changes in full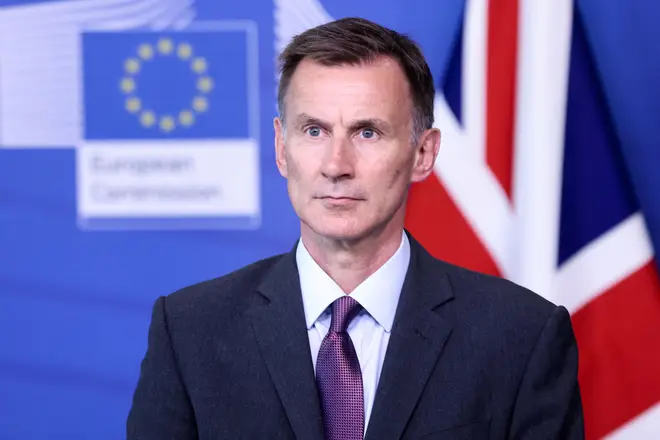 It comes after Mr Stride announced new changes to Universal Credit payment for working families, who are set to benefit from a £500 cash boost to get parents back into work.
Universal credit childcare payments will by 47 per cent for working parents from today under the new government plans.
The payment increase means parents are able to claim up to £951 for one child or up to £1,630 for two or more children.
Under the new plans, the Department for Work and Pensions (DWP) has said it will provide a boost of up to £522 to parents to help cover childcare costs on Universal Credit in a bid to help to help parents 'get back to work'.
Previously parents were only able to claim up to £646 for one child, or a maximum of £1,108 for two or more children.
Read More: Working families on universal credit receive cash boost as childcare payments rise by £500
Read More: Jeremy Hunt admits £4billion childcare package couldn't start now due to dearth of staff and nurseries
Mr Stride said of the plans: "We are supporting thousands of parents to return to work, progress their careers and boost their finances while making sure they have affordable childcare.
"By removing one of the biggest barriers to work for parents in Britain we are giving families the chance of a better future while doubling down on this government's pledge to grow the economy and bear down on inflation."
The plans will also extend to covering the costs of childcare for the first month when parents increase their hours or enter work, so they are able to stay one month ahead of payments on childcare and also to help low-income families struggling with the upfront costs of childcare.
DWP said parents who do so will receive 85% of the first month of childcare costs back before their next month's bills are due.
Claire Coutinho, the Minister for Children, Families and Wellbeing, added: "We are delivering the largest ever expansion of free early education in England to make sure parents are able to access the high-quality, affordable childcare that they need.
"A working parent using 30 hours of childcare a week could save an average of £6,500 a year thanks to the new free hours offer alone.
"Parents might be surprised just how much support they're eligible for – check all the details on our dedicated Childcare Choices website."