'Mamma Mia!': Escaped circus lion prowls streets of town near Rome, leaving locals terrified amid lockdown alert
12 November 2023, 07:27 | Updated: 12 November 2023, 07:29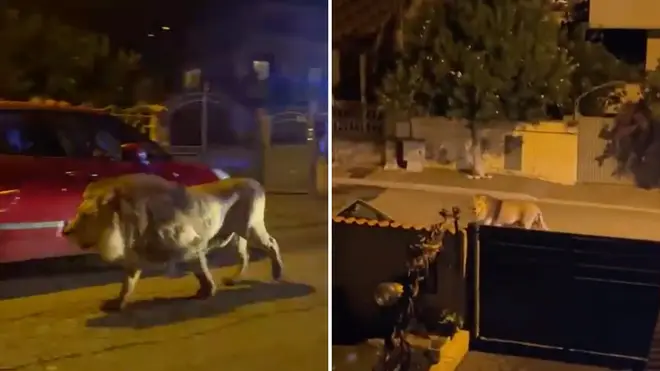 This is the shocking moment an escaped circus lion was seen prowling the streets of a town near Rome.
A local shared footage of the lion, named Kimba, walking down the deserted streets of Ladispoli - home to around 40,000 people.
The town was placed on lockdown alert, while Mayor Alessandro Grando warned residents to stay indoors until the big cat was sedated and captured.
One social media user who captured a video of the lion was heard saying "mamma mia" as it prowled the town's streets.
Kimba initially resisted attempts to sedate him but was captured on Saturday evening, the Mayor confirmed.
It took authorities around seven hours to capture the lion and he had to be sedated twice, according to local media.
Kimba was first sedated around 3pm, outlet Corriere della Sera added, but got away multiple times.
He was finally captured at around 10pm.
Read more: Gang who smuggled £1.59 billion worth of cocaine into UK using frozen chicken boxes jailed in exposed drug ring
Read more: 'I won't let it define me': Jonnie Irwin defies doctors' prognosis as he plans 50th birthday amid terminal cancer battle
Mr Grando said in a Facebook post: "The lion was sedated and captured.
Now it will be taken over by the circus staff.
"Thank you State Police, Carabinieri, Firefighters, Local and Provincial Police, ASL and all the volunteers who served during these hours of great learning.
"I hope this episode can stir some consciences, and that we can finally put an end to animal exploitation in circuses."
Mr Grando, who was hit by complaints from locals over the incident, said while he did not grant the circus permission to set up in the town, he could not block it either.