Tiny shed of the law! Britain's 'smallest police station' measuring just 8ft by 8ft and with no cells opens
31 October 2023, 08:58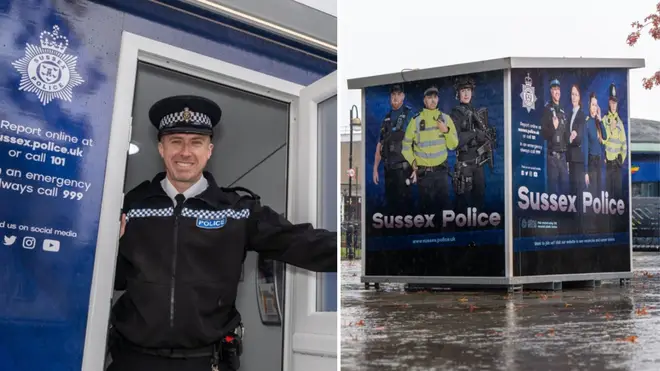 Sussex Police have unveiled the UK's 'smallest police station' after launching PC pod - a police hub comparable in size to a garden shed.
The force announced its new 'PC Pod' on Monday in a bid to tackle crime and disorder in Crawley.
Compared to the size of a "garden shed", it was unveiled in the High Street, Crawley on Monday morning.
The modestly-sized "hub" is 254cm in length, 250cm in height and 185cm in width.
Without space for any cells, Sussex Police said the pod will be used by police officers and staff, as well as partners including Crawley Borough Council, to "increase engagement and community reassurance, and provide a safe space for people to talk about any concerns they may have".
It's powered by solar energy and made using 1,312 recycled plastic bottles.
"The safety of our community is a priority for us, and this new hub provides a highly visible presence in the busy town centre to deter criminal activity and engage with members of the public," Detective Chief Inspector Simon Yates, the force lead for knife crime and serious violence, said.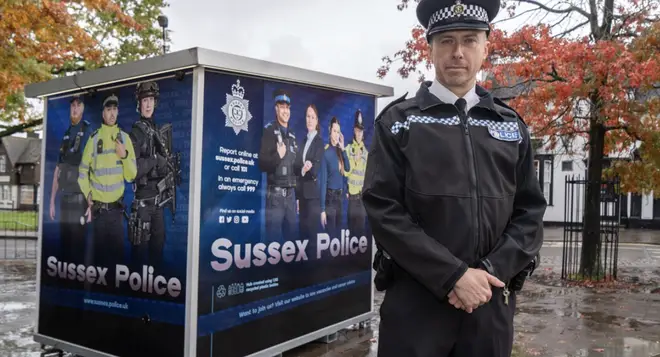 "It will build on the extensive work we already do to tackle antisocial and criminal behaviour in the area, which includes daily patrol activity and initiatives to address crime targeted at local businesses.
"We are pleased to be able to join with our partners in providing this extra support and reassurance to the local community, to keep Crawley a safe place to live, work, and visit."
Read more: Sunak tells police to prepare for terror attacks as Israel-Hamas war deepens community tensions
Read more: Police investigating death of ice hockey star Adam Johnson after 'skate cut throat' in freak accident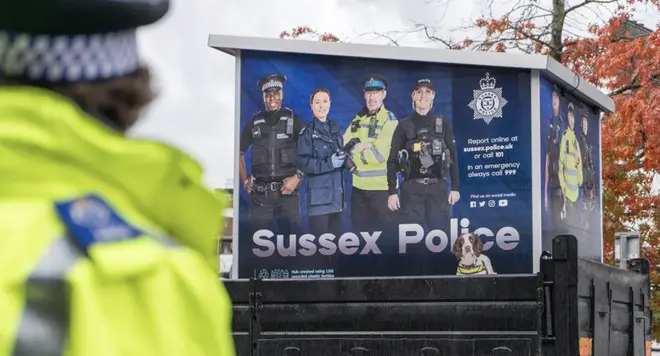 The pod will be manned by police community support officers (PCSOs) and officers from the local Neighbourhood Policing Team and Response Team when possible - with particular emphaiss on Thursday, Friday and Saturday evenings.
It will sit on Crawley High Street for six months, after which an evaluation will be carried out into its effectiveness.
"The arrival of the pod is an exciting opportunity to share space with partners and be present right in the centre of town," Chief Inspector Ben Starns, District Commander for Crawley and Mid Sussex, said.
"Police officers and PCSOs, along with partners from local authority and other agencies, will be present in and around the pod to allow people to meet with officers, ask questions and understand the policing response to issues in the town centre.
"It is important to reiterate that the engagement hub is not replacing police stations; it is in addition to – and an enhancement of – our opportunities to engage with our community. We will always be available via online forms, 101, or 999 in an emergency, and at your local police station that will continue to operate as normal."