The People Determined To Make Jacob Rees-Mogg The Next PM
28 July 2017, 14:35 | Updated: 7 November 2017, 14:22
Jacob Rees-Mogg is emerging a surprise favourite to succeed Theresa May as Tory leader thanks to a huge wave of support online. So, LBC has been to meet the people behind the campaign.
The Conservative backbencher and eccentric Etonian has become somewhat of an internet sensation over recent months.
The announcement of his sixth child, Sixtus Dominic Boniface Christopher sent social media into meltdown - particularly after he told LBC he's never changed a nappy.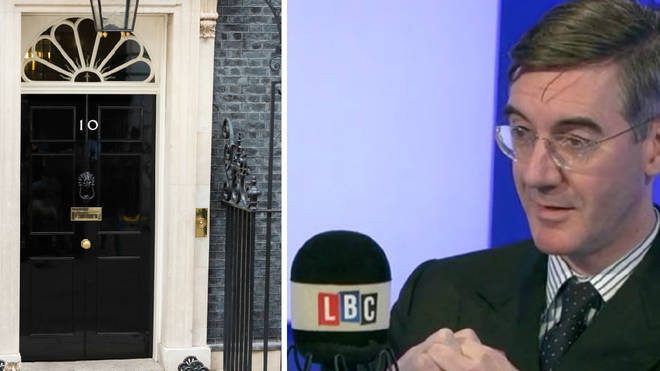 Mr Rees-Mogg has insisted he is a "huge admirer" of Mrs May and wants her to remain as Prime Minster - but that hasn't dampened the "Moggmentum" movement.
So as the odds shorten on the MP for North East Somerset to be Mrs May's successor , LBC's Political Editor Theo Usherwood has been to meet some of those determined to make him the next PM.
Anne is a 27-year-old from Edinburgh. She described Mr Rees-Mogg as a "great character".
"He's not afraid to be himself," she told LBC. "I find that really refreshing, he's not a politician who is going to lie down and be whatever people wants him to be."
Read more: Father Of Six Jacob Rees-Mogg Has Never Changed A Nappy In His Life
Another supporter, Sam, 23, said although the backbencher may not be able to win over the young voters drawn to Jeremy Corbyn - he definitely had wider appeal.
"Young Conservatives love him," he added.
Lydia, 24, is not put off by Mr Rees-Mogg's exceptionally posh tones.
"I really don't think it matters how someone sounds or where they went to school," she said.
"Diane Abbott sent her kids to primary school, Jeremy Corbyn went to grammar school, Tony Blair went to public school.
"It didn't stop them doing well in the Labour party, it won't stop Mogg doing well in the Conservative party."