Climate protesters halt traffic with 'sit in' protests in streets around the UK
1 May 2021, 11:53 | Updated: 1 May 2021, 13:45
Protesters from Extinction Rebellion halted traffic in streets across the UK today as part of "individual action in disruptive locations" to raise the issue of climate change.
The protesters want the PM to present a roadmap for how he aims to achieve the planned cut in emissions by 78% by 2035.
One activist, Morgan Trowland, 38, glued himself to London's Tower Bridge, prompting City of London Police to close it to southbound traffic.
Mr Trowland, a civil engineer from Hackney, east London, said: "I'm terrified that billions will die because of the climate crisis, humans and non-humans.
"I'm freaking out that many people are accepting this, or feel powerless to change the course. I want to show onlookers that we each have phenomenal power."
Another protester bearing a placard that read: "I'm terrified for our children and grandchildren because of the climate crisis," sat alone at a busy junction at Oxford Circus before being moved on by police.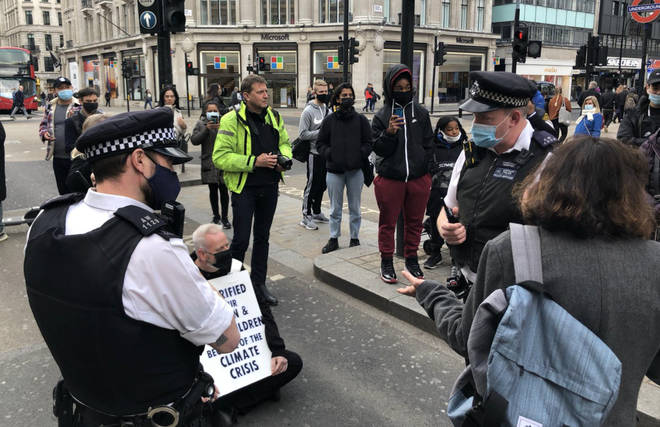 Protester Bernard Kelly told LBC: "We are in the middle of a climate crisis. The world is being tipped into a real life disaster movie.
"The ice caps are melting and action isn't being taken."
The protester sat in place in the middle of the road at Oxford Circus before being moved on by police after around half an hour. A similar protester at Piccadilly Circus also left after around half an hour of protest action.
Another protester in Exeter said: "I am scared every day. My board reads 'I am terrified for the future of all our children because of the climate crisis'.  
Retired maths and economics teacher Marilyn Spurr said: "There is a climate and ecological emergency. 
"Aren't we all scared? Well, not everyone.  Not, it seems fossil fuel companies, finance companies that lend them money and governments including our own."
Bing Jones, a 68-year-old retired NHS doctor, blocked a road in Sheffield.
He said: "I'm terrified that our climate targets are empty promises.
"We have targets for 2050 but we are still increasing emissions today. The Government has made inexcusable Covid mistakes. I'm terrified that they will be even worse on the climate crisis."
He added: "I am desperate. I write, lobby and support green politics but see nothing real happening.
"So I am sitting in the road today with a notice saying I am terrified. I am sorry to disrupt ordinary people but I do not know what else to do."
Over 200 hundred people took part in the protests, Extinction Rebellion said.
The protest group said "individual disruptive actions" took place in Scarborough, Weymouth, Birmingham, Oxford, Bradford, Ipswich, Lincoln, Canterbury, Newcastle, Portishead, London, Newquay, Swansea, and Bangor in Northern Ireland.