Essex Police Criticised For Posts Suggesting Domestic Abuse Victims Can Stay With Partners
16 December 2017, 07:58 | Updated: 16 December 2017, 08:59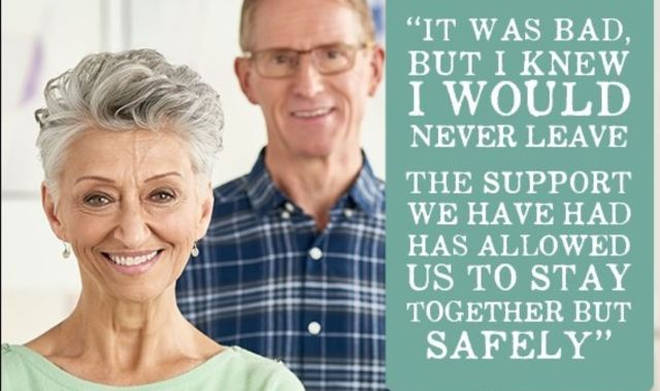 Essex Police has apologised for suggesting some domestic violence victims can find "happiness" by staying with their partners.
The force said it had used "clumsy language" in a Facebook post promoting the 55+ Safety Net campaign, which aims to help older victims of domestic abuse.
Critics have branded the initiative "irresponsible" and said it promotes a "dangerous message" because it suggests some victims can stay with their partners if given support.
In its Facebook post, Essex Police urged people to visit the campaign's website, saying it featured victims who wanted to stay in relationships "where less harmful abuse was taking place and found safety and happiness in doing that".
Women's Aid, which works to end domestic violence, said it was "extremely concerned" by the message promoted by the force.
The charity's chief executive Katie Ghose told Sky News: "The message that a woman can safely stay in a relationship that is or has been abusive is extremely dangerous.
"It minimises the devastating impact of coercive control, and could leave women stuck in an abusive relationship and feeling that there is nowhere to turn for help."
The campaign, which Essex Police promoted on Facebook and Twitter, has also attracted a wave of criticism on social media. It separately included Rebecca Bellenie bravely telling her story and waiving anonymity, after Neil Parrish, 37, of Chelmsford, was jailed for 11 years for rape. She urged domestic abuse victims to come forward in the video above.
Author Jack Monroe wrote on Twitter: "Wow, Essex Police. I just have no words for what an irresponsible, silencing, diminishing campaign this is."Basically telling women to 'put up and shut up' re domestic abuse. In 2017. This is absurd."
Another person tweeted: "Safely stay in an abusive relationship? Seems an incredibly dangerous message."
One Twitter user wrote: "There's no such thing as staying safe in an abusive relationship. You're always one bad day away from a disaster, and that's just not a tenable scenario."
An Essex Police spokesman said: "We have used clumsy language in a Facebook post that has clearly caused offence and we are sorry for that."
The force said the campaign featured "real stories" from victims, some of whom had never called police but went to counselling or family therapy that made them feel safe.
The spokesman added: "Our message in this campaign isn't 'stay in any relationship no matter how abusive'.
"It's 'if something is happening in your relationship, even if you've been with someone for decades, there is help you can get'."
Essex County Council, which has led the initiative, said it was "positive that the campaign has sparked a debate on a very important issue".
"The message is clear - domestic abuse is never acceptable," Dick Madden, chairman of the Southend, Essex and Thurrock Domestic Abuse Board, said.
"Not all domestic abuse cases are the same, and not all victims will want to leave or consider reporting to the police.
"Through this particular scenario, we are aiming to reach out to this audience and give them information about the support available, whatever their circumstances. We want to make sure victims know where to turn to for support."
(c) Sky News 2017: Essex Police criticised for posts suggesting domestic abuse victims can stay with partners