'It breaks my heart' - Boris Johnson urges people to limit social contact
9 September 2020, 16:34 | Updated: 9 September 2020, 18:21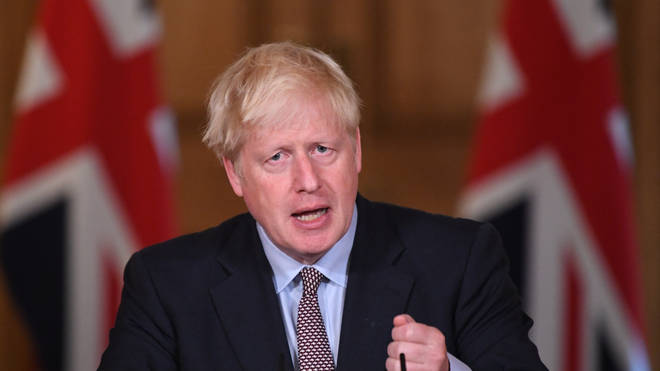 "It breaks my heart to have to insist on these restrictions," Prime Minister Boris Johnson has said while announcing new measures on social gatherings in England.
Mr Johnson was addressing the nation during a press briefing from Downing Street on Wednesday afternoon.
The new rules, that will come into effect on Monday, mean that the number of people meeting indoors and outdoors will be reduced from 30 to six, with a number of exemptions including weddings, funerals, in work and in schools.
Measures surrounding the outbreak of Covid-19 had become "complicated and confusing", the prime minister said, which is why he decided to introduce the new restrictions.
However, he sought to reassure the public these new rules did not constitute a second national lockdown.
"I want to be absolutely clear, these measures are not another national lockdown. The whole point of them is to avoid a second national lockdown," Mr Johnson said.
Read more: Business owners worry new restrictions on gatherings are 'unsurvivable'
Read more: How will the new rules on gatherings affect me?
The prime minister also set out a new "rule of six" for social gatherings, saying anyone who breaks this could be fined or arrested by the police.
He also outlined a "moonshot" plan to limit the spread of the virus through a system of mass testing, which comes after the UK reported a further 2,659 coronavirus cases on Wednesday.
It marks the fourth day in a row where there have been more than 2,000 infections.
Labour leader Sir Keir Starmer responded to the announcement, saying his party does support the measures. He also urged the public to comply with the new rules.
However, he criticised how the government had previously communicated measures to Brits.
Watch: Social gathering restrictions will put 'intolerable pressure' on policing
Read more: The party's over: Gatherings of more than six people to be banned
"I think the government's now acknowledged that their poor communications were a large part of the problem, so that's got to be fixed," Sir Keir said.
"But they also need to recognise that the testing regime is all over the place at the moment, they can't pretend that's not the problem so that needs fixing as well."
The legal limit on social gatherings will apply to gatherings indoors and outdoors - including private homes, as well as parks, pubs and restaurants.
However, gatherings of more than six people will be allowed where the household or support bubble is larger than six, or where the gathering is for work or education purposes.
Exemptions will also apply for weddings, funerals, team sports organised in a Covid-secure way, gyms and places of worship.
The government hopes that the change to the law will make it easier for the police to identify and disperse illegal gatherings.
Failure to comply could result in a £100 fine, which will double on each repeat offence up to £3,200.
The decision was agreed upon by the government, Chief Medical Officer (CMO) for England Professor Chris Whitty and Chief Scientific Adviser Sir Patrick Vallance.
A full list of exemptions will be published on the government's website before the law changes on Monday.
Number 10 said Mr Johnson held a virtual roundtable with police forces last week where officers expressed their desire for rules on social contact to be simplified.
The Police Federation of England and Wales urged the government to "play its part" through a public information campaign after "so many changes in legislation".
Crowds returning to stadiums?
Meanwhile, the government is revising its plans to pilot larger audiences in sports stadiums later this month, Boris Johnson announced.
The prime minister said: "At the present time we must also, I'm afraid, revise plans to pilot larger audiences in venues later this month and review our intention to return audiences to stadiums and conference centres from 1 October.
"That doesn't mean we're going to scrap the programme entirely it just means we are going to review and abridge it, and the Culture Secretary will say more shortly."
New measures around testing requirements
He also announced that only people who have a fever, a new continuous cough or have lost their sense of taste or smell should book a test in order to ease the strain on the UK's national testing capacity.
If you do not have any of the listed symptoms and have not been asked to book a test, then you should not do so, Mr Johnson said.
Christmas cancelled?
People could also have to put big family plans for Christmas on hold if the measures are still in place by 25 December, after the prime minister confirmed that two households cannot meet if they exceed the six-person limit.
On whether Christmas is "cancelled", Mr Johnson said: "We could be able to get some aspects of our lives back to normal by Christmas."
However, Prof Whitty said the new restrictions will be with us for a "period of time".
Speaking about the next few months of the UK's coronavirus outbreak, the CMO said: "The period between now and spring is going to be very difficult."
Pubs, restaurants and universities
The prime minister said the UK Government is working towards mass-testing of millions of people each day that would allow people who test negative to go out into society more freely and could ensure Christmas goes ahead.
Elsewhere, pubs and restaurants will need to keep the details of every person who enters their establishment for 21 days under test and trace efforts. Any that fail to do so and do not keep their premises Covid-secure will face fines.
He also gave universities updated guidance not to send students home in the event of an outbreak. Doing so, he said, could risk spreading the virus around the country.
Covid marshals will also be deployed in towns and city centres.
Listen & subscribe: Global Player | Apple Podcasts | Google Podcasts | Spotify