Junior doctors and consultants in England to go on joint strike for first time in NHS history amid ongoing pay dispute
31 August 2023, 17:12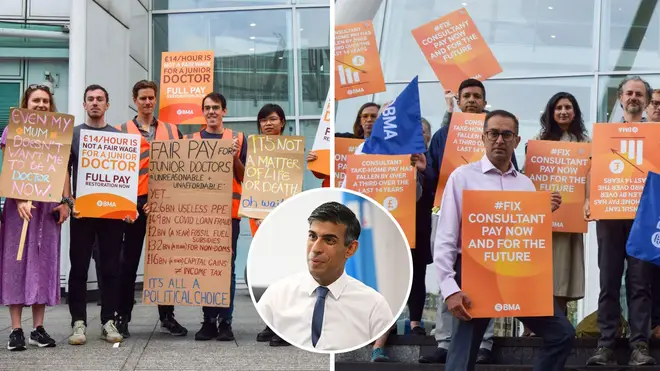 Junior doctors and consultants in England are set to go on strike together for the first time in NHS history amid an ongoing pay dispute.
The co-ordinated industrial action is set to take place in September and October, with "Christmas Day" cover expected instead.
It will mark the first time in the history of the NHS that both consultants and junior doctors will be on strike at the same time, the British Medical Association (BMA) said.
Consultants had already announced plans to walk out for 48 hours from September 19, and will be joined by their junior colleagues on September 20.
Junior doctors will then continue their strike on September 21 and 22.
Both consultants and junior doctors will then strike together on October 2, 3 and 4.
Read more: Heartbroken widow of hero cop killed when he was hit by a train as he saved a distressed man praises 'wonderful' husband
Read more: Fires that gutted two London pubs yards away from each other being treated as suspicious by police
Nurse: strikes are the 'only safe way' to speak on unsafe conditions
The union has now warned Prime Minister Rishi Sunak he has "nowhere to hide".
BMA junior doctor committee co-chairs Dr Rob Laurenson and Dr Vivek Trivedi said: "Today, junior doctors across England are sending a single message, loud and clear to the Government: we are not going anywhere.
"We are prepared to continue with our industrial action, but we don't have to - the Prime Minister has the power to halt any further action by making us a credible offer that we can put to our members.
"Refusing to negotiate with us and with our consultant colleagues is not the way ahead.
"Rishi Sunak now has nowhere to hide. There can be no more delaying, no more wasting time with impositions of pay deals, no more declarations that strikes must end before even stepping in the room with us.
"If he does not come to the table with a credible offer on pay, he will face another six months of strike action.
"And another six months after, and after that, if he continues to ignore us. He knows the stakes, he knows our ask and now he knows our resolve."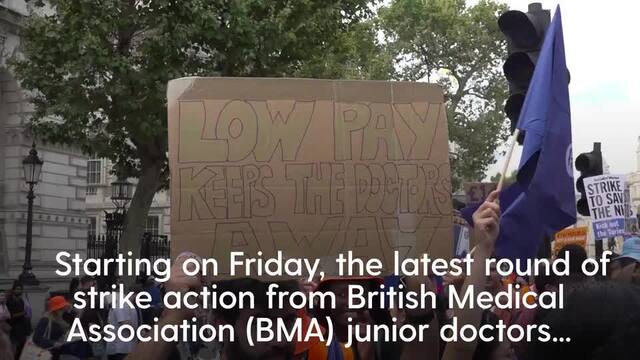 Junior doctors' strikes have cost NHS £1bn, according to health chief
The government said last month that junior doctors would get pay rises of 6%, along with an additional consolidated £1,250 increase, and hospital consultants would also receive 6%.
Health Secretary Steve Barclay said there will be "no more negotiations on pay".
It comes after it was revealed that the latest consultants strike - which took place on August 24-26 - impacted 45,827 inpatient and outpatient hospital appointments in England.
A further 1,302 cancellations in mental health, learning disability and community settings were also recorded, though this is likely to include a small amount of double-counting, NHS England said.