Mystery person who tested positive for Brazil variant in UK has been found
5 March 2021, 16:09 | Updated: 5 March 2021, 18:54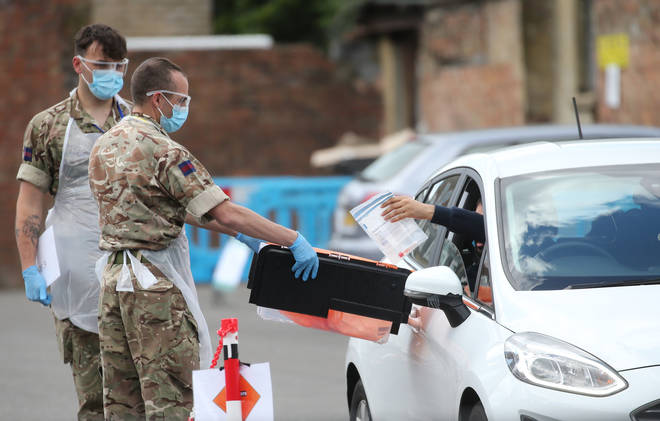 A mystery sixth person who tested positive for the Brazilian coronavirus "variant of concern" in the UK has been found.
It was announced last week that six cases of the P.1 Covid-19 variant had been detected in Britain - three in England and three in Scotland.
However, one of the individuals had previously not been found as they had failed to correctly fill in their contact details.
The Brazil strain, first seen in the city of Manaus, is believed to be more contagious than the original virus, and it is also feared that the current vaccines are less effective against the variant.
All five of the other cases were linked to travel between Brazil and the UK.
Earlier this week, Health Secretary Matt Hancock told MPs that "five of these six people quarantined at home as they were legally required to do".
He added: "Unfortunately one of these six cases completed a test but didn't successfully complete the contact details."
Read more: Covid R number rises slightly for first time since January to 0.7-0.9
Read more: Surge testing in two new areas after South African variant detected
Mr Hancock confirmed during the government's coronavirus press briefing on Friday that public health officials have since found the mystery sixth person and traced their contacts.
The Brazil variant is a concern to scientists because it shares similar mutations to those identified in the South African strain.
One adaptation - called E484K - could help Covid-19 evade antibodies in the immune system that would fight the virus based on experience from a vaccine or a previous infection.
Following last Sunday's announcement of the Brazil variant entering the UK, health officials managed to trace the three Scottish cases.
The trio of infections were all oil workers who were returning to their families from Brazil, via Paris and London.
Efforts are under way to find all the passengers that were on the same Heathrow to Aberdeen flight as these individuals.
Read more: Two-fifths of UK adults have received first jab, Hancock confirms
Read more: Nurses poised for strikes over 1 per cent NHS pay rise
On Friday, the health secretary said: "Thanks to the brilliant team who've been working so hard over the past week, we've now successfully identified the sixth case of the variant of concern first identified in Manaus in Brazil.
"Using the latest technology, and with the dogged determination of our testing and tracing scheme, we've successfully identified the person in question.
"The best evidence is that this person in question stayed at home, and there's no sign that there's been any onward transmission.
"But as a precaution, we're putting more testing in in Croydon, where they live, to minimise the risk of spread.
"This positive outcome was only possible because of the huge genomic sequencing capacity that we now have in this country and because of our Test and Trace team so they could identify these cases, track them down, contact them, and it shows the importance of this capability that we've built, and how important it is, also, to be transparent when new variants are found."
Dr Susan Hopkins, strategic response director at Public Health England, said a team of 40 were able to locate the mystery individual who had tested positive for the Manaus variant.
She told the press conference the individual had "attempted to register his test online but had failed to do so effectively".
"Specialist teams from NHS Test and Trace and Public Health England immediately launched an investigation to identify the individual concerned," Dr Hopkins continued.
"An incident team of 40 people from across the system made up of laboratories, logistics, data analytic experts were mobilised to trace the individual."
The discovery, via reading the test barcode, that the sample had arrived at the Cambridge Lighthouse through the DHL service for home delivery helped narrow it down to two regions made up of 10,000 possible households.
This was then narrowed further to 379 households with "enhanced contact tracing" then kicking-in, with call handlers contacting those who could have received a test in that time interval, scaling it down to 27 individuals before the person then came forward.