Palestine supporters to take to streets on Armistice Day, but organisers say they will not protest near Cenotaph
2 November 2023, 20:54 | Updated: 8 November 2023, 07:24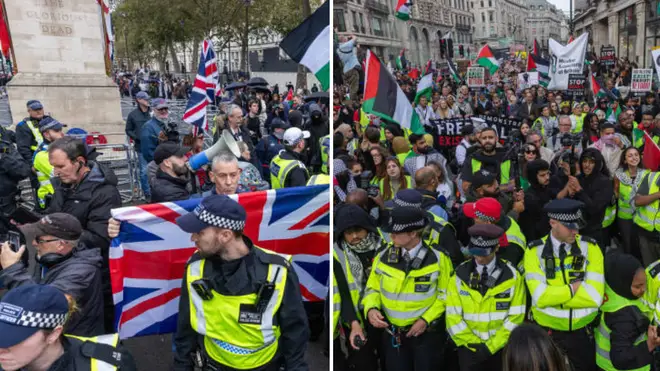 Palestine supporters will take to the streets of London again on Remembrance Sunday in London, but march organisers said they will not protest close to the Cenotaph.
Palestine supporters have been marching in London every Saturday since Hamas attacked Israel on October 7 and the IDF responded with a bombardment of Gaza.
The aim of the marches is officially to call for a ceasefire. But some of the attendees, which have attracted hundreds of thousands of people, have sparked controversy with various calls for jihad and intifada, as well as the singing of a violently anti-Semitic chant last Saturday.
The marches, which have passed through central London, have come close to the Cenotaph, the main memorial to British people and citizens of the British empire who died in the First and Second World Wars.
Protests are set to be staged again this Saturday in London and across the UK. Another protest is planned in London on Saturday November 11, which is Armistice Day, the anniversary of the end of the First World War.
Read more: We will repeat the October 7 attack time and again until Israel is annihilated, says Hamas official Ghazi Hamad
Read more: Sunak tells police to prepare for terror attacks as Israel-Hamas war deepens community tensions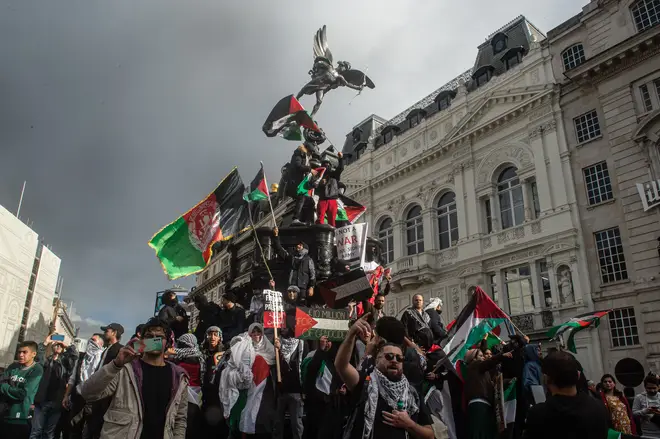 Armistice Day is traditionally a day of quiet remembrance, with services held to commemorate the people who gave their lives for freedom peace in the two wars. A two-minute silence is held each year at 11am in honour of those who died.
This may contrast with the loud and passionate atmosphere that has been seen in the huge pro-Palestine marches.
Friends of Al-Aqsa (FOA) is selling £20 coach tickets to ferry protesters from Leicester to London next weekend to demand a ceasefire.
The organisation said it expected hundreds of thousands of people to take part in the demonstration, adding that the protest would not be at the Cenotaph.
The Met said: "This is a weekend with huge national significance. We will use all the powers available to us to ensure anyone intent on disrupting it will not succeed.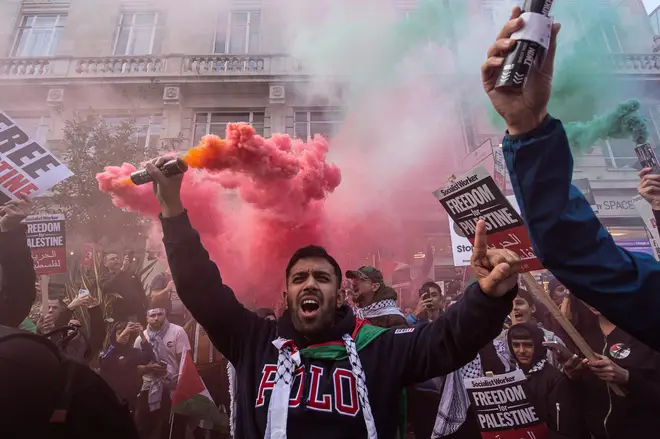 "Officers will be deployed across London on 11 and 12 November as part of a significant policing and security operation.
"We're absolutely committed to ensuring the safety and security of anyone attending commemorative events."
They added: "We remain in conversation with protest organisers and they have not indicated any plans to protest at this location on the Sunday."
Ismail Patel, a spokesman for the organisers, said: "We definitely will not be at the Cenotaph. We understand the sensitivity of the date."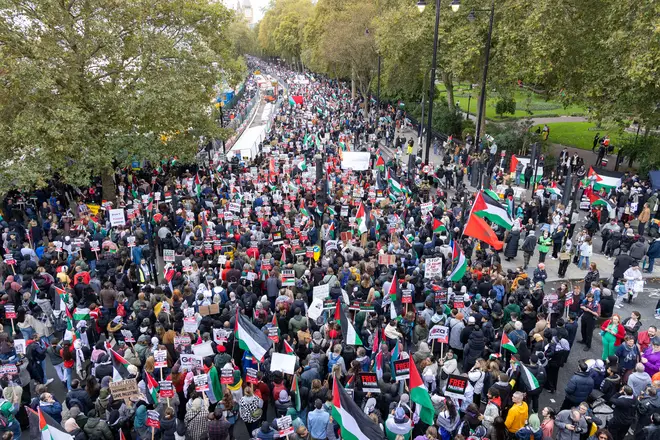 Met Police Commissioner Sir Mark Rowley also said he was "deeply concerned" about the effects of protests on day-to-day local policing.
"We are starting to look at what point we need to look for mutual aid from other forces and change our approach to resourcing this to make it sustainable," he told the London Assembly.
Police have made around 70 arrests at the three protests and almost 100 more for hate crimes.
Anti-Jewish hate crime is up 14-fold and anti-Muslim hate crime is up threefold on last year, Sir Mark said.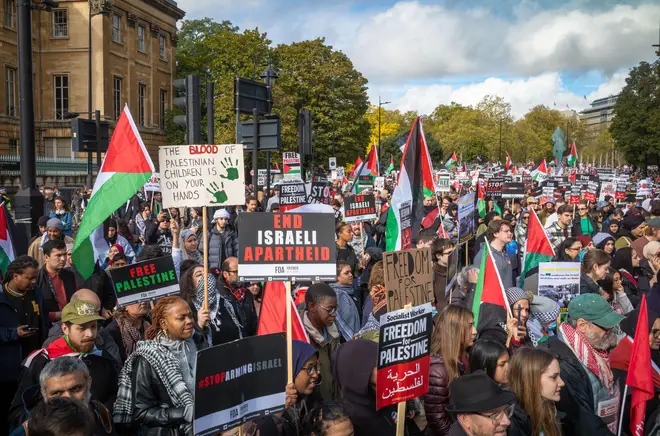 The British government is not calling for a ceasefire, with ministers saying Israel has a right to defend itself after the Hamas atrocities. They have also said that there is no indication Hamas would respect a ceasefire.
A senior Hamas official has said that it would carry out similar attacks to October 7 over and over again "until Israel is annihilated".
Ghazi Hamad said Hamas "must teach Israel a lesson" and intended to do so "again and again".
Israel invaded Gaza on Friday night and its troops remained in the territory since. The army said troops had encircled Gaza City on Thursday evening.