'Patients are paying the price': Warning as junior doctors and consultants strike together for first time in NHS history
31 August 2023, 22:29 | Updated: 31 August 2023, 22:30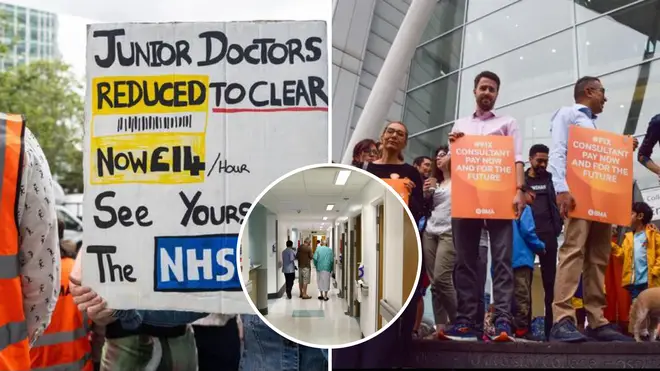 A senior executive in the NHS has warned that "patients are paying the price" for ongoing health service strikes, as junior doctors and consultants in England announced a joint walkout for the first time in NHS history amid an ongoing pay dispute.
The co-ordinated industrial action is set to take place in September and October, with "Christmas Day" cover expected instead.
It will mark the first time in the history of the NHS that both consultants and junior doctors will be on strike at the same time, the British Medical Association (BMA) said.
Consultants had already announced plans to walk out for 48 hours from September 19, and will be joined by their junior colleagues on September 20.
Junior doctors will then continue their strike on September 21 and 22.
Both consultants and junior doctors will then strike together on October 2, 3 and 4.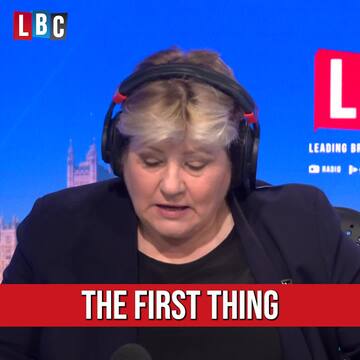 Emily Thornberry is unable to say cost of more NHS doctors and nurses
Sir Julian Hartley, chief executive at NHS Providers, the membership organisation for NHS trusts, said the joint strikes were a "serious escalation in the doctors' industrial dispute".
He added: "We now face the grim prospect of another six months of walkouts from junior doctors, which will pile even more pressure on the NHS this winter, causing yet more disruption for patients.
"This is going to be an unprecedented challenge for the health service.
"Trust leaders understand doctors' reasons for striking, but patients are paying the price. Nearly one million appointments have already been pushed back since industrial action started in December.
"This number grows with every strike, further delaying care and jeopardising vital work to bear down on backlogs, including the government's key pledge to cut the waiting list.
"Staff morale - already at a low - will likely now take another big hit. Industrial action is also putting a huge strain on stretched NHS budgets, costing an estimated £1 billion so far through lost income and hiring expensive cover.
"Today's vote must be a wake-up call for both sides of the dispute to sit down together, talk and agree on a resolution."
Industrial action in the NHS has been ongoing since December. Some 885,154 inpatient and outpatient appointments have been cancelled.
Read more: Heartbroken widow of hero cop killed when he was hit by a train as he saved a distressed man praises 'wonderful' husband
Read more: Fires that gutted two London pubs yards away from each other being treated as suspicious by police
Nurse: strikes are the 'only safe way' to speak on unsafe conditions
Union bosses earlier warned Prime Minister Rishi Sunak he has "nowhere to hide".
BMA junior doctor committee co-chairs Dr Rob Laurenson and Dr Vivek Trivedi said: "Today, junior doctors across England are sending a single message, loud and clear to the Government: we are not going anywhere.
"We are prepared to continue with our industrial action, but we don't have to - the Prime Minister has the power to halt any further action by making us a credible offer that we can put to our members.
"Refusing to negotiate with us and with our consultant colleagues is not the way ahead.
"Rishi Sunak now has nowhere to hide. There can be no more delaying, no more wasting time with impositions of pay deals, no more declarations that strikes must end before even stepping in the room with us.
"If he does not come to the table with a credible offer on pay, he will face another six months of strike action.
"And another six months after, and after that, if he continues to ignore us. He knows the stakes, he knows our ask and now he knows our resolve."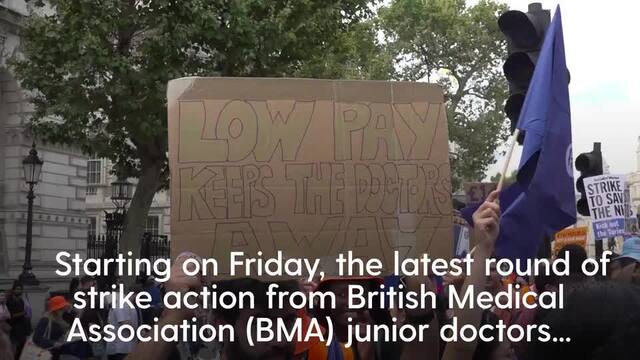 Junior doctors' strikes have cost NHS £1bn, according to health chief
The government said last month that junior doctors would get pay rises of 6%, along with an additional consolidated £1,250 increase, and hospital consultants would also receive 6%.
Health Secretary Steve Barclay said there will be "no more negotiations on pay".
Shadow health secretary Wes Streeting said Mr Sunak and Mr Barclay should negotiate with medics to end the pay dispute.
He said: "The failure of the Prime Minister and his Health Secretary to sit down and talk to doctors has now led to the most severe strike action yet.
"The risk to patients is intolerable and the blame for cancelled appointments, delayed operations and rising waiting lists lies firmly at the door of 10 Downing Street.
"There is no excuse for the Prime Minister failing to sit down with NHS doctors to try to bring an end to these strikes.
"The NHS needs all hands on deck right now. Rishi Sunak cannot continue to sit this out."