Braverman makes first public appearance after Armistice Day violence as calls for her to be sacked intensify
12 November 2023, 14:24 | Updated: 12 November 2023, 16:36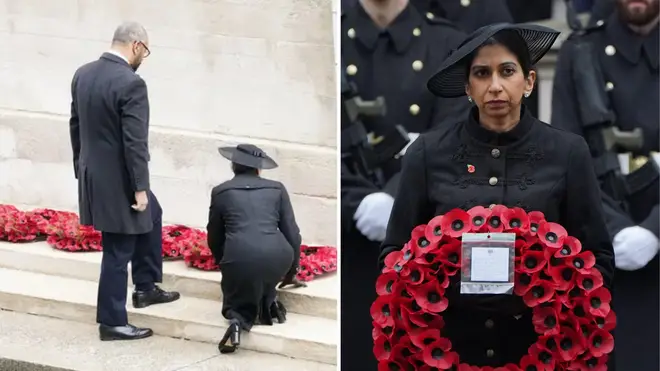 Home Secretary Suella Braverman made her first public appearance at Sunday's service as she faces growing calls to be sacked.
Suella Braverman has faced intensified calls to be sacked after being accused of stoking violence ahead of Armistice Day.
It came after the Home Secretary penned an incendiary op-ed, where she branded pro-Palestinian demonstrations as "hate marchers" and accused the police of bias for letting the rally go ahead.
Far-right counter-protesters clashed with police throughout Saturday while some 300,000 pro-Palestine activists marched through central London.
Suella Braverman was pictured smiling on Sunday morning as she made her way to the remembrance service, in her first appearance since Saturday's chaos.
As the Home Secretary arrived at the service by the Cenotaph, her face quickly fell solemn as she watched on and later laid a wreath at the foot of the memorial.
Ahead of Sunday's service, Ms Braverman wrote on X: "This morning I will be attending the National Service of Remembrance at the Cenotaph, paying my respects to our fallen heroes.
"We must honour them and the veterans who survive for the sacrifices they made so that we may live safe and free."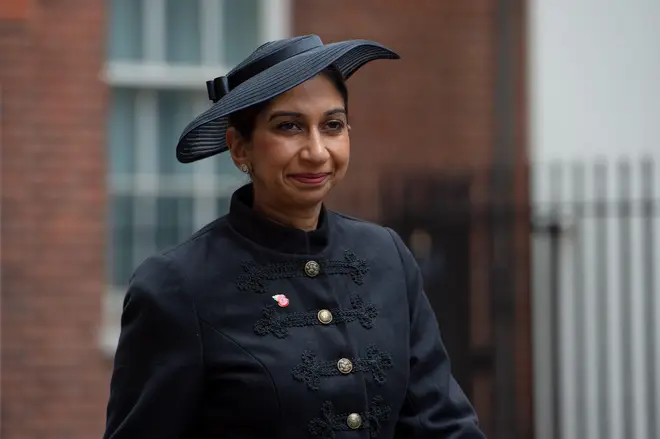 Read more: Sunak faces new calls to sack Braverman as Starmer blames Home Sec for far-right violence
Read more: A nation remembers them: King Charles leads country in poignant tribute to Britain's war dead in march past Cenotaph
Police arrested 126 during the Armistice Day violence, 92 of those arrested are believed to have been right-wing counter-protesters.
Labour leader, Sir Keir Starmer, and Mayor of London, Sadiq Khan, are among those who have called on Mr Sunak to sack the Home Secretary for 'sowing the seeds of hatred' ahead of Saturday.
Mr Sunak has so far maintained confidence in his Home Secretary, even after ministers distanced themselves from her recent claims that homelessness is a "lifestyle choice".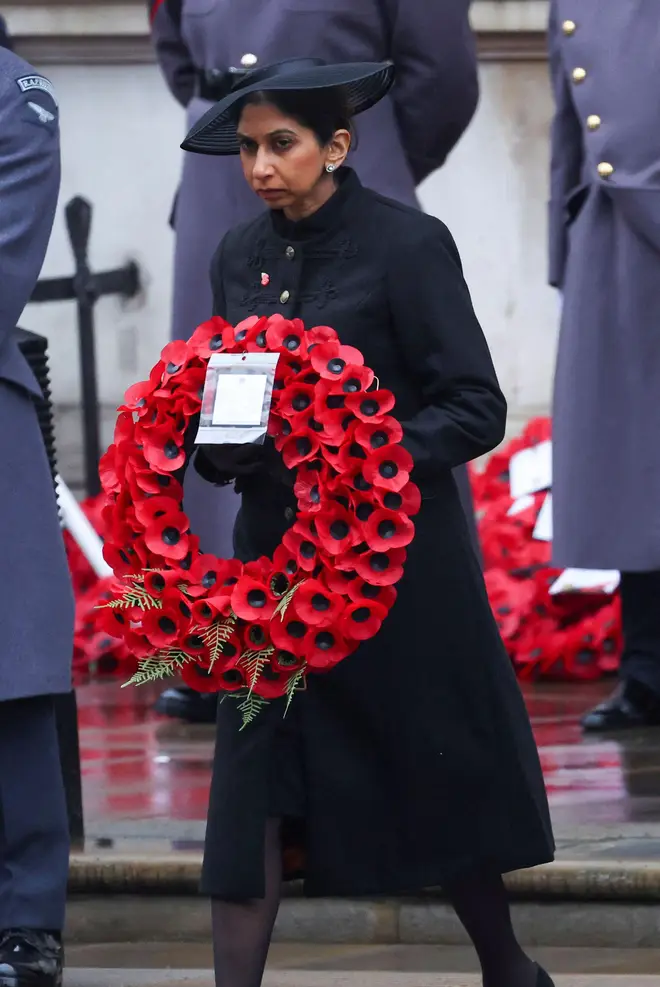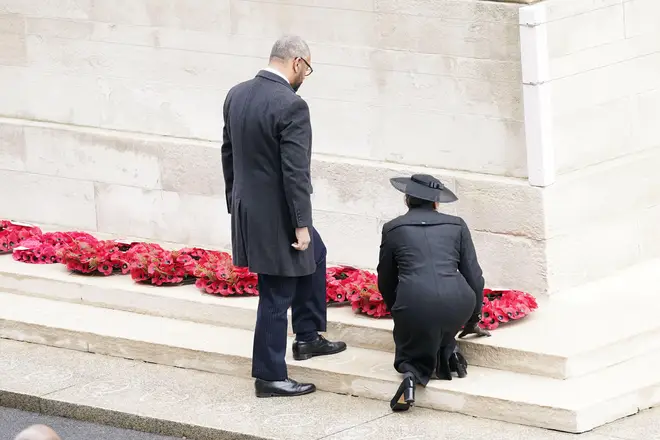 There has been speculation that the Prime Minister will carry out a ministerial reshuffle, which could see Mrs Braverman moved, but not before next week's Supreme Court ruling on the Rwanda deportation policy championed by her.
Defence Secretary Grant Shapps said on Sunday that he would not make any predictions about the Home Secretary's future.
Speaking on Sunday Morning with Trevor Phillips he said: "As you know, and I know well, a week's a long time in politics. I never make predictions about these things."
He continued: "Quite simply, the make-up of the government, the make-up of the cabinet, is entirely a matter for the prime minister.
"He will decide that in his own time."