How Many Tory MP's Have Sent Letters Of No Confidence To The 1922 Committee?
17 November 2018, 12:07 | Updated: 28 October 2019, 15:53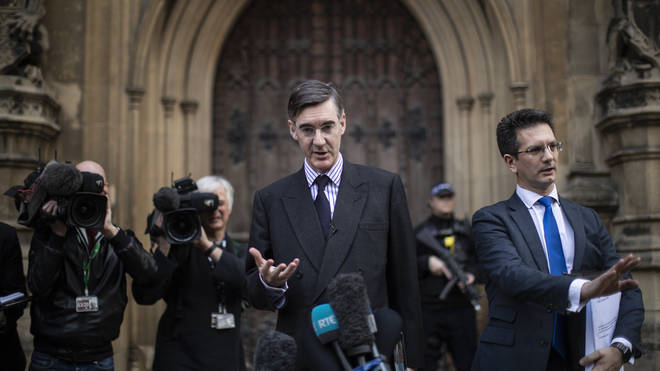 A number of Conservative MPs say they have submitted motions of no confidence in Theresa May as Prime Minister, as the backlash against her draft Brexit agreement grows. Who are they, and what have they said?
The 1922 Committee is what stands between Theresa May and any potential leadership election, and her premiership has come under constant threat since she her Brexit plan was announced in the summer.
But since her draft Withdrawal Agreement was published, 24 Tory MPs have publicly announced they have handed their letter in. Other MPs are rumoured to have handed their letters in, but only the chair of the 1922 Committee Sir Graham Brady knows the official number submitted so far.
In total he needs to have received 48 letters to spark a change in Conservative leader. This number has not yet been reached.
- Theresa May's Chequers Deal Explained
- Brexit Timeline: Key Dates As The UK Prepares To Leave The EU
Who has submitted their letter to the 1922 Committee?
Adam Holloway: "My letter of no confidence has now been delivered - with regret."
Andrea Jenkyns: "She can fight it. But I am confident she will not win it."
Andrew Bridgen: Theresa May is in the "drinking in the last chance saloon".
Anne Marie Morris: "The Prime Minister is not delivering the Brexit people voted for."
Ben Bradley: "Honestly the only way we're going to change it is if the people who disagree all speak up."
Sir Bill Cash: "This withdrawal agreement is full of broken promises."
Chris Green: "With a heavy heart, I confirm that I have put my letter in calling for a vote of no confidence in the Prime Minister."
Henry Smith: "With regret, I have to inform you I have lost confidence in Theresa May as leader of the Conservative Party and British Prime Minister."
Jacob Rees-Mogg: The draft Withdrawal Agreement is "worse than anticipated". Read his full letter here.
James Duddridge: "We now need a proper leadership election and to move on."
John Whittingdale: Told Nick Ferrari he handed in his letter "with a heavy heart".
Laurence Robertson: "I was concerned at the direction Theresa May was taking these negotiations and was dragging them out, and I wrote that letter some months ago."
Lee Rowley: "I'm afraid nothing convinced me that this is anything other than a bad deal. I cannot support, and will not vote, for this deal. It should be withdrawn immediately." He admitted to Beverley Turner that he had "no idea" who should replace Theresa May as Prime Minister.
Maria Caulfield: "We will neither be in the EU nor an independent nation. It's a betrayal of the referendum and of our manifesto and I will be voting against it."
Mark Francois: It is "absolutely obvious" Theresa May's Brexit deal will not pass through Parliament. Read his letter in full here.
Martin Vickers: "It was clear at that time further concessions were inevitable and now we have a much worse agreement that fails to deliver what my constituents voted for in the referendum."
Nadine Dorries: "The writing has been on the wall for some time."
Peter Bone: "I've always wanted the policy to change not necessarily the prime minister but when the prime minister won't change the policy the only way to change the policy is to change the prime minister."
Philip Davies: "It is with much sadness that I have to say that I have also lost trust in her to deliver the referendum result too."
Philip Hollobone: Admitted that he sent a letter of no confidence in Theresa May on the day that David Davis resigned as the Brexit Secretary.
Sheryll Murray: "I have lost confidence in the Brexit policy of the Prime Minister".
Simon Clarke: After withdrawing his original letter of no confidence earlier this year, Simon Clarke has resubmitted his letter to the 1922 Committee.
Steve Baker: The Conservative Party is "approaching the moment" of a leadership challenge and Theresa May's Brexit plan is "worse than EU membership".
Zac Goldsmith: "The Prime Minister has been clear that she will not change course."
During an exclusive phone-in on LBC, Theresa May faced calls to 'stand down' to make way for a Brexiteer Prime Minister.
She replied: "You mentioned sovereignty was a really important issue for you and you're absolutely right. For a lot of people who voted Leave, what they wanted to do was to make sure that decisions on things like who could come into the country would be taken by us here in the UK and not by Brussels.
"That's exactly what the deal that I've negotiated delivers.
"We are leaving the European Union on 29th March 2019. There's then going to be a period of time, up to the end of December 2020 for business to be adjusting to the new relationship that we're going to have with the EU."