Brexit Timeline: Key Dates As The UK Prepares To Leave The EU
13 April 2019, 08:17 | Updated: 13 April 2019, 08:21
When is the UK leaving the European Union? Will we have a no-deal Brexit? Is there going to be a second referendum? As Article 50 gets extended, here's an in-depth Brexit timeline of all the important dates and developments.
With a new later date for the UK to leave the European Union, time is running out for Theresa May to find support for her Brexit deal.
MPs have voted against her Withdrawal Agreement twice, whilst also rejecting no-deal Brexit, and rejecting a second referendum. But after the EU granted a conditional extension to Article 50, the future of Brexit falls back onto MPs in Westminster.
So what has happened so far to get us to this point?
The Latest Brexit News:
10th April 2019: Emergency EU Summit
Prime Minister Theresa May requested a second extension to the date the UK is to depart from the European Union, with EU leaders agreeing on October 31st.
Mrs May had wanted to postpone Brexit until June 30th, but Donald Tusk suggested that the UK could have a 'flexible' extension of up to a year, with the ability for the UK to leave as soon as a withdrawal agreement is ratified in Parliament.
But EU leaders set the date for Halloween, with the Council President warning the UK to "not waste this time".
1st April 2019: Indicative Votes Round 2
In their second round of indicative votes, MPs were unable to agree on any of the four options.
A motion to keep the UK in a customs union, which defeated by a majority of eight last week, was defeated again by three votes in the second round, but a closer margin was found in a motion calling for 'parliamentary supremacy'.
Moved by SNP MPs, the motion had three parts - if a withdrawal agreement can not be passed, it sought a further extension to Article 50 before putting a vote to MPs between no-deal or revoking Article 50 altogether.
- Indicative Votes Results: MPs Reject All Alternative Brexit Options Again
29th March 2019: MPs Reject Withdrawal Agreement In 'Meaningful Vote 2.5'
On the original date the UK was scheduled to leave the European Union, MPs voted against Theresa May's Withdrawal Agreement in a vote that excluded the political declaration.
Because the agreement was rejected, the extension to Article 50 granted by the European Union will only last until April 12th.
27th March 2019: MPs Reject All Options In Indicative Votes
MPs have voted against all eight Brexit options - which were supposed to help break the deadlock in Parliament.
But none of the eight alternatives won a majority in the Commons.
There was, however, an overwhelming majority of MPs who rejected the idea of a 'no-deal' scenario, and a suggestion for the UK to leave the EU and remain in a customs union narrowly lost by 8 votes.
- Indicative Votes Results: MPs Reject Eight Alternative Brexit Options
21st March 2019: EU Accepts Brexit Delay To April 12th Unless Theresa May's Deal Passes By MPs
The European Union have agreed a conditional extension of Article 50 to May 22nd, provided the Prime Minister can get her deal passed through Parliament.
However if the deal is rejected for a third time, then the extension will only last until April 12th.
Prime Minister Theresa May said in a press conference that there was now a "clear choice" for MPs who could vote on her exit deal next week.
"There's now that different date of 12 April, I believe this is important, it gives us the opportunity, MPs next week, to look at the choices that clearly face them," she said.
"We can leave with a deal in an orderly manner, have that extension until 22 May.
"Or, if we don't get that deal through, then before the 12 April we have to come forward with another plan and if that plan means a further extension, it means standing in those European parliamentary elections."
21st March 2019: Revoke Article 50 Petition Reaches 2 Million Signatures
A petition calling for Brexit to be cancelled and the UK to remain in the European Union reached more than 2 million signatures on its second day.
The petition, called Revoke Article 50 And Remain In The EU reads: "The government repeatedly claims exiting the EU is 'the will of the people'. We need to put a stop to this claim by proving the strength of public support now, for remaining in the EU."A People's Vote may not happen - so vote now."
So many people went to sign the petition - almost 2,000 people every minute - that it crashed the entire website.
On the 23rd March, more than one million people marched in central London calling for a second referendum.
18th March 2019: Speaker John Bercow Tells Theresa May Meaningful Vote 3 Must Be Different
The Speaker of the House of Commons has said that Theresa May will be in breach of parliamentary rules if she brings back her Brexit deal for a third vote without substantial change.
Addressing concerns by MPs, John Bercow said: "What Government cannot legitimately do is resubmit to the House the same proposition - or substantially the same proposition - as that of last week, which was rejected by 149 votes.
"This ruling should not be regarded as my last word on the subject. It is simply meant to indicate the test which the Government must meet in order for me to rule that a third meaningful vote can legitimately be held in this parliamentary session."
- Speaker John Bercow Says PM CAN'T Ask MPs To Vote On Same Brexit Deal Again
14th March 2019: MPs Vote To Request Brexit Delay But Reject Second Referendum
On the third day in a row of Brexit votes, MPs voted against holding a second referendum.
Sarah Wollaston from the Independent Group tabled an amendment for Brexit to be delayed to allow for a second referendum, but the People's Vote campaign decided that it was 'not the right time'.
The amendment was rejected by MPs 85-334.
In a separate vote though, MPs called for the government to ask the European Union for an extension to Article 50 in an amendment which passed 412 to 202.
It is now expected that the Prime Minister will put her withdrawal agreement to a third 'meaningful vote' in the hope she has enough support from MPs who initially rejected it.
- MPs Vote To Request Brexit Delay - But Reject Second Referendum: All Of The Results
- People's Vote Decide NOT To Back Amendment Calling For A People's Vote Today
- Brexit Delay Votes: What Are MPs Voting On And What Does It Mean For Brexit?
13th March 2019: MPs Vote Against No-Deal In "Any Circumstance"
No-deal Brexit has been completely rejected by MPs as Theresa May suffered two defeats in 30 minutes.
In the first blow for the Prime Minister, MPs backed a non-legally binding motion calling for no deal to be taken off the table under "any circumstances".
The main motion, tabled by the government, was to prevent the UK from exiting the EU on 29th March without a withdrawal agreement - but despite the dramatic decision for the government to order its own MPs to vote against it in a last-minute move, the motion still passed.
- MPs Vote Against A No-Deal Brexit Under "Any Circumstance"
12th March 2019: MPs Reject Theresa May's Withdrawal Agreement For Second Time
The Prime Minister's Brexit deal was rejected in Parliament for the second time by 391 to 242, a majority of 149.
Speaking after the defeat, Theresa May said: "I profoundly regret the decision that this House has taken tonight."
- Theresa May's Brexit Deal Rejected By MPs For A Second Time
24th February 2019: Theresa May Delays Second Meaningful Vote
Theresa May has ruled out having a vote on her Brexit deal in the House of Commons this week but has insisted one would be held by March 12th.
The Prime Minister claimed that progress was being made in talks with European Union negotiators to secure the necessary changes to her deal for it to gain more support in Parliament, but admitted more time was needed for them to be 'locked in'.
"It is still within our grasp to leave the European Union with a deal on March 29th," she said.
20th February 2019: Three Conservatives MPs Join The Independent Group
Conservative MPs Anna Soubry, Sarah Wollaston and Heidi Allen joined the Independent Group, citing the government's handling of Brexit and the party's reliance on the European Research Group and Democratic Unionist Party to pass legislation.
A day after leaving the Conservative Party, Anna Soubry hosted her own LBC show where she insisted she would not look to rejoin after Chancellor Philip Hammond said he hoped she would come back.
- Anna Soubry Hosts LBC Show: Watch The First Hour In Full
- Anna Soubry Tells Chancellor Why She Won't Rejoin The Conservatives
18th February 2019: MPs Split From Labour Party To Form "The Independent Group"
Luciana Berger, Chuka Umunna, Gavin Shuker, Chris Leslie, Angela Smith, Mike Gapes and Ann Coffey all resigned from the Labour Party to sit as Independent MPs in Parliament.
In making the announcement, Ms Berger described the party as "institutionally anti-Semitic" and said she is "embarrassed and ashamed" by the party.
An eighth Labour MP, Joan Ryan, resigned the party and joined the Independent Group the next day.
- Labour Split: Chuka Umunna Among Seven MPs To Quit Party
- Independent Group MP Angela Smith Apologises Over "Funny Tinge" Remark
12th February 2019: Theresa May Still Seeks Backstop Change Despite EU's Repeated Rejection Of Reopening Negotiations
In a statement to the House of Commons, Prime Minister Theresa May said that she would continue to push for changes to the Irish backstop, despite the EU consistently rejecting any prospect of reopening the negotiations on her withdrawal agreement.
Mrs May told MPs that if no further agreement on the exit deal could be reached by the 26th February, then a further amendable motion will be tabled on that day to be voted on the next day.
Labour leader Jeremy Corbyn accused Mrs May of "recklessly running down the clock" as the country faces its "biggest crisis in a generation".
9th February 2019: No-Deal Ferry Contract Given To Firm With No Ships Scrapped
The Department for Transport has cancelled a controversial contract awarded to Seaborne Freight after Arklow Shipping, an Irish firm that had backed the no-deal plan, stepped away from the deal.
Seaborne Freight won the £13.8m contract to run a freight service between Ramsgate and Ostend in the event of a no-deal Brexit, despite having no boats and having not run a ferry service before.
A Department for Transport spokesperson said: "Following the decision of Seaborne Freight's backer, Arklow Shipping, to step back from the deal, it became clear Seaborne would not reach its contractual requirements with the Government.
"We have therefore decided to terminate our agreement."
Following the "humiliating" news, Shadow Transport Secretary Andy McDonald called upon Chris Grayling to resign, or be sacked.
- Brexit Ferry Contract Awarded To Firm With No Ships Terminated
- Shadow Transport Secretary Calls For Chris Grayling To Resign Or Be Sacked
7th February 2019: EU Rejects Changes To Withdrawal Agreement
EU Commission President Jean-Claude Juncker told Theresa May in Brussels that the remaining 27 EU countries will not renegotiate her Withdrawal Agreement.
President of the European Council, Donald Tusk, tweeted that he met with Mrs May on "how to overcome impasse on Brexit" but that there was "still no breakthrough in sight". It comes a day after he reiterated that the withdrawal agreement would not be renegotiated despite ongoing demand by the UK government.
Mr Tusk faced mixed reaction after telling a press conference there was a "special place in hell looks like, for those who promoted Brexit without even a sketch of a plan how to carry it out safely."
5th February 2019: Theresa May's Belfast Speech
In a speech made to business leaders in Belfast, the Prime Minister pledged to secure a deal with the European Union that "commands broad support" and a majority in government - but also avoids a hard border with Ireland. She said:
"I know this is a concerning time for many people here in Northern Ireland.
"But we will find a way to deliver Brexit that honours our commitments to Northern Ireland, that commands broad support across the communities in Northern Ireland and that secures a majority in the Westminster Parliament, which is the best way to deliver for the people of Northern Ireland.
"As we do so, I hope we can also take steps to move towards the restoration of devolution, so that politicians in Northern Ireland can get back to work on the issues that matter to the people they represent.
"For, ultimately, the measure of this moment in Northern Ireland's history must be more than whether we avoid a return to the challenges of the past. It must be how, together, we move forwards to shape the opportunities of the future.
"As Prime Minister of the United Kingdom, it is a profound honour and duty to play my part in shaping that future and to do my utmost to support the peace, prosperity and progress that can give the people of Northern Ireland the brightest future for generations."
30th January 2019: Nigel Farage's Viral Speech To European Parliament
Nigel Farage delivered a speech in the European Parliament where he stated that no country would have agreed to sign Theresa May's Brexit deal with the EU unless they had just been "defeated in war".
Addressing the President of the European Commission, Jean-Claude Juncker, the LBC presenter and MEP claimed that the Prime Minister had made a terrible mistake in agreeing to the Irish backstop, adding that the prospect of a no-deal Brexit had increased because of the attitude of Brussels "fanatics" who refused to compromise.
- Nigel Farage's Speech To European Parliament That's Gone Viral
Later sharing the video on twitter, Nigel wrote "The UK is dealing with fanatics who are not prepared to be reasonable. Unelected bureaucrats like @JunckerEU and @MichelBarnier have been humiliating @Theresa_May and the British public do not like it."
29th January 2019: MPs Tell Theresa May To Renegotiate Withdrawal Agreement With EU
The Prime Minister secured the backing of 317 MPs to 301 to replace the backstop with "alternative arrangements" to keep the Irish border open after Brexit.
A number of amendments were voted on, including one that called for Brexit to be delayed if a deal could not be reached by the end of February.
Speaking afterwards, Theresa May said there is a "substantial and sustainable" majority in the Commons for leaving the European Union with a deal but admitted renegotiation "will not be easy".
Labour leader Jeremy Corbyn told the House of Commons he is prepared to meet with the PM to discuss Brexit.
- How MPs Voted On Brexit Amendments
21st January 2019: Theresa May's Plan B Statement And Settled Status Application Scheme Opens
The Prime Minister presented her Brexit 'plan B' to MPs after being required to do so after losing the 'meaningful vote'.
In a statement, Theresa May said she had identified 'three key changes' needed to her Withdrawal Agreement in order for it to be accepted by critics. She said:
"First, we will be more flexible, open and inclusive in the future in how we engage parliament in our approach to negotiating our future partnership with the European Union.
"Second, we will embed the strongest possible protections on workers' rights and the environment.
"And third, we will work to identify how we can ensure that our commitment to no hard border in Northern Ireland and Ireland can be delivered in a way that commands the support of this House, and the European Union."
But critics described the Prime Minister's plan B as 'plan A in disguise'.
Theresa May had held cross-party meetings to try to break the Brexit deadlock in the days leading to her plan B statement. However Labour leader Jeremy Corbyn made clear he wouldn't attend unless no-deal Brexit could be ruled out.
In a u-turn, Theresa May's statement also reversed a £65 fee for EU citizens applying for 'Settled Status' amid complaints that its app wasn't working, and promised a refund to anybody who had already paid.
EU citizens struggled with the government's new app to apply to stay in the UK after Brexit, with one man finding it failed on three different phones.
Critics have warned that thousands could be left without legal status if applications are not processed quickly and efficiently.
LBC was with Max, a 49-year-old Italian man as he tried to apply. He tried using an iPhone, but the app was not available on the App Store this morning. He tried using his Android phone, but after downloading the app, received the message that his phone is not compatible with the app.
- EU Citizen Settled Status Process A Shambles As Thousands Struggle To Apply
- NFC Explained: What Is The Technology Behind Settled Status App
19th January 2019: 'Crossover Day'
Number crunchers have predicted the so-called "Crossover Day" as the 'tipping point' where the nation moves from being pro to anti-Brexit.
Based on demographic trends alone, with no-one changing their mind, it is believed that enough Leave voters will have died and enough Remain supporters will have reached voting age to wipe out the 1.3 million majority recorded at the 2016 referendum.
The poll sparked controversy, with accusations of ageism, but former YouGov president Peter Kellner defended the findings by saying "it's not intended to be patronising".
16th January 2019: Theresa May Wins Second No Confidence Vote
Theresa May survived a no confidence vote in her government a day after her Brexit deal was defeated in the House of Commons.
Theresa May was widely expected to win the vote after Conservative rebels and the DUP declared they would support her.The result was 306 to 325 - a majority of 19.
Speaking instantly afterwards, Mrs May Theresa invited leaders of Parliamentary parties to meet with her from this evening, in an attempt to find a solution to the Brexit impasse.
15th January 2019: Theresa May Loses Meaningful Vote
Theresa May suffered a heavy defeat after MPs rejected her Brexit deal in a historic vote.
432 MPs voted against it while 202 voted for it - a majority of 230, making it the biggest government defeat since 1924.
In a statement immediately after her drubbing, Mrs May said: "The House has spoken and this Government will listen," but Labour leader Jeremy Corbyn described the result as "catastrophic" and announced he was tabling a motion of no confidence in the government.
14th January 2019: Theresa May Exchanges Letters With EU On Irish Backstop
Jean-Claude Juncker and Donald Tusk have released a letter offering "clarifications" to the UK's Withdrawal Agreement, stating that Brussels "does not wish to see the backstop enter into force" and confirming its "determination" to see it replaced.
The letter to Theresa May states that "we are not in a position to agree to anything that changes or is inconsistent with the Withdrawal Agreement".
In her letter to the EU leaders, Mrs May wrote: "The clarifications and undertakings proposed in this letter are consistent with the letter and spirit of the deal we have reached, but would be further reassurance that the fears that some hold on both sides are misplaced."
In their response, Tusk and Juncker said that the European Council has decided to give "firm commitment to work speedily on a subsequent agreement that establishes by 31 December 2020 alternative arrangements, so that the backstop will not need to be triggered."
5th January 2019: Calls For Article 50 To Be Revoked
With less than 90 days until March 29th, the former chancellor and home secretary Ken Clarke has called upon the government to revoke Article 50 to give the UK more time to negotiate Brexit.
He told Matt Frei that "we plainly need more time" and that the UK should be able to invoke Article 50 at a later date.
Labour peer Lord Andrew Adonis agreed with the idea of revoking Article 50 but instead leading to a second referendum because "we just can't get our ducks in a row by the end of March".
But former Conservative leader Iain Duncan Smith put down ideas that a no-deal Brexit should be a concern, insisting that "not a single job will be lost" in such scenario.
29th December 2018: No-Deal Brexit Ferries
It was announced that in the event of a no-deal Brexit, the UK will spend more than £100m on extra ferries to ease "severe congestion" at Dover. The contingency plan is said to allow for almost 4,000 more lorries a week to come and go from other ports.
But concerns were raised over the readiness of the Seaborne Freight, which was awarded the £13.8 contract to run a freight service between Ramsgate and Ostend, as it was revealed it has never run a ferry service. The government said it had awarded the contract in "the full knowledge that Seaborne is a new shipping provider".
The British firm also made headlines after it was reported it has no ships and used website terms and conditions intended for a fast-food takeaway shop.
12th December 2018: Theresa May Wins No Confidence Vote
The chair of the 1922 Committee, Sir Graham Brady, confirmed that he received letters from at least 48 Conservative MPs calling for a no-confidence vote against Theresa May.
The secret ballot took place in committee room 14 in the Houses of Parliament, with all Conservative MPs voting between 6pm and 8pm, with 200 voting in support of Theresa May and 117 against meaning she stays on as Prime Minister.
The committee vote is however separate to the no-confidence vote Jeremy Corbyn has threatened the government with.
The Labour Party has not ruled out setting a motion of no-confidence in the Tory government before Christmas if Theresa May can not allow the meaningful vote to take place in the coming days. The motion has been supported by the People's Vote campaign, and could trigger a general election.
But ahead of the 1922 Committee vote Theresa May warned that if she is forced out in either no-confidence vote that: "One of [her successor's] first acts would have to be extending, or even rescinding, Article 50- delaying, or even stopping, Brexit when people want us to get on with it."
- Theresa May's No Confidence Vote: What Happens Now?
- Brexit Deal: What's In Theresa May's Draft EU Withdrawal Agreement?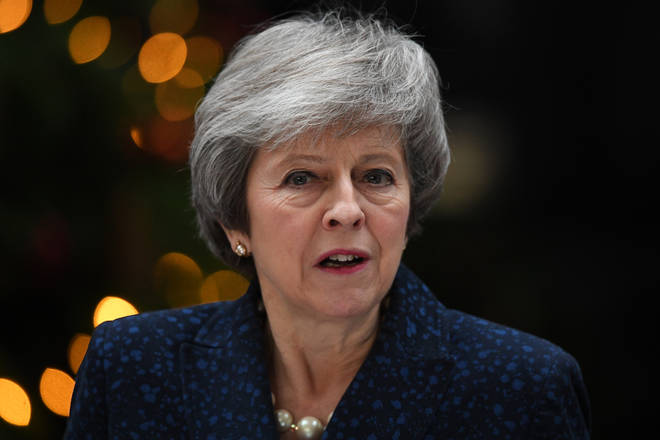 4th-10th December 2018: Commons Brexit Debate
MPs in the House of Commons were due to debate Theresa May's Withdrawal Agreement deal for 40 hours before it is put to a 'meaningful vote', but after heavy criticism of the deal and the expectation it would be voted against, the vote which was due to take place on Tuesday 11th December was delayed by the Prime Minister. Shortly after her statement, the pound hit a 20 month low against the US dollar.
The latest date that the 'meaningful vote' can take place is the 28th March - the day before the UK is due to leave the EU. But Downing Street has said that it will be done before the 21st January.
8th December 2018: 'Norway Plus' Brexit
Amber Rudd has suggested that the United Kingdom could seek an alternative plan if Theresa May's withdrawal agreement is rejected by Parliament.
The Work and Pensions Secretary said that the UK could look to a 'Norway plus' model, which would mean continued freedom of movement of people, goods and services, continued contribution to the EU budget, and remaining in the customs union - without having a vote on new rules and regulation.
Sir Vince Cable acknowledged that a 'Norway plus' model would be better than Theresa May's deal, but said there wasn't much point in pursuing it because "you might as well be sitting at the table and having a vote".
4th December 2018: Parliament Contempt Vote
Politicians will debate a motion finding Ministers in contempt for their failure to publish the full legal advice concerning the EU Withdrawal Agreement.
The Attorney General Geoffrey Cox made a statement to the House of Commons where he said the UK would be "indefinitely committed" to EU customs rules if trade talks broke down.
But he added it was a "calculated risk" and does not believe "we will be trapped in it permanently".
4th December 2018: UK Can Unilaterally Withdraw Article 50
A top European law officer has said that the UK should be able to withdraw Article 50 within the two years after its submission without the consent from the other EU member states.
Manuel Campos Sanches-Bordona said that any country who decides to leave the EU should also have the power to change its mind during the two-year exit process.
While not binding, the advice means that, should it decide to, the UK can stop Brexit.
The government attempted to stop the ECJ hearing the case, initially brought by Scottish politicians, but the Supreme Court rejected the appeal.
25th November 2018: Theresa May's Brexit Deal Accepted By EU Leaders
In less than 40 minutes, the other 27 EU leaders unanimously backed the Prime Minister's Brexit deal which had taken 18 months to negotiate.
Theresa May said that she would put the deal to a vote in the House of Commons before Christmas, but MP's across all parties have expressed concern over the deal.
Former Conservative Party leader and prominent Brexiteer Iain Duncan Smith said he "certainly won't" support the PM's deal, arguing the UK had given the EU "everything they've asked for".
But European Commission president Jean-Claude Junker has warned Britain cannot expect to get a better Brexit deal if MPs reject the agreement in Parliament.
20th November 2018: Government Loses Supreme Court Appeal Over Revoking Article 50 Case
The UK Supreme Court refused the government's bid to block a court case relating to the revoking of Article 50 from reaching the European Court of Justice.
The legal case was brought by anti-Brexit politicians and campaigners, and the Scottish Court hearing the case referred it to the ECJ. But the government made an appeal at the Supreme Court to prevent the hearing from happening.
The ruling against the government means that the ECJ will examine whether the UK can withdraw Article 50 if British MPs voted to do so.
The European Court of Justice is expected to hear the case on November 27th 2018.
16th November 2018: Theresa May Takes Calls From LBC Listeners
At the end of what has been a turbulent week, Theresa May joined Nick Ferrari in the LBC studio for a phone-in to take questions from listeners.
As well as defending her position as Prime Minister, she revealed that her insulin medication comes from the EU, and insisted that the European Union made just as many compromises when it came to her draft Withdrawal Agreement as the UK.
Amid speculation that Michael Gove was approached to be the new Brexit Secretary following the resignation of Dominic Raab, Theresa May said that she had a "very good conversation" with him but ruled out having appointed anybody to the vacant position.
15th November 2018: Draft Agreement Fall Out
Following the publication of Draft Withdrawal Agreement, the second Brexit Secretary Dominic Raab resigned the position. Cabinet Minister Esther McVey also resigned alongside junior ministers Suella Braverman and Shailesh Vara.
Prime Minister Theresa May faced three hours of questions in the House of Commons and could potentially face a vote of no confidence from Tory MPs. Jacob Rees-Mogg handed in his letter to the 1922 Committee, saying "it is of considerable importance that politicians stick to their commitments or do not make such commitments in the first place".
- How Many Tory MP's Have Sent Letters Of No Confidence To The 1922 Committee?
- Conservative Leadership: What Is The 1922 Committee?
Theresa May later delivered a press conference at Downing Street where she insisted she would not step down and instead will "see this through".
14th November 2018: Draft Brexit Agreement Cabinet Meeting
After a 5-hour-long Cabinet Meeting, Theresa May gave a short statement outside 10 Downing Street where she said Ministers had agreed to back her Draft Brexit Agreement which she says takes the UK "significantly closer" to delivering on the result of the EU referendum.
Brexit Secretary Dominic Raab was expected to travel to Brussels after the Cabinet Meeting to meet with EU negotiator Michel Barnier, however this trip was cancelled.
12th November 2018: Theresa May Says Negotiations Are "In The Endgame"
Theresa May declares negotiations between the UK and EU are now "in the endgame" as negotiators work through the night to break the Brexit deadlock.
In a speech at the annual Lord Mayor's Banquet in the City of London, she said that "both sides want to reach an agreement, but what we are negotiating is immensely difficult."
22nd October 2018: Theresa May Updates Parliament On Brexit Negotiations
The Prime Minister said that 95% of a Brexit deal had been agreed with European Union negotiators, amid speculation that she could face a no-confidence vote at the 1922 Committee of Tory backbenchers.
Theresa May said that the issue of the Irish border was still not yet resolved, but agreements over how Brexit will impact Gibraltar and the UK's military base in Cyprus had been reached.
20th October 2018: People's Vote March
More than half a million people took to the streets of London in protest for a second referendum.
Led by cross-party Remainers Chuka Umunna, Anna Soubry, Sir Vince Cable, and Caroline Lucas, the People's Vote march was one of the biggest protests in UK history - second after the 2003 Stop The War Coalition protest which drew crowds of 750,000.
Alaister Campbell, Eddie Izzard, Sadiq Khan, Steve Coogan, Delia Smith, Richard Bacon, Deborah Meadan were among the high profile attendees.
At the same time, a pro-Brexit Leave Means Leave rally in Harrogate, led by Nigel Farage, was attended by around 1,200 people.
14th October 2018: Dominic Raab's Unscheduled Meeting With Michel Barnier
After former Brexit secretary David Davis called for a Cabinet revolt against Theresa May, his successor was summoned to Brussels for last-minute "face-to-face" talks ahead of a summit of EU leaders.
The unscheduled meeting between Dominic Raab and Michel Barnier are said to have focused on Northern Ireland and other "big issues still to resolve".
Diplomats from the other 27 EU member states were later summoned for an update on the Brexit process, adding to the speculation that an exit deal was close. But Michel Barnier denied that a deal had been reached in a Tweet, saying that "some key issues are still open", including the issue of the Irish border.
We met today @DominicRaab and UK negotiating team. Despite intense efforts, some key issues are still open, including the backstop for IE/NI to avoid a hard border. I will debrief the EU27 and @Europarl_EN on the #Brexit negotiations.

— Michel Barnier (@MichelBarnier) October 14, 2018
Speaking in the House of Commons after the meeting, Theresa May said that a deal with the European Union is "achievable", and that real progress has been made towards the withdrawal agreement and a future trade deal.
However, speaking about the backstop, she describe the EU as demanding "a backstop to the backstop" - where Northern Ireland would comply with single market rules as well as the UK remaining in the customs union. She said that a backstop solution may be required before a final deal was agreed, however ruled out the possibility of it applying solely to Northern Ireland.
4th October 2018: "Canada+++"
European Council President Donald Tusk tweeted that the EU's offer has been a 'Canada+++' deal "from the very beginning", and was a "true measure of respect".
Boris Johnson described the offer as a "superb way forward", and Nigel Farage urged the Prime Minister to "take it and run".
From the very beginning, the EU offer has been a Canada+++ deal. Much further-reaching on trade, internal security and foreign policy cooperation. This is a true measure of respect. And this offer remains in place. #brexit

— Donald Tusk (@eucopresident) October 4, 2018
30th September 2018: Conservative Party Conference
After Donald Tusk accused the Chequers proposal of "undermining the single market", eyes fell on senior Tories at the Conservative Party Conference.
Chancellor of the Exchequer, Philip Hammond, insisted that 'Chequers was not dead'. He told Nick Ferrari that he knew the European Union wouldn't agree to Chequers, but is willing to work with them to find common ground.
"We knew they wouldn't like it because it tests their red lines, it challenges all their preconceptions," he said.
20th September 2018: EU Leaders Reject Chequers
The 'EU 27' rejected Theresa May's Chequers proposal, saying it was "unworkable".
The French President Emmanuel Macron said Brexit had been sold to the British public by "liars", and the European Commission's president Jean-Claude Juncker and its chief negotiator Michel Barnier have repeatedly said that the Chequers plan crosses EU red lines.
The following day, Theresa May delivered a speech at Downing Street in which she said the UK and EU were "at an impasse" over customs arrangements and issues surrounding the Irish border.
Summing up the speech, LBC's political editor Theo Usherwood said: "No deal just moved a massive step closer."
21st July 2018: Brexit White Paper
The government publishes its Brexit White Paper, which included several areas of focus.
On the economy, the white paper outlines plans for "developing a broad and deep economic relationship with the EU that maximises future prosperity" and "minimises disruption to trade between the UK and EU, protecting jobs and livelihoods" without hindering trade opportunities around the world.
For communities, a "shared prosperity fund" was proposed, with ending free movement with a new immigration system, and also supporting farming and fisheries.
The government are keen to safeguard the 'constitutional integrity' of the UK, without having a hard Irish border and protecting the Northern Ireland peace process.
On democracy, when the UK leaves the EU it will leave EU institutions and 'reclaim sovereignty', and make sure that laws are made in the United Kingdom.
7th July 2018: The Chequers Proposal
Theresa May summons Cabinet Ministers to Chequers to discuss Brexit and the possibility of a no-deal scenario.
The deal reached between ministers and Theresa May, which is also known as 'the Prime Minister's deal' or the 'Chequers deal', is made up of 12 points. They mean that the UK would keep close ties with the EU, creating an EU-UK free-trade area and a common rulebook. There would be no freedom of movement and no paying the EU, but the UK could still strike other trade deals.
David Davis resigns as the Brexit Secretary a day after the Chequers proposal was agreed by the Cabinet. A day later, Boris Johnson resigned as the Foreign Secretary.
19th March 2018: Transition Period Agreed
The UK and EU agreed a date to end the transition period, the status of EU citizens living in the UK before and after Brexit, and fishing policy.
David Davis and Michel Barnier agreed that EU citizens arriving in the UK between the last day of EU membership and the end of the transitional period will have the same rights and guarantees as those who arrived before Brexit - with the same applied to UK expats in EU countries
Mr Davis said that the agreement would 'smooth the path to a future permanent relationship'.
15th December 2017: Negotiations Move To Second Phase
The UK and EU agree to move forward to the second phase of negotiations, after an agreement is reached on the divorce bill, Irish border, and EU citiezens' rights.
13th December 2017: Government Forced To Give Vote On Final Deal
Tory rebels side with the Labour Party, and force the government to guarantee a vote on the final Brexit deal once it is agreed with Brussels.
Dominic Grieve tabled an amendment to the Brexit bill calling for parliament to have a meaningful vote on the deal with the EU and was one of 11 Tory MPs to vote for it.
22nd September 2017: Florence Speech
Amid a deadlock in negotiations, Theresa May delivers her Florence speech in an effort to move Brexit talks forward.
Theresa May said that a transition period to bridge the gap between leaving the EU and and beginning a new trade relationship could last for two years, and that access to the single market would "continue on current terms".
The Prime Minister also said that Britain would "honour commitments" to the European Union financially, so that no member state has to pay more or receive less during the current budget in contributing "our fair share of the costs".
Speaking about the Irish border, she said that both sides had agreed that there should not be any physical infrastructure at the border, but did not give suggestion on what could be implemented instead.
26th June 2017: Formal Negotiations Begin
Formal negotiations between the United Kingdom and European Union begin.
8th June 2017: Theresa May's Snap Election
Theresa May's snap election resulted in the Conservative Party losing the Commons majority David Cameron won in 2015.
The hung parliament resulted with the Tories agreeing a "confidence and supply" deal with the DUP, a pro-Union and pro-Brexit party in Northern Ireland.
31st March 2017: Brexit Negotiation Guidelines
Donald Tusk published the EU's guidelines for negotiations between the UK and European Union for the Brexit process.
EU leaders unanimously agreed the guidelines in less than 15 minutes into a summit held in Brussels in April.
They said that key issues such as citizens' rights, the divorce bill, and the Irish border will need to have been resolved before any talks of a trade deal can begin.
30th March 2017: The EU Withdrawal Bill
The details of the 'Great Repeal Bill' are published by the government.
Now referred to as the EU Withdrawal Bill, the bill ensures European law will no longer apply in the UK after Brexit.
It is believed that there are about 12,000 EU regulations in force in the UK, which will be copied across into domestic UK law to ensure a smooth transition on the day after Brexit. This is to avoid a 'black hole' in the UK statute book, and to avoid disruption to businesses and individual citizens.
Once out of the European Union, the UK parliament will then be able to amend, repeal, and improve individual laws as desired.
29th March 2017: Article 50 Triggered
Theresa May signs a letter to European Council president Donald Tusk giving notice under Article 50 of the Lisbon Treaty. The letter was delivered at 12:20 (UK time) by the British ambassador to the EU, Sir Tim Barrow.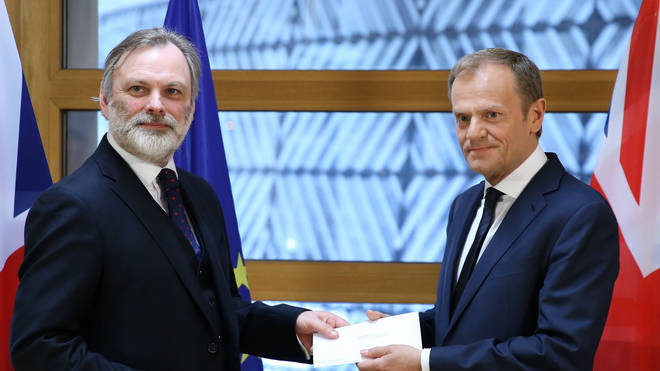 14th February 2017: Parliament Votes To Allows Article 50
Parliament votes to allow Theresa May to trigger Article 50 with 498 MP's supporting the motion: a majority of 384.
114 MPs voted against the trigger of Article 50 last night, including 47 Labour MPs who rebelled against leader Jeremy Corbyn. Here is the full list.
17th January 2017: Lancaster House Speech
Theresa May delivers her Lancaster House speech, setting out the type of Brexit deal she will be perusing when negotiations begin.
Following the speech, there was a quite a lot of praise for May - with the pound soaring in the aftermath of her laying out the Brexit plans of her government.
3rd November 2016: Article 50 High Court Challenge
The High Court rules that Theresa May does not have the power to trigger Article 50 without first winning a vote by MPs in parliament.
Three senior judges ruled that the government can only proceed with the UK's exit of the European Union once it has approval from the House of Commons, after Investment manager Gina Miller brought a legal case against the government.
23rd June 2016: The EU Referendum
The UK votes to leave the European Union with 51.9% of the vote. The referendum had a turnout of 72.2%.
David Cameron announced the day after that he would resign as Prime Minister, and Theresa May was announced as his replacement on the 13th July 2016.
Nigel Farage resigns as the leader of Ukip, saying he has 'fulfilled his political ambition'.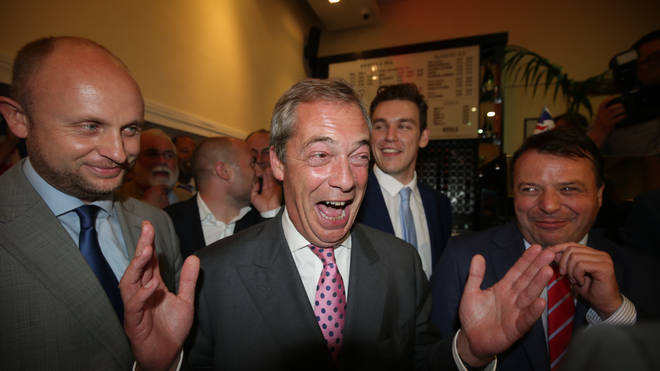 7th May 2015: General Election
David Cameron's Conservative Party wins a general election with a majority of 12 on a manifesto promising an in/out referendum on the UK's membership of the European Union.
The Liberal Democrats suffered the most in the election, losing 49 of its 57 seats with a manifesto that promised the UK would play a "constructive part" in the EU. The SNP made big gains in Scotland, taking seats away from the Labour Party.
Ukip held onto its first elected seat in Clacton on the Essex coast which it gained in a 2014 by-election after Douglas Carswell defected from the Conservative Party. He stayed on as the constituency's MP for his new party, but later quit Ukip and continued to sit as an independent MP. He lost his seat to the Conservative candidate when Theresa May called a snap-election in 2017.
Leader of the Labour Party Ed Miliband and Liberal Democrats Nick Clegg both resigned their positions shortly after the election.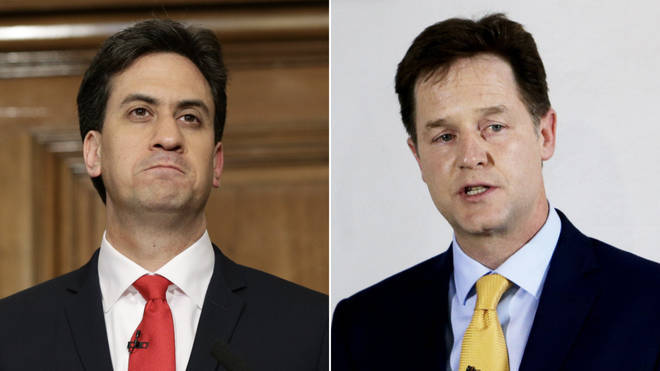 22nd May 2014: European Parliament Elections
Nigel Farage's Ukip party wins 26% of the vote in the European elections, and becomes the UK's biggest representative at the European Parliament.
The Labour Party also gained seats with Ed Miliband, with an increase of 9% of the share of the vote, while the Conservative Party lost seven seats and Liberal Democrats lost 10 seats.
23rd January 2013: David Cameron's Referendum Promise
Prime Minister David Cameron delivers a speech in which he said the British people must "have their say" on Europe and promised an in/out referendum by the end of 2017 if the Conservatives win the next election.
Eurosceptics welcomed the speech as it promised the referendum, although some said they would have wanted one sooner.
But Deputy Prime Minister and leader of the Liberal Democrats Nick Clegg warned that the proposal would cause uncertainty and have a "chilling effect" on jobs and growth.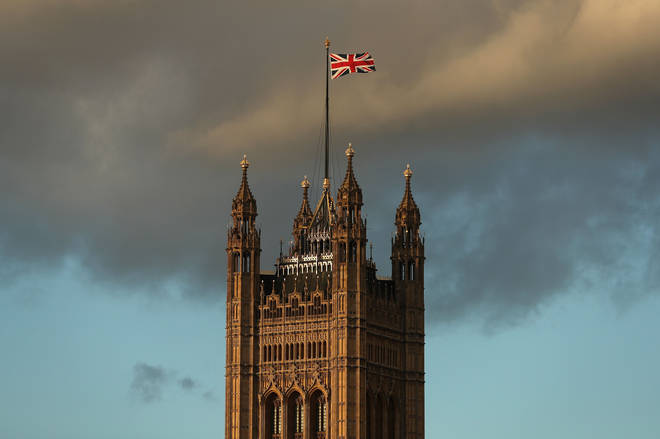 For the latest news on Brexit, click here.