Donald Trump met with boos and 'lock him up' chants at World Series
28 October 2019, 11:25
Donald Trump was greeted with boos and chants of "lock him up" from thousands of people at a World Series baseball game in Washington DC on Sunday.
The US president was introduced alongside his wife Melania on video screens and loudspeakers at the Nationals Park stadium, but was met with a chorus of jeers from the crowd.
Chants of "lock him up" were also heard, playing on the infamous "lock her up" catchphrase that referred to Mr Trump's opponent Hillary Clinton during the 2016 election campaign.
Several fans were seen holding signs which read: "Veterans for impeachment" and "Impeach Trump".
But despite the loud heckling, the president appeared unfazed and continued to wave to the crowd.
It came during what was expected to be a positive moment for Mr Trump, who had just hours earlier announced that US forces had killed Islamic State leader Abu Bakr al-Baghdadi in northern Syria.
But it is also as he faces an impeachment inquiry over his dealing with Ukraine - adding to his already low ratings in the Democratic city.
He won a little over 4% of the vote in the District of Columbia in the 2016 presidental election.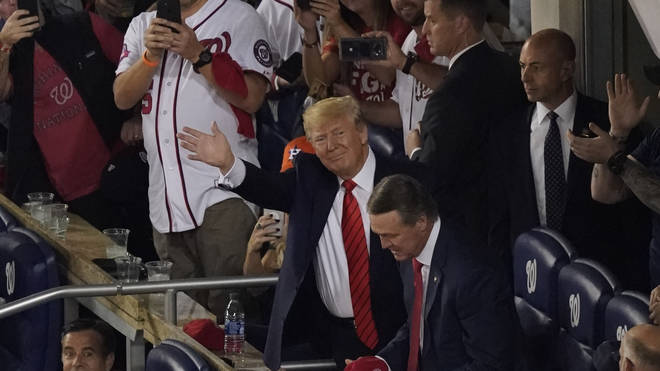 Meanwhile, the action on the pitch on Sunday saw the Houston Astros secure a 7-1 victory over the Washington Nationals in the fifth game of the World Series.
The winner of the best-of-seven games will also be named champions in Major League Baseball.