Boris gave Jacob Rees-Mogg 'carte blanche' to be 'pain in the backside for the Treasury and Sunak', Guto Harri reveals
8 June 2023, 07:42 | Updated: 8 June 2023, 07:52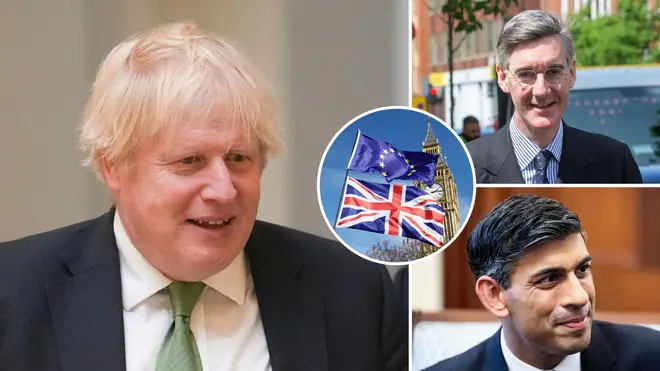 Boris Johnson gave Jacob Rees-Mogg "carte blanche" to be a "pain in the backside for the Treasury and Rishi Sunak", former No10 director of communications Guto Harri has revealed.
Speaking on his Unprecedented podcast, Mr Harri said Jacob Rees-Mogg had been tasked with sweeping away EU regulations following Brexit.
The Cabinet Office Minister, at the time, warned that Rishi Sunak had "gone native" on Brexit policy, he said.
It came after the former PM had already clashed with the then Prince Charles over the Rwanda migrant policy.
"For Boris, the future King's attitude was further proof that the British establishment were basically appalled at Brexit and embarrassed by the attitudes of the working-class masses who had voted for it," said Mr Harri.
"He frequently lashed out against that establishment view as he saw it in the arts, culture, city, civil service and the media, once complaining that the Financial Times hated Britain, and that their journalists would rather that we were run by what he called 'a junta of Belgian ticket collectors'.
Listen and subscribe to Unprecedented: Inside Downing Street on Global Player
"There were tensions in Cabinet too, even though most ministers had supported Brexit. And as those frustrations grew, the Prime Minister picked Jacob Rees-Mogg for a plum job at the heart of the Cabinet Office, at the heart of government with a brief to sweep away EU regulations."
Listen to the fifth episode of Unprecedented on Global Player now.
He continued: "I was in the room, the Cabinet Room, and Jacob Rees-Mogg was brought in, dressed as always immaculately, three-piece suit, very tall, very upright, sat down opposite the Prime Minister, hilariously so posh that he made a more shambolic looking Boris sound, and indeed, look like, a bit of an East end car dealer.
"But he is a man who commands respect and whether you agree with him or not, he is a man of deep principle. And he accepted the job with gusto immediately warming to his task.
"And he warned the Prime Minister that on Brexit he thought the government had got to the point where it was trying to keep the UK deliberately, in what he called, the 'lunar orbit of the EU'. He warned that the Chancellor Rishi Sunak had 'gone native'. Boris asked him to give it all a 'massive kick.'
"Jacob Rees-Mogg warned then that he would have to 'tread on some big toes' actually, 'little toes', he added, patronisingly, with a sort of dig at Rishi Sunak's size.
"And Boris, after a little chuckle, gave him carte blanche to be a pain in the backside for the Treasury and for Rishi Sunak. His words quite simply, 'go ahead'."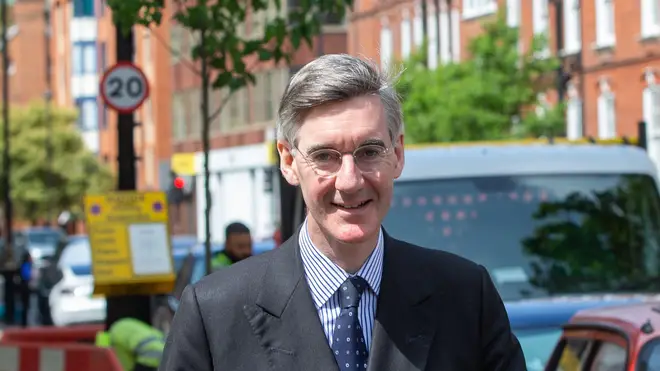 Meanwhile, Mr Harri said the tension between Mr Johnson and the then Prince of Wales, now King, over the Rwanda migrant policy came to a head on the eve of a summit in the country.
"It's not a good idea for an unelected royal to be at odds with the elected government of the day, even if people might agree with the unelected royal. But on this one, the polling and the focus groups were pretty clear," Mr Harri said.
"Sending illegal migrants to Rwanda, believe it or not, seemed to be extremely popular. Not, though, with Prince Charles.
"And what was awkward is that Prince Charles had clearly said something, maybe inadvertently, but he said something that had got to a journalist and was splashed all over the newspapers, being highly critical of that policy.
"And this, believe it or not, was on the eve of a summit in of all places on God's earth, Kigali in Rwanda, and the two of them were meant to share a platform with each other.
"So, there was a lot of toing and froing between No10 and Clarence House trying to work out the choreography, how the two could share a stage and not embarrass each other.
"And the tension was building as the gathering got closer, the press was all over it and off the record en route on his prime ministerial plane… Boris had given this off the record briefing, where he had a dig at people who were, I think the word he used was 'condescending'.
"Condescending attitudes towards the Commonwealth, condescending attitudes towards countries like Rwanda that had moved on in leaps and bounds. He never mentioned Prince Charles by name, but he didn't need to.
"The press was immediately on to it, they put the jigsaw together. And a situation that was always going to be awkward was potentially horrendous now."
Read more: Ukraine's fields could turn 'into deserts' after dam attack as officials warn it could spell global food crisis
Read more: Police now attend every home burglary after chief constables' landmark deal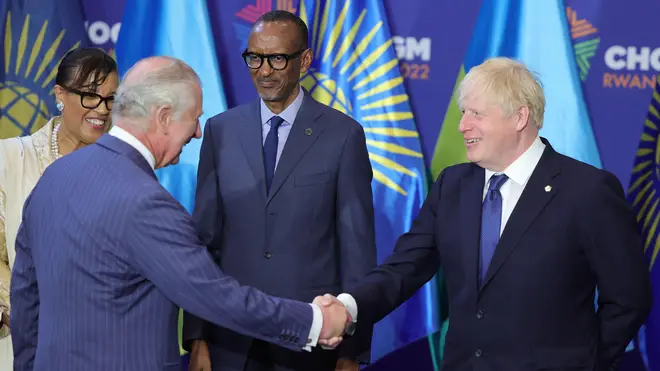 "So again, there was a lot of toing and froing to see how we could avoid an embarrassing moment. And eventually, there was a public display of mutual respect.
"It was arranged, it was executed pretty well, with Boris and Prince Charles showing admirable restraint, shaking hands, smiling at each other, getting on pretty well. But in private, and this has never been told, they had a pretty frank exchange.
"Boris told me in the immediate aftermath, 'I went in quite hard'. And he basically challenged the Prince, 'Did you actually do this? Did you actually criticise government policy?'
"To which my understanding is that the man who's now King made some sort of 'Well, maybe, inadvertently without intention, I may have said something that may have...' Anyways it was all that Boris needed to hear.
"He moved on to discuss their speeches, as the two of them were due to give speeches to the gathering of Commonwealth Heads of States.
"And Boris' was about the optimism, about the shared values, the bright future, Britain wanting to be part of this club with all these booming economies and emerging democracies, some of them, of course, long established by now.
"And Prince Charles wanted to talk about slavery. And the Prime Minister just couldn't help himself. He basically told the future King, 'I wouldn't talk about slavery if I was you, or you'll end up having to sell the Duchy of Cornwall to pay reparations'.
"Imagine the Prime Minister telling the future King that. I don't think relations ever fully recovered."