All trains to and from Brighton cancelled as UK's largest pride event faces major disruptions
5 August 2023, 09:24 | Updated: 5 August 2023, 09:40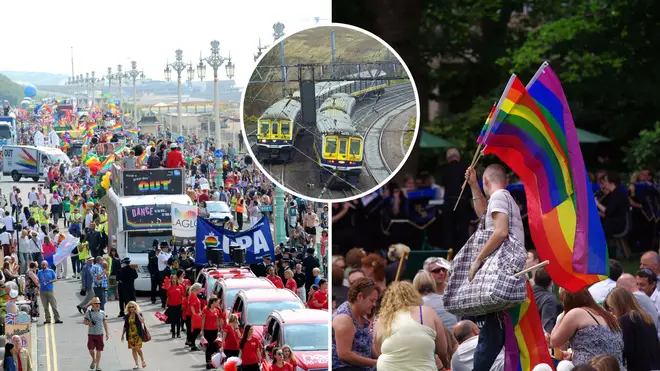 All Thameslink trains to and from Brighton today have been cancelled amid bans from ASLEF on staff working overtime.
Trains to Brighton on the day of the UK's largest pride event have been cancelled amid industrial action from ASLEF, as train operator Govia Thameslink Railway (GTR) said it is unable to offer the capacity required to transport people safely to the city.
Brighton trains will instead terminate at Three Bridges in Crawley, approximately 23 miles away from the Pride festival.
In a statement, the train operator said: "It is with a heavy heart that we announce that due to serious safety concerns, there will be no trains to or from Brighton station on Saturday 5 August.
"Anyone planning to attend Pride on Saturday by rail will need to make alternative arrangements, although we appreciate this will be extremely difficult. We're really sorry for the inconvenience and disappointment this will cause but our ultimate aim is to keep people safe on this occasion."
Typically train operators offer increased services for the yearly event, including additional late-night trains on the Saturday evening to handle the demand.
Read more: 'It's simply fact': Deputy PM defends Rishi Sunak after he tells LBC strikes are to blame for NHS waiting lists
Read more: Rishi Sunak branded a 'liar' by A&E doctor after PM tells LBC strikes are to blame for NHS waiting list rocketing up
However these services are no longer possible after ASLEF announced a ban on overtime for staff between July 31 and August 5.
Pride services are usually covered by volunteer drivers, however the ASLEF ban means these volunteers are unable to work around the event.
Services to the Sunday event will not be affected by the industrial action and trains will run as normal.
ASLEF's general secretary Mick Whelan criticised the train operator's decision, as he labelled it outrageous the GTR has 'blamed' the union.
It comes on the same day as the UK braces for Storm Antoni, which is set to hit the seaside town among other regions across the UK.
The Met Office warned "injuries and danger to life from flying debris" were a risk from the storm.