Education Secretary insists exam system will be fair and says 'no algorithm' will be used
25 February 2021, 00:01 | Updated: 25 February 2021, 14:17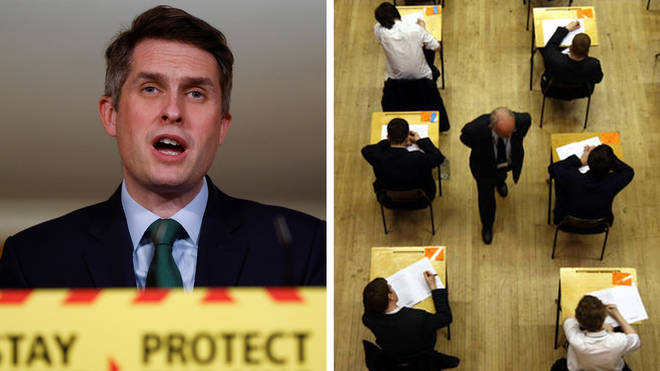 Education Secretary Gavin Williamson has set how the grades of hundreds of thousands of students in England will be awarded this summer in a bid to avoid a repeat of last year's exams fiasco.
GCSE and A-Level pupils will be given teacher-assessed grades earlier in August so they have more time to appeal their results after chaos in 2020.
Pupils in England will be able to appeal their results at no extra cost and shall be given the chance to sit exams in the autumn if they are still unhappy with their grades.
Exam boards will issue teachers with optional assessment questions for their students to answer. This aims to help schools determine which grades to award and comes after 2021's summer exams were cancelled due to the Covid-19 pandemic.
Read more: Gavin Williamson rules out making school days longer
Read more: Summer schools for secondary pupils as part of £700m catch-up plan
However, there will be no requirement for carrying these out in exam conditions. Teachers will also have the flexibility to decide how long their pupils will have to complete these questions and where they will be carried out.
Speaking in the House of Commons on Thursday, Mr Williamson confirmed to MPs that "no algorithm" will be used for grades this summer, with the judgment of teachers relied upon instead and any changes made by "human intervention".
Prime Minister Boris Johnson said the plans for teachers to grade pupils were a "good compromise" as he backed Mr Williamson following last year's exams fiasco.
The Prime Minisster said the process of issuing grades to students will be "fair" and "durable".
Mr Williamson said it is important to make sure the "system is fair to every student", adding: "It is vital they have confidence they will get the grade that is a true and just reflection of their work.
"This year's students will receive grades determined by their teachers, with assessments covering what they were taught and not what they have missed. Teachers have a good understanding of their students' performance and how they compare to other students this year and from those of previous years.
"Teachers can choose a range of evidence to underpin their assessments, including coursework, in-class tests set by the school and the use of optional questions provided by exam boards and mock exams, and we will of course give guidance on how best to do this fairly and also consistently.
"Exam boards will be issuing grade descriptions to help teachers make sure their assessments are fair and consistent. These will be broadly pegged to performance standards from previous years so teachers and students are clear on what is expected at each grade.
"By doing this, combined with a rigorous quality assurance process, are just two of the ways this system will ensure greater fairness and consistency. Quality assurance by the exam boards will provide a meaningful check in the system and make sure we can root out malpractice."
He also claimed the progress of students has been protected, with this summer's assessments offering a "fair route" to the next stages of education or the start of careers.
Mr Williamson added: "All our children and young people have paid a considerable price for the disruption of the past year. It has knocked their learning off track, it has put their friendships to one side and it has put some of the wonder of growing up on hold.
"In short, it has caused enormous damage to what should have been a carefree and exciting part of growing up.
"I am absolutely committed that with this programme of catch-up measures and the extra funds for tutoring, we can start to put this right - together with the measures we have set out for a fair and robust allocation of grades, young people will be able to look forward to the next stage of their lives with confidence.
"Our approach in the face of the worst disruption to education since the Second World War has been to protect the progress of pupils and students.
"Ultimately, this summer's assessments will ensure fair routes to the next stages of education or the start of their career. That is our overall aim."
Results in Wales have been brought forward to August 9, with teachers there also determining grades after exams were cancelled amid the pandemic.
Mr Williamson had previously suggested pupils could be asked to sit externally-set papers to help teachers with grading.
The Department for Education (DfE) and England's exams regulator Ofqual have also confirmed that teachers will be able to draw on a range of evidence when determining grades - including mock exams, coursework, or other work completed as part of a pupil's course, such as essays or in-class tests.
Students will only be assessed on what they have been taught after months of school and college closures.
Schools and colleges will submit their grades to exam boards by 18 June to maximise teaching time, and students will receive their grades in early August, once quality assurance checks have been completed by the exam boards.
In normal circumstances, students receive their results in mid to late August. But this year, A-Level students will receive their grades on 10 August and GCSE pupils will be given theirs two days later on 12 August.
It is hoped that bringing results day forward will ensure pupils have enough time to log appeals so A-Level students do not miss out on their preferred university places for the autumn.
It comes following the A-Level results fiasco of last summer when exams were cancelled due to school closures.
Watch: Williamson 'sure' unvaxxed kids won't be banned from enjoying freedom
Watch: Gavin Williamson questioned on LBC over vaccine passports
Thousands of students were given substantially lower grades than what their school had estimated because of the implementation of a controversial algorithm.
However, following a furious public backlash, Ofqual announced a U-turn which ended in pupils being issued teacher-assessed grades.
This year, the regulator has chosen not to use an algorithm to standardise teachers' estimated grades if they appear more generous than they should be.
The DfE said schools and colleges will conduct multiple checks - such as on the consistency of judgments across teachers and that the correct processes are followed - to ensure as much fairness as possible.
Exam boards will also conduct their own checks through a combination of random sampling and more targeted scrutiny.
It comes after a joint consultation on exams received more than 100,000 responses - with more than half coming from students themselves.
Pupils studying technical and vocational qualifications - which are often taught in conjunction with A-Levels and GCSEs - will also be given teacher-assessed grades rather than being made to sit exams.
Exam boards will issue teachers with guidance on how to determine their pupils' results before the Easter holidays.
Paul Whiteman, general secretary of the school leaders' union NAHT, said the government's plans "appear to chart a path which avoids the awful chaos of last year".
He said: "This set of decisions is, however, only the starting point. It is now down to the awarding bodies to provide the detail which schools and colleges need to implement the process.
"Although earlier results for students seeking to start university could be beneficial, cramming GCSE results into the same week will place unnecessary pressure on to the system."
Mary Bousted, joint general secretary of the National Education Union, seemed to agree, saying the final decisions are "better" than the original proposals and that it is "likely the least worst option available".
But she added: "However, there are still question marks over how it is expected that the extra work necessary to facilitate grading will be dealt with.
"Substantial time will need to be set aside for the initial assessments and gradings and then the internal school moderation processes. It may well be that extra staff need to be employed to release teachers for this important work."
Listen & subscribe: Global Player | Apple Podcasts | Google Podcasts | Spotify