All aboard the Elizabeth Line! Crowds swarm Paddington as London's newest Tube departs
24 May 2022, 00:02 | Updated: 24 May 2022, 14:54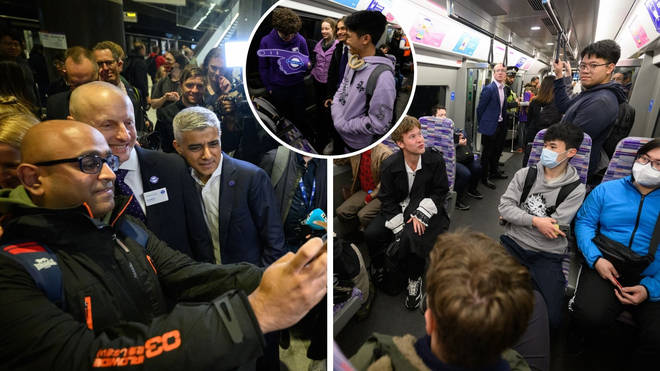 Hundreds of people descended on Paddington station today for the first public journeys of London's new Elizabeth line.
A crowd of around 300 people gathered in anticipation of services beginning at 6.20am, with some queuing from as early as midnight.
Many paid homage to the colour of the line with purple-dyed hair, purple hoodies and face masks in the style of the Elizabeth line seat moquette.
There was a hubbub in the air with lots of excited chatter as rail enthusiasts - including one who flew in from Canada - spoke to the media and posed for pictures.
The day was marred later when the line was evacuated after a fire alarm. The incident was not thought to be anything serious, but passengers were left unable to get down to the new platforms. The evacuation lasted about half an hour before the platforms reopened.
Huge queues now building at Paddington barely two hours after the Elizabeth Line started running. No one can get down to the new platforms, and a fire engine has now turned up. @LBC pic.twitter.com/wES65FBysZ

— Rachael Venables (@rachaelvenables) May 24, 2022
When the station doors opened, the crowd cheered and rushed forwards.
The first train departed on time at 6.33am, carrying hundreds of passengers including Mayor of London Sadiq Khan.
"It's a landmark day," Mr Khan said.
"I'm excited. I'm like the little boy before Christmas."
He said the Elizabeth line is a "game-changer" that will "transform our city".
He added that the trains are "fit for a Queen" after Her Majesty visited Paddington last week to mark the completion of the Crossrail project.
One commuter told LBC: "I was at Paddington, I was on the first train between Paddington and here at Abbey Wood, and the adrenaline was going through my body and it's just very, very exciting, it's a wonderful train.
"It's just so smooth, unlike the Underground, the Underground is so bumpy and noisy."
Passenger Danny McLaren, 21, from Edinburgh, arrived at Paddington at 1.30am to make sure he was at the front of the queue.
He said: "We've known it will open for a while. It's a brand new railway. New technology. New trains.'It's an epic day to experience it when it's brand new."
Another passenger, Hakim Colclough, 24, from Chessington, Surrey, added: "This is a momentous occasion. It's a once-in-a-lifetime thing."
Another passenger at Paddington, Colin Farmer, 84, from Croydon, south-east London, arrived at 4.30am.
He said: "It's history. It's about time there were trains right through London without changing to the Underground.'I'm very excited. We've been waiting long enough for it. It's a great achievement."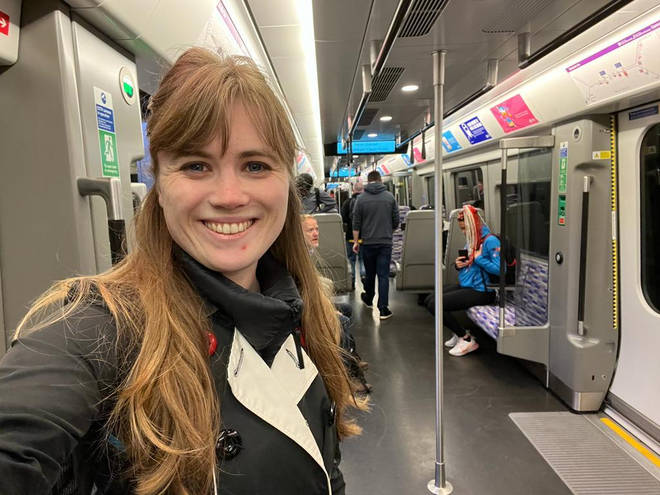 LBC Correspondent Rachael Venables was one of the first to take a trip on the Elizabeth Line:
It's hard to tell who was more delighted on the train from Abbeywood this morning.
First, you had the commuters, whose journeys into the office have been slashed – sometimes in half - by the Paddington to Abbeywood service.
Then, there were the rail enthusiasts, who queued through the early hours in the rain, wearing anything from Elizabeth line masks to London Underground hoodies, all desperate to be on the first service out.
Tyresa Monford, was on the 06.33 from Paddington:
"We were so eager to go on this – baby! I'll call it a baby! What an amazing experience."But, quite possibly, the biggest smiles were reserved for the Crossrail staff, TfL bosses and the Mayor of London, who could celebrate that after 13 years, £19billion pounds, countless delays and budget overruns the job was finally done.
For far too long 'Crossrail' has been synonymous with 'expensive delays,' but apart from an evacuation-sparking fire alarm at Paddington, the launch finally came without a hitch.
As far as my journey went – I couldn't fault it. It really is a smooth-running train with rapid services from Abbeywood to Paddington in a swift 27 minutes.
There were plenty of seats and space on the large train, cool air conditioning, and there's no doubt the vast station developments I saw at Paddington and Tottenham Court Road are impressive.
11-year-old James, who got his Dad up at 5.30 this morning to be on one of the first trains, told me excitedly the line deserved "a good 9 out of ten."
It only missing out on the perfect score, because you can't yet change at Bond Street.
As for me – the only complaint I could pick was I couldn't get the much-promised on-board wifi to work.
The new line will boost capacity and cut journey times for east-west travel across the capital.
It stretches from Reading in Berkshire and Heathrow Airport in west London to Abbey Wood in south-east London and Shenfield in Essex.
The line is supporting 55,000 jobs, 1,000 apprenticeships and is forecast to boost the economy by £42 billion, according to the Government.
Prime Minister Boris Johnson said the whole country will "reap the rewards".
He said: "As the Elizabeth line opens to the public, we know it's not just Londoners that will reap the rewards, but the whole country - because better transport grows the economy, levels up opportunity and creates jobs."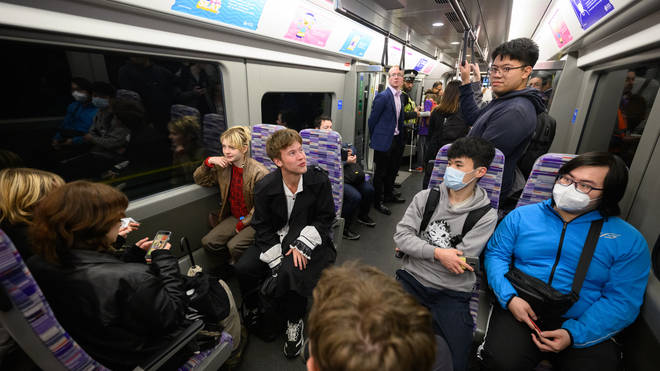 Mr Khan echoed the PM's sentiments, saying the line's opening would "provide a crucial economic boost to the whole country".
"Today is a historic day as the Elizabeth line opens to passengers," he said.
"This is a huge moment, not just for London but the entire country, particularly in this special Jubilee year.
"This brand new line is the most significant addition to our transport network in decades.
"It will add billions to our economy and is set to serve up to 200 million passengers each year. I'm sure passengers will enjoy the modern trains, beautiful step-free stations and the reduced journey times across the capital and the South East.
"The Elizabeth line is much more than just a new railway, it will provide a crucial economic boost to the whole country and help to turbo-charge our recovery from the pandemic."
The line will begin operating in three separate sections, which are expected to be integrated in the autumn.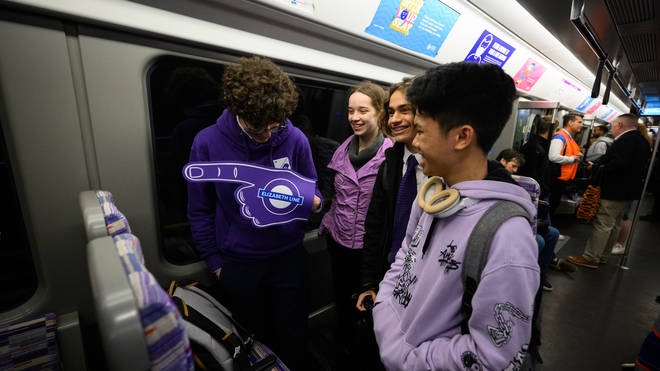 The new central section, built by the Crossrail project, runs through tunnels from Paddington in west London to Abbey Wood.
Transport for London estimates that annual passenger numbers will reach 170 million by 2026.
The line will initially be closed on Sundays, apart from during the Platinum Jubilee weekend, to allow further testing and software updates to take place.
Crossrail suffered numerous issues including construction difficulties and complications installing signalling systems.
It was due to be completed in December 2018 and was set a budget of £14.8 billion in 2010.
The final total cost has been estimated at £18.9 billion, including £5.1 billion from the Government.
The line is named in honour of the Queen, who visited Paddington station last week to celebrate the completion of Crossrail.