More than 120 Met officers face no restrictions despite being under investigation for sexual or domestic abuse
3 November 2023, 06:02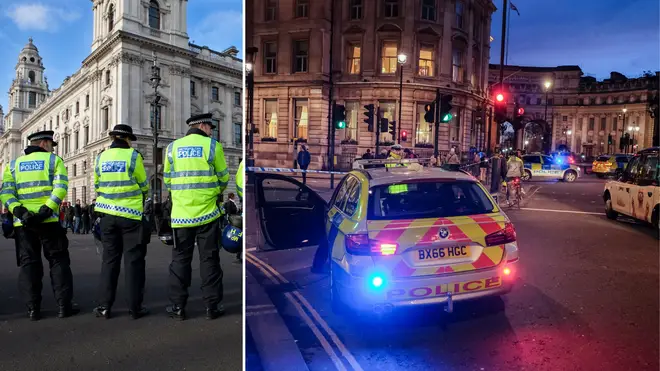 Over 120 Metropolitan Police officers are still working on the frontline despite being under investigation for sexual or domestic abuse, LBC can reveal.
A freedom of information request shared with LBC by the Liberal Democrats shows that of the 657 officers under investigation for such allegations, 129 are still carrying out their duties as normal - including 33 who have been accused of both domestic and sexual abuse.
Overall, it means one in five Met officers facing these serious allegations have not had any restrictions placed on their duties.
Since Sir Mark Rowley was appointed as Commissioner of the Metropolitan Police, he has placed a significant emphasis on tackling cultural issues in the force, launching Operation Onyx with the intention of identifying and removing serving personnel who were found to have committed acts of sexual or domestic abuse.
Read more: 'Crypto King' Sam Bankman-Fried faces 110 years in prison after being found guilty of $8bn FTX fraud
Read more: Bobby Welch dead: Last member of the Great Train Robbery gang dies 60 years after £2.6m Royal Mail swipe
However, speaking to LBC, Liberal Democrat MP Munira Wilson, whose constituency is covered by the Metropolitan Police, described the figures as "horrifying" and lamented the lack of progress that has been made since Baroness Casey's review described the force as institutionally racist, misogynistic and homophobic:
"We've had the Baroness Casey review which should have been a watershed moment for rebuilding trust in the Met, and it's really disturbing that we're seeing the same attitude towards keeping these officers on the frontline seven months on.
"It's bad for the victims, it's bad for Londoners and the general public as a whole.
"We need far more transparency in how the [Casey] review's recommendations are being implemented - and the buck for that stops with the Home Secretary, Suella Braverman."
Ms Wilson's concerns were echoed by Laura Richards, who served as a criminal behaviour analyst at New Scotland Yard and now hosts the Crime Analyst Podcast:
"Domestic violence and sexual violence are power and control-related crimes, most often committed against women and children. Right now, public confidence in policing is at an all-time low.
"We want to see change - not the status quo (i.e. officers remaining on normal duty when there are very serious allegations against them). And that is the litmus test: these are not being seen as serious allegations and that must change… if they're saying their priority is [tackling] violence against women and girls, we now need to see it."
Responding to the statistics, a spokesperson for the Metropolitan Police pointed to the force's efforts to improve standards across the board, insisting that they are "building a healthier and stronger culture that embeds the principle of policing by consent", before adding that "there have been significant steps to root out the hundreds who have corrupted our integrity as we tackle systemic issues that allowed them to endure."