'Stop the unions de-railing Christmas': PM unveils new anti-strike laws as minimum service regulations brought in
6 November 2023, 16:23 | Updated: 6 November 2023, 18:09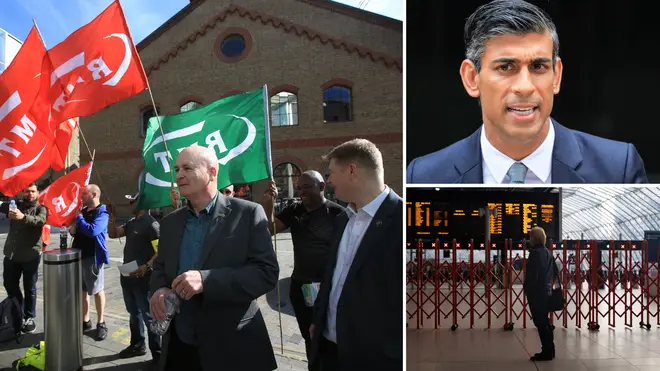 The government will introduce a new law which they say will ensure 40 per cent of trains will still run on strike days.
The new minimum service level regulations will also ensure "certain priority routes can remain open" - though it is not yet clear which journeys will be covered.
Other rules will be introduced for border security staff and ambulance workers, in plans Prime Minister Rishi Sunak says will "stop unions de-railing Christmas for millions of people".
The government has said it moves the UK in line with other countries, including France, Spain, and the United States.
The RMT union said it was an "authoritarian attack" workers' human's rights.
"We believe employers have the discretion not to issue minimum service work notices and as such we are calling on them not to issue them," RMT chief Mick Lynch said.
"Any employer that seeks to issue a work notice will find themselves in a further dispute with my union.
"Even the government's own impact assessment has said that the legislation could lead to more strikes so instead of attacking workers and their trade unions the government should spend its time trying to resolve disputes not inflaming them."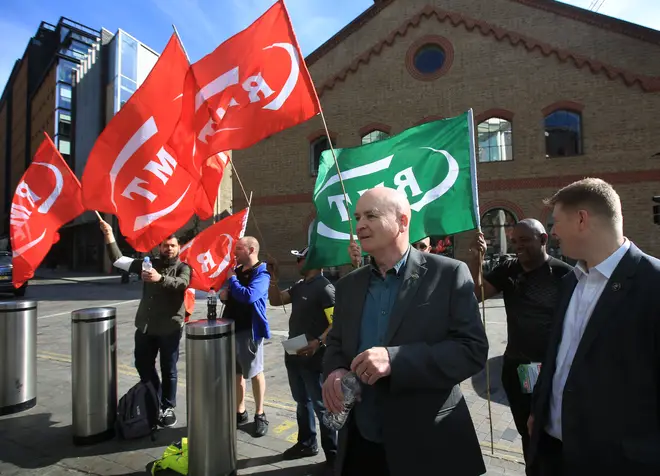 "We are doing everything in our power to stop unions de-railing Christmas for millions of people. This legislation will ensure more people will be able to travel to see their friends and family and get the emergency care they need," Mr Sunak said.
"We cannot go on relying on short term fixes - including calling on our Armed Forces or civil servants - to mitigate the disruption caused by strike action.
"That's why we're taking the right long-term decision to bring in minimum service levels, in line with other countries, to keep people safe and continue delivering the vital public services that hard-working people rely on."
Read More: Pro-Palestine protesters who vandalise Cenotaph 'must be jailed faster than feet can touch the ground', warns Braverman
Read More: Rishi Sunak refuses to criticise Braverman over homeless 'lifestyle choices' as minister distances herself from comments
Where minimum service level regulations are in place and strike action is called, employees will be able to issue work notices to identify members of staff who will be required to work in line with the regulation.
A union that fails to do this will lose their legal protection from damages claims, the government said.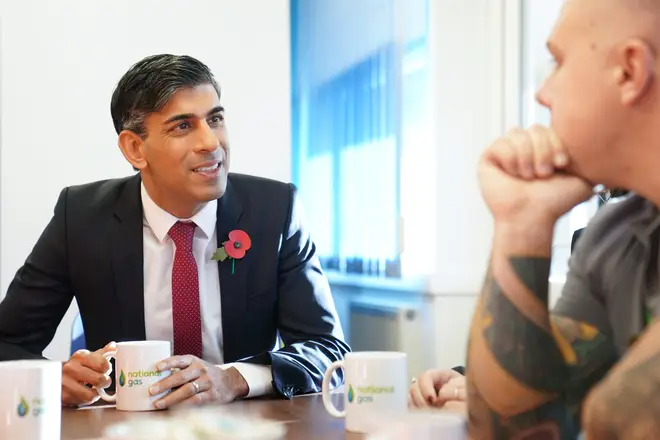 The Home Secretary also backed the law change as she said it would ensure the UK's borders remains more secure as a result.
"We must never allow strike action to compromise our border security or cause significant disruption to passengers and goods at our borders," Ms Braverman said.
"The Armed Forces have commendably stepped up to fill vital roles during recent industrial action, but it would be irresponsible to rely on such short-term solutions to protect our national security.
"The minimum service levels announced today will ensure a fair balance between delivering the best possible service to the travelling public, maintaining a secure border and the ability of workers to strike."