Pro-Palestine protesters who vandalise Cenotaph 'must be jailed faster than feet can touch the ground', warns Braverman
5 November 2023, 08:52 | Updated: 5 November 2023, 08:57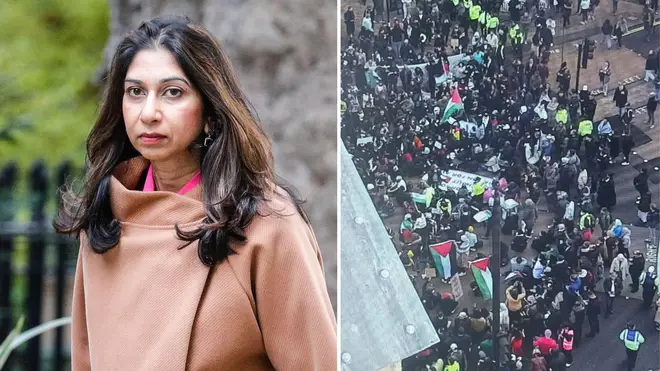 Pro-Palestine protesters who vandalise the Cenotaph should be "put into a jail cell faster than their feet can touch the ground", Suella Braverman has warned.
The Home Secretary also said she "won't hesitate to act" if it is found that police need stronger powers to deal with what she called "utterly odious" behaviour at demonstrations.
She added that some elements of the protests had turned into "hate marches".
It comes after Metropolitan police arrested 29 protesters at the pro-Palestine march on Saturday.
Read more: Met arrests 29 at march for ceasefire in London - as police adviser revealed to have sang anti-Israel chant
Read more: Five arrested after Palestine supporters stage 'sit-in' protest at King's Cross station in London
Ali Miraj reacts to government's rhetoric on pro-Palestine march
Tens of thousands of demonstrators are also planning to take to the streets of London on Armistice Day on Saturday November 11.
There are fears the march could disrupt the two-minute silence commemorating the war dead, and the daytime and evening Festival of Remembrance at the Royal Albert Hall, with the latter performance usually attended by members of the royal family.
Braverman said Armistice Day should be treated with the "solemnity with which it deserves".
Asked what action should be taken if the Cenotaph were to be targeted, she told Sky: "Armistice Day is a day that is of profound national significance in Britain, it represents our moment of collective mourning and remembrance and reverence.
"And it must be treated with the solemnity with which it deserves.
"If anyone were to vandalise the Cenotaph, they must be put into a jail cell faster than their feet can touch the ground."
Braverman added that any decision to ban pro-Palestine marches on Armistice Day would have to be assessed by police before an application to her is made.
"It has got to be based on their assessment and their belief that there is a risk of serious disorder," she said.
"What we've seen in the last few weeks is tens of thousands of people taking to the streets of Britain chanting jihad, calling for the erasure of Israel and behaving in many instances in a flagrantly antisemitic manner.
"To me, those are incredibly offensive and it is utterly odious behaviour."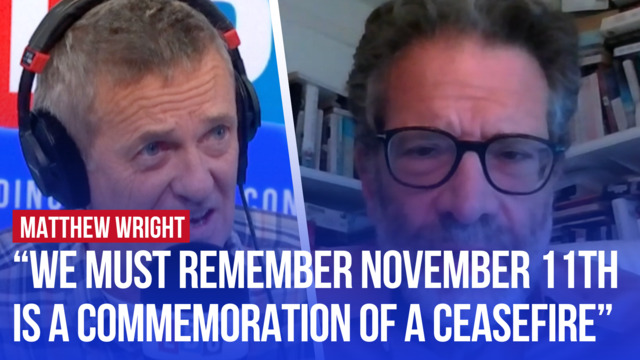 Palestine protest organiser says 'we will stay far from Cenotaph'
PM Rishi Sunak previously said that protests on Armistice Day would be "provocative and disrespectful".
He said there is a "clear and present risk that the Cenotaph and other war memorials could be desecrated".
The Met said officers will be deployed across the capital that weekend as part of a "significant policing and security operation".
It said protest groups have not indicated plans to march on Remembrance Sunday on November 12, but a significant demonstration is expected on the Saturday.
Organisers of the demo have pledged to avoid the Whitehall area where the Cenotaph war memorial - the focus of national remembrance events - is located.