'Not enough evidence to investigate', police say, after army veteran poppy seller 'punched' at Palestine protest
8 November 2023, 19:28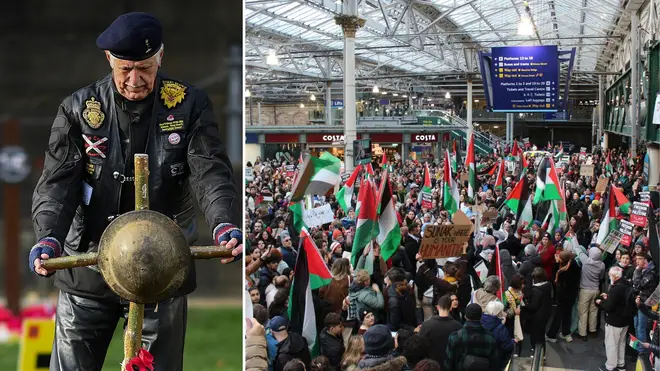 Police have said that there is "insufficient evidence" to investigate further after an elderly army veteran poppy seller claimed he was "punched and kicked" as pro-Palestine protesters staged a sit-in at a train station in Edinburgh.
Jim Henderson, 78, needed help to escape after he was surrounded by people displaying "Freedom for Palestine" banners at Edinburgh Waverley train station on Saturday.
British Transport Police said on Wednesday that their detectives had "extensively monitored CCTV and spoken with key identified witnesses" from the scene.
But they said that there was "insufficient evidence to take the investigation further at this time."
They added that they had "no reason to believe that poppy sellers are at any risk or being intentionally targeted."
Read more: Palestine activists vow to continue with Armistice day protests despite police pleas to postpone
Massive protest against genocide in Gaza at Waverley Station at the end of the march in support of Palestine in Edinburgh today. pic.twitter.com/uykZF095Wg

— Ragged Trousered Philanderer (@RaggedTP) November 4, 2023
After the attack, Mr Henderson said he had "never known anything like it."
"I was getting shoved backwards, in danger of falling, and one of them stood on my foot and split my toe," he told the Mail.
"So I thought I had got to get the money out of here. So I went down, and as I bent down someone punched me in the back. And then I got another punch in my side."
He added: "You don't do that, and kick someone from behind and that was when I couldn't get out of the way. That's when I bent down and...bang."
Justice Secretary Alex Chalk told LBC this week: "It sent a shudder down the back of my spine.
"I cannot believe that something like that would happen. It's truly, truly appalling."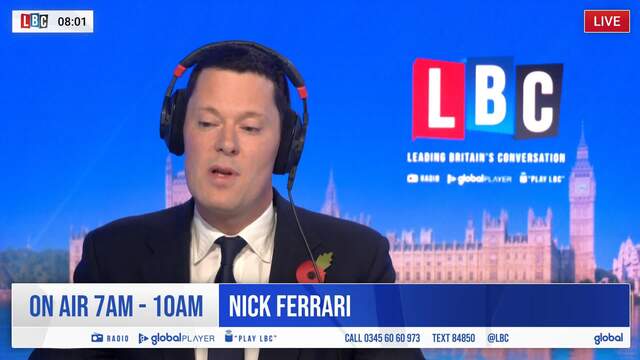 Justice Secretary reacts to reports a poppy seller was 'punched by pro-Palestinian protesters'
British Transport Police Assistant Chief Constable Sean O'Callaghan said earlier: "Detectives from British Transport Police are investigating a reported assault at Edinburgh Waverley Station on Sat 4 November.
"The incident occurred at approximately 3.30pm during a demonstration at the station."
Police have also arrested a 41-year-old man from Airdrie, North Lanarkshire in connection a suspected racially aggravated public order offence said to have taken place at Edinburgh Waverley station on the same day.
The offence is not linked to the pro-Palestine protest.
The suspect is currently in police custody.