PM condemns 'EDL thugs and Hamas sympathisers' after more than 126 arrested after Cenotaph clashes
11 November 2023, 18:40 | Updated: 11 November 2023, 20:58
Rishi Sunak has condemned far-right 'thugs' for violence near the Cenotaph at an Armistice Day counter-protest.
The Prime Minister said in a statement: "I condemn the violent, wholly unacceptable scenes we have seen today from the EDL and associated groups and Hamas sympathisers attending the National March for Palestine. The despicable actions of a minority of people undermine those who have chosen to express their views peacefully."
The intervention comes after violent clashes erupted between far-right counter-protesters and police today as 300,000 pro-Palestinian activists marched through central London.
Nine police officers were injured in the protests - with two requiring treatment at hospital.
At least 126 people were arrested on London's streets as of 8.30pm.
Read More: Violent clashes erupt between counter-protesters and police as 300,000 Palestine activists march through London
Fights quickly broke out between police and the counter-protesters, with footage showing a large group chanting 'England 'til I die' and 'let's have them' as the broke through a human barrier of officers.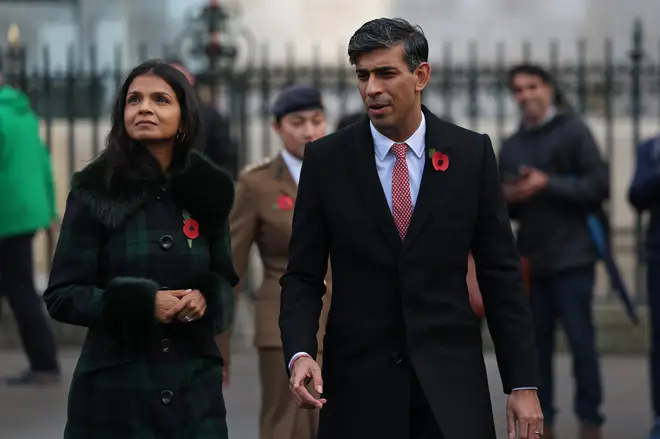 Violent clashes then quickly broke out in Chinatown, Soho, shortly afterwards, where riot police were called in as counter-protesters launched missiles at officers.
Shortly afterwards, a pro-Palestinian march - attracting 300,000 activists at its peak - started a planned demonstration at Hyde Park.
A spokesperson for the Met said: "While the two minutes' silence was marked respectfully and without incident on Whitehall, officers have faced aggression from counter protestors who are in the area in significant numbers.
"The counter protestors are not one cohesive group. There are different groups moving away from Whitehall towards other parts of central London. "
"Officers are keeping track of them as they do. If their intention is to confront the main protest departing later today from Park Lane, we will use all the powers and tactics available to us to prevent that from happening."
More violence erupted near Whitehall later in the afternoon, with footage taken by LBC showing bottles and missiles being thrown at officers near Parliament.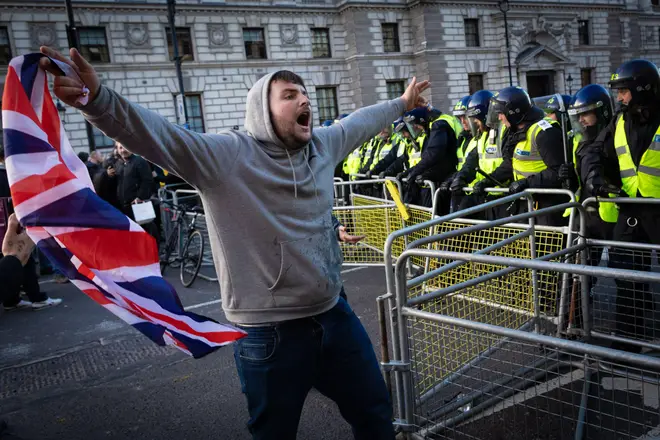 "Remembrance weekend is a time for us to come together as a nation and remember those who fought and died for our freedoms. What we have seen today does not defend the honour of our Armed Forces, but utterly disrespects them."
Sunak continued: "That is true for EDL thugs attacking police officers and trespassing on the Cenotaph, and it is true for those singing antisemitic chants and brandishing pro-Hamas signs and clothing on today's protest. The fear and intimidation the Jewish Community have experienced over the weekend is deplorable.
"All criminality must be met with the full and swift force of the law. That is what I told the Met Police Commissioner on Wednesday, that is what they are accountable for and that is what I expect.
"I will be meeting the Met Police Commissioner in the coming days."
Assistant Commissioner Matt Twist has said: "This operation took place in unique circumstances, against a backdrop of conflict in the Middle East, on Armistice Day and following a week of intense debate about protest and policing.
"Abuse was directed at officers protecting the Cenotaph, including chants of "you're not English any more".
"This group were largely football hooligans from across the UK and spent most of the day attacking or threatening officers who were seeking to prevent them being able to confront the main march.
"Many in these groups were stopped and searched and weapons including a knife, a baton and knuckleduster were found as well as class A drugs."