Deepfake audio of Sadiq Khan backing pro-Palestine protest on Armistice Day 'not a criminal offence', Met says
11 November 2023, 13:05 | Updated: 11 November 2023, 13:11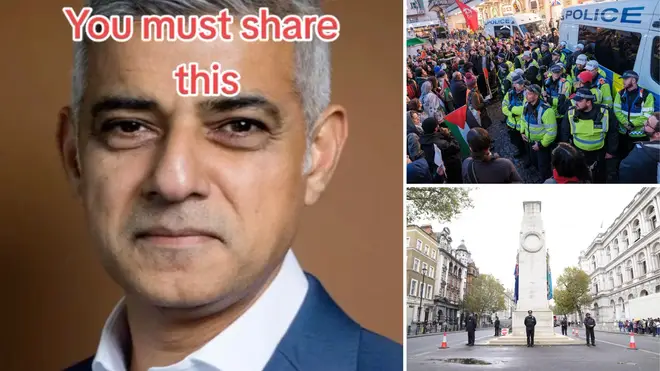 Police have said a deepfake that purports to show Sadiq Khan calling for remembrance weekend to be rescheduled is not a crime.
In the deepfake video, Mr Khan is falsely supposed to have said: "The Prime Minister meeting with [Sir] Mark [Rowley] yesterday is a complete waste of time.
"The buck stops with me, Mark reports to me, I know we have Armistice Day on Saturday but why should Londoners cancel the Palestinian march on Saturday? Why don't they have remembrance weekend next weekend?
"What's happening in Gaza is much bigger than this weekend and it's current."
Mr Khan's office said the material was being "circulated and amplified by a far-right group".
The Met said on Saturday that specialist officers had reviewed the "artificial audio" but it "does not constitute a criminal offence".
Security minister Tom Tugendhat urged people not to "repost or amplify" the deepfake.
A statement from the Met said: "We can confirm that we were made aware of a video featuring artificial audio of the Mayor. Specialist officers have reviewed this video and assessed that it does not constitute a criminal offence.
"Officers from Counter Terrorism Policing continue to review online content and material that is referred to us by members of the public. We will investigate and take enforcement actions where criminal offences are identified."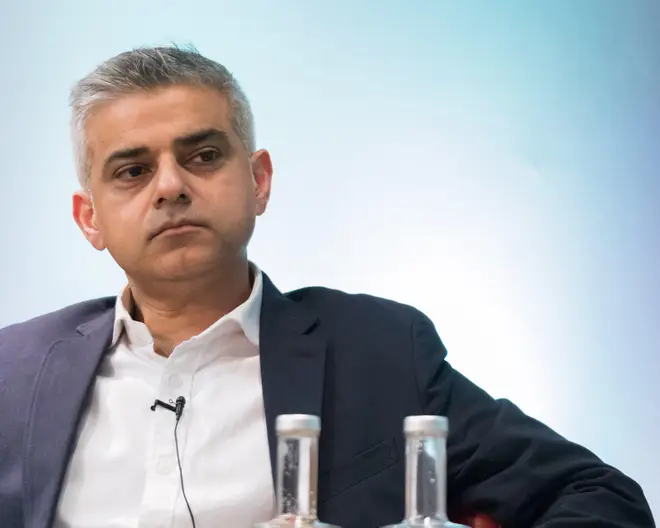 It comes as some 2,000 officers are on guard in London today as they drafted in more than 1,000 cops from across the country in case of 'serious disorder' ahead of a pro-Palestine.
The November 11 march, on which protesters will again call for a ceasefire in Gaza, has been controversial because it coincides with the day of solemn remembrance for Britain's war dead.
Ahead of the pro-Palestine march, fights broke out between the police and counter-protesters on Saturday morning.
The counter-protesters were heard chanting 'England til I die' and 'let us through' as they descended on Whitehall, while some launched missiles at officers.
Pro-Palestine protesters later gathered in central London at noon with the march expected to commence at 12:45.
Read more: Suella Braverman breaks cover as Chancellor distances himself after comments accusing police of protest bias
Read more: Senior police chief says politics won't stop police doing their job on Palestine protests, as he defends independence
Mr Khan said of the fake audio: "While I hosted an interfaith Remembrance event with our armed forces at City Hall: the far-right were sharing deepfake audio about me.
"They may have new means, but their ends are the same - to divide our diverse communities. We must stand together - it's what London does best."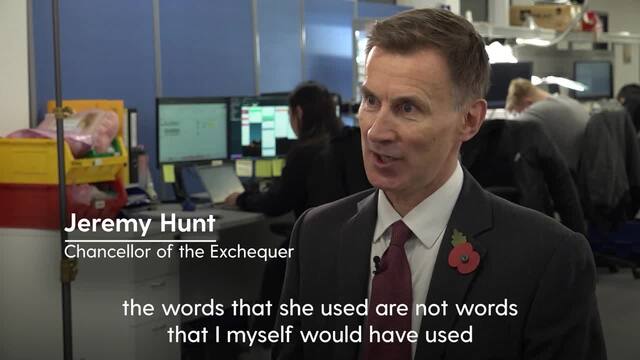 Chancellor distances himself from Home Secretary's criticism of Met Police over protest
A spokesperson for the Mayor said on Friday: "The Met and their counter terror experts are aware of this fake video that is being circulated and amplified on social media by far-right groups, and are actively investigating."
A statement from the Met added: "We can confirm that we have been made aware of a video featuring artificial audio of the Mayor, and that this is with specialist officers for assessment."
Addressing the protests on Twitter, the Mayor previously said: "This weekend's Remembrance commemorations are a hugely important part of our national calendar, where we remember all those who have made the ultimate sacrifice.
"I welcome the decision by organisers of planned protests to avoid the area of the Cenotaph. It is vital that the commemorations go ahead unaffected.
"For anyone thinking about ignoring conditions put in place by the police and stoking up disorder, the Met have been very clear - action will be taken. The right to protest is a cornerstone of our democracy, but it must always be peaceful and lawful.
"The police will move against anyone found breaking the law, including taking strong action against anyone committing hate crime.
"This weekend more than ever we must stand united against hatred and division."